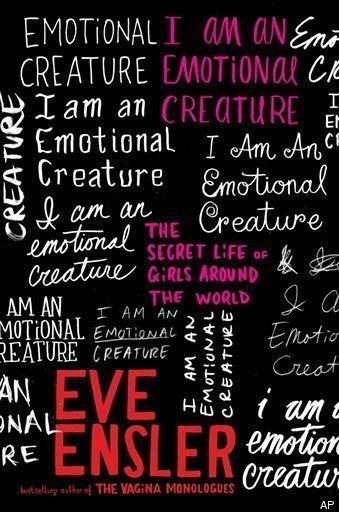 Eve Ensler, iconic for both her Louise Brooks bob and the creation of "The Vagina Monologues" spread her message of feminine empowerment at the 92nd Street Y last Tuesday night. She also read from her latest work "I Am An Emotional Creature", a series of original monologues on contemporary girlhood. The book jumped onto the New York Times bestseller list after debuting this month.
During her 90 minutes onstage Ensler, who is also a Huffington Post blogger, discussed women's "mandate to please" through the personal stories she collected from hundreds of girls and women around the world.
"Seventy-four percent of you say you are under pressure to please everyone," Ensler said to the girls in the audience, listing parents, popular kids and boyfriends as only a few factors. In trying to accommodate everyone, she asked, "How do you even know what your needs are?"
Instead, she suggested, people needed to focus on their emotions and relinquish the overwhelming pressure to be "liked" rather than respected. Embracing personality rather than suppressing it was one step towards reaching that goal.
Girls are often criticized for being "too emotional, too dramatic... you're just too!" she explained. "Who decided that being emotional is a bad thing?"
In exploring adolescence, Ensler touched on issues ranging from genital mutilation to Sarah Palin, feminism to Facebook. She also spoke of the inception of "The Vagina Monologues" and subsequent "vagina miracle" that followed.
As the crowd exchanged stories of gender discrimination and overcoming obstacles, they also traded email addresses and business cards. Many audience members served in social organizations, and a number were in the midst of starting one.
Friends Nancy Burke and Sarah Mastrelli, who both work in the fashion industry, came to the lecture to gain inspiration and ideas for a new project they are collaborating on that marries fashion and women's empowerment.
Burke, a woman in her late 40s who had never seen Ensler before, agreed. "On a personal level, I heard myself in every single thing she was talking about," she said. But Ensler's message of embracing emotions also spoke to her concerns as a parent of a four-year-old son. "I worry about his spirit being squashed."
Indeed, a smattering of men braved the predominately female crowd to learn about embracing their "inner girl cells."
Jason Rzepka, young man who works in social issues and entertainment, found his first Ensler event very inspiring.
"She's an extremely remarkable person. The world needs more Eve Enslers," he said, championing her global activism. "I found my inner vagina."
Related
Popular in the Community