A heavy metal gate at the U.S.–Mexican border temporarily became a bridge Saturday when a Mexican woman married her American fiancé.
The gate, known as the "Door of Hope," is inside Friendship Park, a small strip of land on the border near San Diego and Tijuana where families from both countries can chat with each other through the fence's heavy screen, according to the Los Angeles Times.
The park is only open for a few hours each weekend, and the metal mesh only allows people to touch the fingertips of their loved ones on the other side. It's about 15 miles west of a dusty patch of ground where eight prototypes for Trump's proposed border wall have been built.
Since 2013, the metal gate has been opened six times, allowing for families to hug each other and, for Evelia Reyes and Brian Houston, get married and have their first kiss as a couple.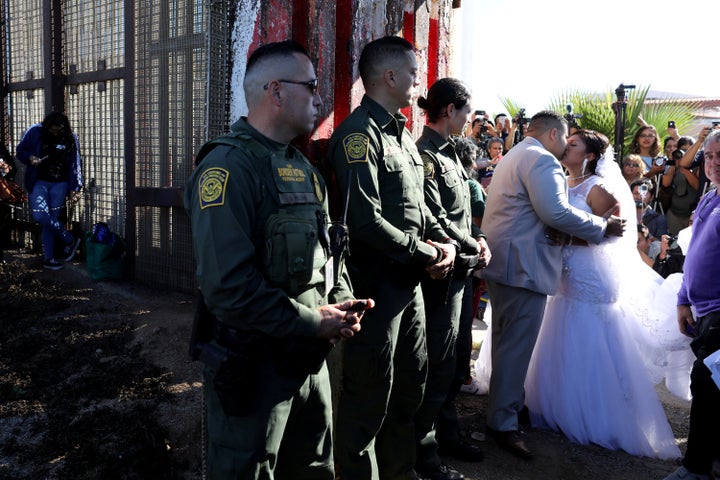 Reyes and Houston were one of 12 families selected for the rare gate opening by Border Angels, a San Diego–based nonprofit that advocates for migrant rights and other issues related to the U.S.–Mexico border.
The couple applied for the visit two months and were granted the meeting after a background check by federal authorities, according to The Washington Post.
Reyes, 27, was on the Mexico side of the border while Houston, 26, stayed in the U.S. A judge from Tijuana quickly performed the ceremony (each of the 12 participating families was only allotted three minutes each for their reunions).
Reyes and Houston had to bring their own wedding rings, as they weren't allowed to move any items across the border, according to the Washington Post.
After three minutes, they had to move along.
"I am happy and sad at the same time, because now I have to leave." Reyes told AFP. "I spent a long time waiting for this. I believe that hope is the last thing that dies, and this is proof that things are possible."
Houston told The Daily Aztec he and his new wife were together for almost two years before they were separated.
Houston told the Los Angeles Times he is not allowed to enter Mexico, but didn't offer any other details.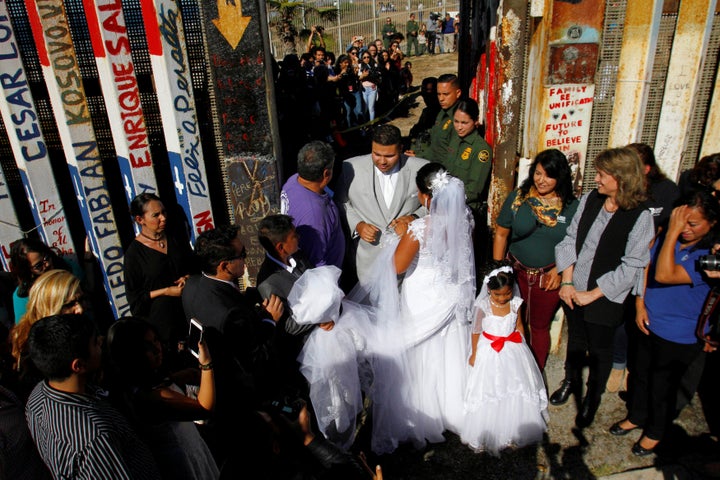 Border Angels Director Enrique Morones told The Daily Aztec he was expecting a proposal, not a wedding, but was happy the couple were able to exchange vows.
"It's the matrimony most short in history, I think, of three minutes, but it's a matrimony," Morones said. "We are so happy that Evelia Reyes is (now) Evelia Houston."
The couple speak by phone daily, but won't live together until Evelia can get a green card that will allow her to live in the U.S., a process that could take more than a year, according to the Los Angeles Times.
Related
Before You Go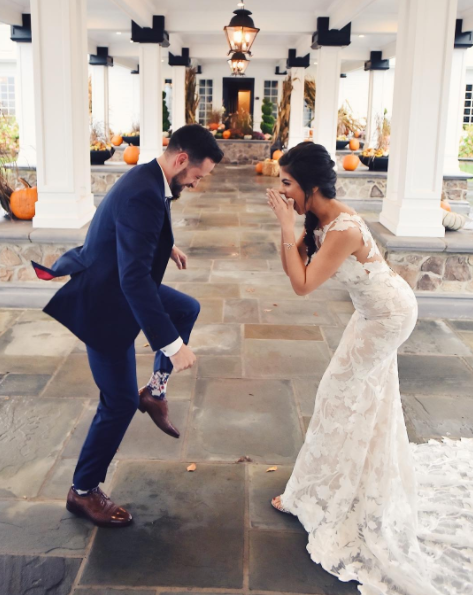 October Real Weddings