As a public figure, Evelyn Lozada has spent years living her life out in the open. So when the reality TV star alleged in 2012 that her then-husband, NFL player Chad "Ochocinco" Johnson, head-butted her in an incident that left with stitches and a scar, Evelyn soon found herself speaking publicly on behalf of domestic abuse survivors.
Her story has touched many, including domestic violence survivors living in all parts of country. One of those survivors is a woman named Chris, who contacted Evelyn on Instagram with her own personal story. 
"I saw a ["Livin' Lozada"] clip where you were getting your scar looked at and I just cried of happiness for you. I too know the feeling of wanting to get rid of reminders from the past," Chris wrote. "My ex cracked a lot of my back teeth and I have a small crack up front. One day, I'm hoping to get them fixed. But I really just want to say you are an inspiration to so many women who have been battered."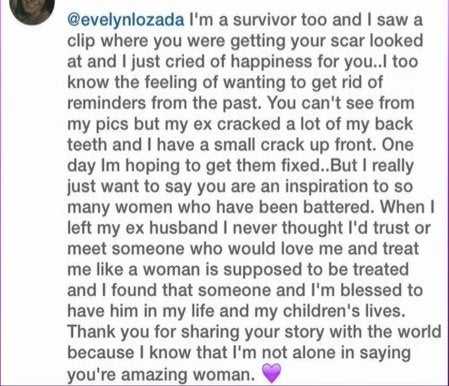 That post stuck with Evelyn, so she reached out to Chris and flew her to Los Angeles to hear Chris' story in person.
When the women sat down, Chris opened up about the night when she says her ex attacked her. "That was the night I said, 'That's it. No more,'" Chris says.
Though Chris is now engaged to a different man, her teeth still serve as a constant physical reminder of her past relationship trauma. Evelyn then shares a surprise that she hopes will help Chris in her journey of healing. 
"When I read the message, I said, 'What can I do to put a smile on her face?' And I may cry, because I'm a sap," Evelyn says, tearing up. "I flew you here today because I set up an appointment for you to get your teeth fixed by my dentist. And he is going to do it up."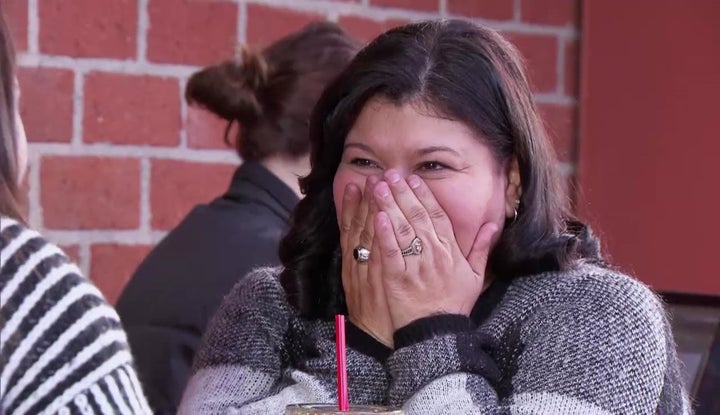 "You have no idea," she tells Evelyn, wiping away her own tears. "I've been wanting this for so long."
As Evelyn says she knows firsthand, some wounds need more than time to heal.
"People are probably like, 'Oh, Evelyn, it happened four years ago and you're still crying about it.' No woman should have to go through that," Evelyn says. "No one."
"Livin' Lozada" airs Saturday at 9 p.m. ET on OWN.
Another "Livin' Lozada" moment:
Calling all HuffPost superfans!
Sign up for membership to become a founding member and help shape HuffPost's next chapter
BEFORE YOU GO
PHOTO GALLERY
Evelyn Lozada