With the Ken Burns docu-series The Roosevelts: An Intimate History airing shortly on PBS, this seems a good time to share a snippet of their family history. Specifically, the pages that follow are excerpts from Edith Kermit Roosevelt's file regarding a widow's pension for the service of her husband, Theodore Roosevelt.
First, we see a legislative bill dated January 13, 1919 -- just a week after Theodore Roosevelt died -- to grant a pension of $5,000 per year to Mrs. Roosevelt. This swift action makes us nostalgic for the days when Congress worked together to accomplish -- well, something: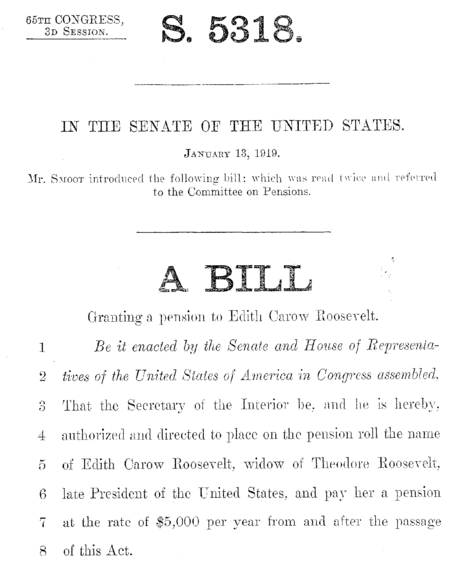 Several weeks later in February, the necessary paperwork was begun to trigger the pension payments: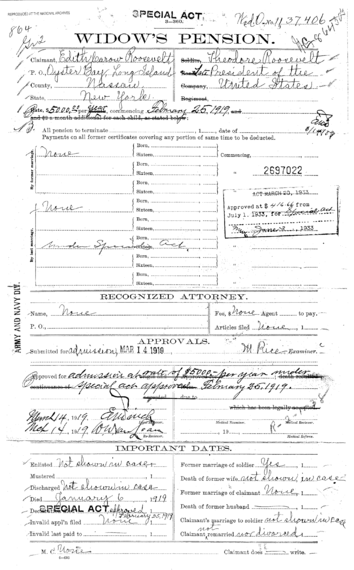 In March, the Acting Commissioner of the Bureau of Pensions stepped in to facilitate things by pointing out that the information generally supplied in pension applications was already widely known in this instance:

But even the First Lady is not exempt from red tape as seen by this letter written by Edith Roosevelt in September 1945 trying to sort out confusion over a check that had been processed during an illness when relatives handled her affairs: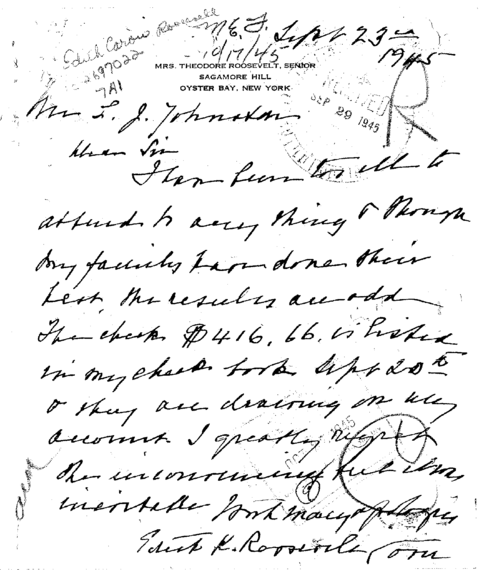 Perhaps most interesting is this postscript to this same letter when she makes clear her preference for her original name. The pension was issued in the name of Edith Carew Roosevelt, but she signed it "Edith K. Roosevelt," and remarked that, "Edith Kermit Roosevelt is my baptized name, but the government turned back to my father's name." Imagine the issues she would have today trying to board a flight!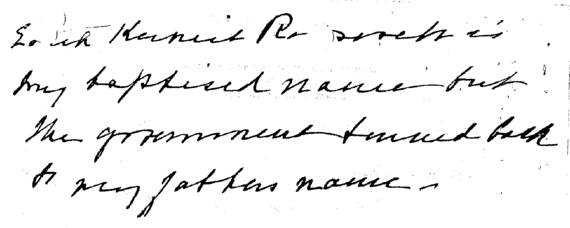 Popular in the Community