 Think of all the superhero cartoons, comics and films that have been made over the years. Most of them -- bar Batman, maybe -- aren't that realistic. The superheroes have had some sort of unlikely event happen to them; Superman wasn't from Earth (but just happened to look human... right), a genetically altered spider bit Peter Parker, radiation mutated the Fantastic Four, and even the X-Men (this writer's favorite of all superheroes) all have mutations that aren't completely plausible. Now, think about a group of vigilantes who take the law into their own hands to protect -- and even avenge -- the dignity of minorities. Sounds a bit more possible, doesn't it?
This is exactly what's involved with Darragh McManus' new novel, Even Flow. Set in New York, the novel follows a group of men calling themselves the 3W Gang; regular guys who are into movies, beer and carrying out selective, brutal punishment of misogynists and homophobes. Hunting them is a gay detective, determined to see justice done, but getting more morally ambivalent as he's drawn into their world. The novel starts with a bang, with a man hanging from the top of a building. Quickly, the story picks up speed as the men crash a party to save a pair of prostitutes from something they hadn't signed up for -- and that's just the first chapter. "It's Germaine Greer crossed with Kurt Cobain crossed with Dirty Harry," McManus describes the story playfully. "It's a fable wrapped inside a thriller." The story is dark, but well-humored, with a pace that will quicken your heart rate with each chapter.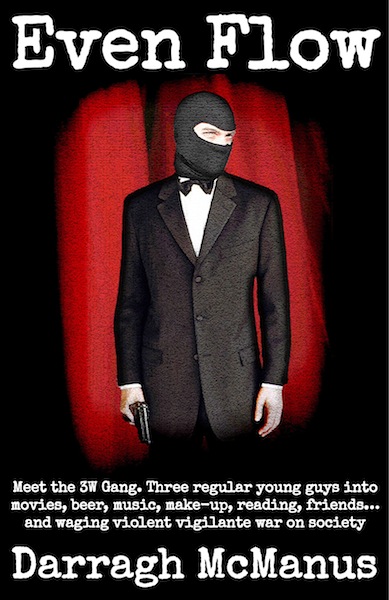 Although himself a straight, married man, McManus is truly sympathetic for both gay and women's rights, two campaigns that often cross paths. The inspiration for Even Flow comes from his days in university in Cork, Ireland's southernmost city, when a series of attacks against gay students by locals took place. He remembers feeling enraged that no one was able to come to their aid at the time and once discussed the idea of a group of people avenging them. "I wasn't serious, of course," he clarifies, "it was definitely a what if situation, but I thought, 'Wouldn't it be great if there were people who could kick these guys' butts.'"
This is not McManus' first book, though it is his first venture into this particular genre. His first book, GAA Confidential, revolved around the world of Gaelic games, the native sports of Ireland. He has also published a comic novel, Cold! Steel! Justice!!! as an e-book under the pen-name of Alexander O'Hara. As honourable as his intentions may be, McManus accepts that it's highly unlikely that most -- if not any -- of the events that take place in Even Flow would ever take place. "It's probably about two percent removed from reality," he concedes. "It's all possible, but just not that realistic." Still, the idea of a group of straight, brave men fighting for minorities isn't entirely out of the realms of possibility. With that in mind, McManus notes that the last thing he wanted to convey from the story was preachiness "I didn't want the novel to be a polemic," McManus states, "nor did I want it to be too academic. The book is entertainment, first and foremost."
At just over two hundred pages, the fact that Even Flow is a relatively short novel means that it needs to have a decent pace, which it keeps perfectly. "I wanted the book to have an electric rush," the Irish author explains, "Like listening to "Smells Like Teen Spirit," with crescendo after crescendo. You could easily read this from cover to cover in about three hours."
And not a moment will be regretted.
Popular in the Community