As an immigrant from Jamaica, I yearned for the experience of Hope Gardens on Sundays, or Sunday afternoon drives when "Brother Reggie" piled all the children in the open back of his truck and took us exploring the countryside. We dressed up for Sundays at the botanical gardens where young and old went to relax and stroll among the exotic blooms, or lie on manicured lawns under lofty Royal Palms soaking up the ambience.

Some of my best times as a teenager and young adult were Sundays spent in exquisite Hope Gardens, Kingston.
Newly arrived in Rockland County, upstate New York I craved similar experiences. I went to Bear Mountain my first fall and had my mind completely blown by the vastness and variety of colors on the trees! I'd seen postcards but had no idea such scenes could be real. Every year I organized a Memorial Day picnic in a park, even if it was still snowing.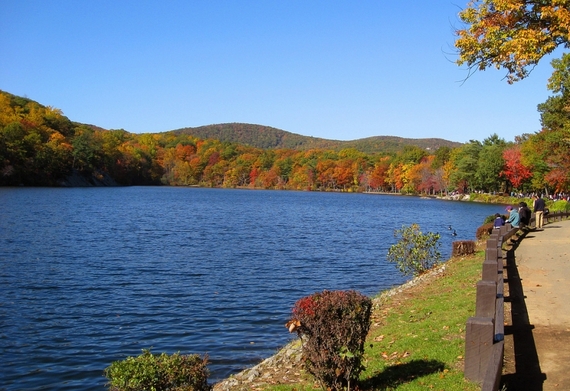 Seeing this unlimited view of fall leaves expanding around Bear Mountain State Park upstate New York redefined my idea of what is possible.
So when I discovered the National Park System 17 years later, I was in heaven right here on Earth. Places that seemed as mythical as those in Myths and Legends of Greece and Rome that I studied as a child were suddenly accessible, available, affordable and oh so desirable.. When I learned that one of the Seven Natural Wonders of the World -- the Grand Canyon that I'd resolved to see some day -- was also a National Park, held in trust for the benefit of the American people, I was over the top. THIS belongs to ME? Wow!
I am inspired to write about my experience with national parks in response to comments made over the weekend on a Seattle Times article co-authored by the Secretary of the Department of Interior Sally Jewell, founder of Outdoor Afro Rue Mapp, and founder of Hispanic Access Foundation, Maite Arce. (Rue and Maite are part of the Next100 Coalition, which includes Frank and me.)

"Even forests and national parks are racist. Did you see the way that Buffalo loomed at that black family? I'm pretty sure that salmon just referred to that transgender person as 'she'?" read one of several derogatory comments.
I don't know anyone who's accusing the parks and our natural resources of being racist or sexist. To reduce the strivings of a valuable segment of our country to such banality overlooks a huge gap which must be addressed if we are to retain our parks into perpetuity.
My experience is an example of the difference that knowing about the parks can make in the life of an individual and the future of our parks:
Once I stumbled upon them I became so smitten that I've given incalculable hours in unpaid service to promote and protect them, including serving 15 years on the board of a national conservation organization; numerous years on the national board of non-profit park partners that operate bookstores and institutes in the parks; on the board of the national organization promoting tourism in the parks, on the advisory board of a park concessionaire, and on the boards of multiple grass-roots park-focused organizations that my husband Frank and I helped start. I've written two books extolling the value of our publicly owned lands system of parks, forests, terrestrial and marine wildlife refuges, advocating for their care and protection, and physically introduced thousands to the parks.
I fervently believe that an appreciation of our public lands holds the key to drawing us together now, at a time when special interests are trying to fragment us by exaggerating our "differences". With approximately 630 million acres of lands under federal protection, they literally hold the firmament of the American landmass together. Equally important, they unite us mentally in the connected story of how we evolved as humans and as a nation on this continent.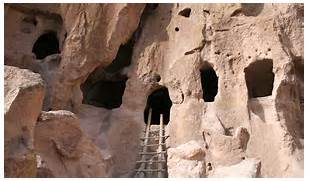 I've climbed up the ladder into the uppermost caves in Bandelier where Natives lived more than 11,000 years ago and marveled at the smoke still staining the roof. JQJacobs photo.
What stands out most for me in our national parks is how they show that we have always striven to expand and strengthen our bonds as one America, and how our better nature triumphed. The current Republican rhetoric appears to go against the grain. The backgrounds of those nominated to lead the Departments of Interior, Energy and Environmental Protection show ominous signs that our collectively-owned resources will be the target of exploitation above conservation.
In order to protect our invaluable treasures and be able to hand them over to succeeding generations in the condition they were passed down to us, we need millions more Americans to experience the parks, fall in love with them and be willing to make their protection a priority. Everything I've contributed to expand awareness came as a result of my becoming aware, and unfortunately our parks are promoted more overseas than they are promoted here at home and in urban communities.
The park service and other public lands managers need to provide information to people in the media that they use - including urban radio, ethnically focused newspapers and focused social media. It's hard to find something that you don't know about and are not looking for unless it's in your circle.
So I hope this helps clarify why we are asking for more of the places where ethnic groups made a significant contribution to be included among our national parks and historic sites, and that more Americans of different ethnicities should be introduced to them and encouraged to help take care of them.
We are not accusing our parks and forests, our wildlife or our fellow Americans of being racist. We're trying to help save them so we can pass them on "unimpaired for the enjoyment of future generations," the foundational intent for our national parks. It's not only our right as human beings, it's our responsibility as citizens of our great country.
REAL LIFE. REAL NEWS. REAL VOICES.
Help us tell more of the stories that matter from voices that too often remain unheard.