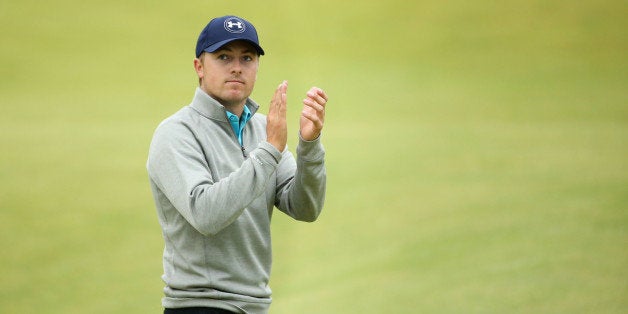 Turbulent winds and torrential downpours at St. Andrews caused a Monday finish for the Open Championship at the home of golf. The leaderboard was densely packed after the weekend with roughly a third of the remaining field within realistic striking distance of the Claret Jug, including some of the top ranked players in the world, and even a few amateurs, but the name near the top that everyone was paying extra attention to was, of course, Jordan Spieth.
The not yet twenty-two year old golfing phenomenon from Dallas that won The Masters in April while breaking numerous records, and becoming the second youngest winner of the Green Jacket, behind only Tiger Woods. In June, Spieth hoisted the U.S. Open trophy, becoming the youngest to win America's national championship of golf since Bobby Jones all the way back in 1923. This past week, he had a chance to do something that no golfer before him had been capable of, win the first three legs of the modern Grand Slam and put it all on the line at the PGA Championship at Whistling Straits in a few weeks for a chance at one of the most remarkable athletic accomplishments of all time.
The Grand Slam is an unofficial accolade in professional golf that was first recognized when Bobby Jones won The Open Championship, U.S. Open, U.S. Amateur and the British Amateur all in the same calendar year of 1930. The major championships have changed since then, and only Ben Hogan has ever won The Masters, U.S. Open, and British Open in one year, and in 1953 when he accomplished that feat, the PGA Championship was played almost concurrently, making it next to impossible to compete in both tournaments so Hogan had to settle with three majors in one year. Tiger Woods is the only golfer to win all four modern majors in a row, but he completed this throughout the final half of 2000 and into 2001, a period which is commonly referred to as the Tiger Slam.
Coming from behind late on the back half of The Old Course, Jordan Spieth made an unfathomable 50-foot putt on the sixteenth hole to enter into a tie for the lead at fifteen under par. However, the always difficult Road Hole, and an out of character approach shot, resulted in Spieth dropping a shot at the seventeenth. His long birdie effort from The Valley of Sin on the eighteenth was valiant but it did not find the bottom of the cup, and his quest for his third major of his career, and third in a row, came up just one shot short. At twenty-one years of age, the mind of a normal man is still maturing, as most at his age are still in college trying to figure out how to be a good man capable of positively affecting society.
Jordan Spieth showed us more in defeat than he did when he won his first two majors with such incredible poise and humility. His calm demeanor grace in victory was admirable, especially when compared to professional athletes in other major sports at his age. The young man has shown that he is capable of winning at a high level while being respectful and mature well beyond his years. Even though he lost a chance at history, he still won in a profound way that cannot be measured in terms of major championship victories. At such a young age, that close to something so monumental, Spieth was able to show the world that he is more than just a great golfer. He displayed his greatest attribute at The Open: his remarkable sportsmanship.
After Zach Johnson won the Claret Jug in a three hole playoff, Jordan Spieth was one of the first people there to congratulate him. All smiles, Spieth warmly embraced one of his childhood idols and current playing competitors in a moment that showed why golf is referred to as a gentleman's game. They even flew back to the states together, which may come as somewhat of a surprise to sports fans, but it just shows that fierce competitors are able to celebrate each other's accomplishments on a grand stage. Too often, do we see players storm to the locker room after crushing defeats in other sports, failing to acknowledge that their opponent had bested them and they deserved to be congratulated for that accomplishment. If an athlete thinks that they are good enough to win at a high level, and they choose not to be gracious in defeat, then they are really saying that they are not a worthy enough of an opponent, so what is the point of shaking the hand of a competitor that is quite obviously better than them? That is the message that unsportsmanlike athletes give off when they fail to properly respect the competitor that has bested them.
Jordan Spieth is young enough to be the son of a lot of the players on tour, but he did what is sometimes difficult for even seasoned veterans. He lost graciously, respectfully and admirably in heartbreaking circumstances, and through that, he never lost sight of the kind of player, and more importantly, the kind of man that he wants to be and present to the world that is watching him so carefully and with so much wonder. If he would have won a third major in a row, he would have further plastered his name in the record books of golf, but his actions after losing make it seem as if Spieth is destined for even greater things in his golf career that is still in its infancy. Surely, the agony of defeat will light a fire under the young competitor, making the chances of him falling short in that kind of position, all the more unlikely for someone with such a sound golf game in every aspect. Jordan Spieth is one of best athletes in the world right now, but the way he carried himself through adversity, makes him one of the finest young role models as well.
Calling all HuffPost superfans!
Sign up for membership to become a founding member and help shape HuffPost's next chapter