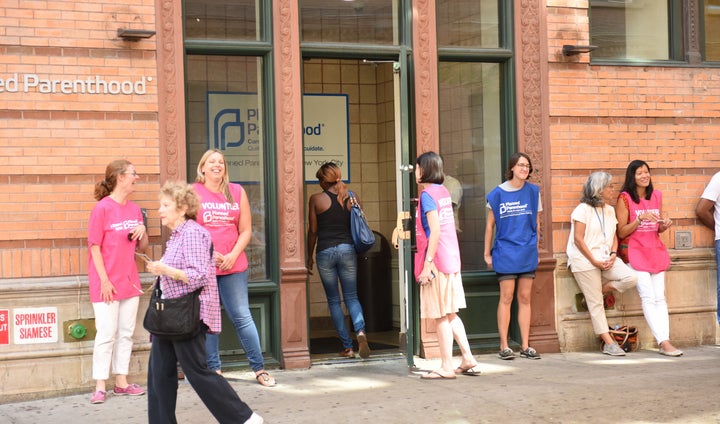 I recently found myself counseling a young woman who had just found out she was pregnant, despite using birth control pills. Lisa was about to graduate college with a criminal justice degree and planned to work for a local correctional facility for at least a few years before starting a family. Neither parenting nor adoption were options for her and her boyfriend, and she was clear that she needed to have an abortion. After explaining her options for abortion in early pregnancy, discussing her future plans for birth control, and making sure I had answered all of her questions, Lisa interrupted me. She asked, "What do you think would happen if I'd become pregnant next year instead of right now and abortion was illegal again? I'd still need to have one, you know."
As a family physician specializing in family planning in New York City, this was not the first time I had been asked a question like this. It wasn't even the first time that week. Lisa hadn't thought very much about abortion until she was faced with an unplanned pregnancy herself, but when her home pregnancy test came out positive, everything she'd read about laws being passed in other states to limit access to the procedure and the anti-abortion rhetoric she heard from so many politicians suddenly felt real. I explained that abortion is legal and part of routine medical care. I told her that the more restrictive laws being passed in other parts of the country would not affect her ability to get the care she needed if she wanted an early-pregnancy abortion in New York. Despite my attempts to reassure her, she still appeared anxious, asking again, "But they're going to still make it illegal eventually, right?"
Unfortunately, I could not tell her that her fears were unfounded. Across the country, attacks on women's access to a legal, extremely safe, and essential medical service are frequent. Over the past few years, states have been passing anti-abortion legislation at an increased frequency, and new threats to reproductive health access have emerged at the federal level in recent months, including further attempts to cut funding to Planned Parenthood. Although New York has better access to reproductive health care than many states, our rights are in danger as well.
Abortion has been legal in New York since 1970, but the law has not been updated to reflect current practice or many of the current issues facing our patients. While I was able to reassure Lisa that she would be able to access care without restriction due to how early her pregnancy was, current law, even in New York, does not explicitly allow for abortion care late in the pregnancy in all cases where the woman's health is at risk.
Accessing care can be challenging for women seeking abortions later in pregnancy, a time when severe maternal medical issues and problems affecting the fetus's chances of surviving birth can result in an abortion being necessary. Since the law does not protect access to abortion in later pregnancy when many of these devastating problems are diagnosed, some New York women are forced to leave the state to obtain needed medical care.
In light of the harmful restrictions being put into place across the country, it is imperative that our state be a leader on reproductive health care access and pass the Reproductive Health Act (RHA). The RHA would bring New York's outdated abortion laws into line with federal protections and ensure that my patients can access the care that they need, regardless of what happens at the federal level.
The Reproductive Health Act would allow me to reassure my patients that their rights are secure. It would allow health care providers to exercise their best medical judgment without legislative interference. I urge the Senate to vote on this essential bill and make New York a safe haven for my patients, and for all women and their families.
Dr. Caitlin Weber, M.D., is a family physician specializing in family planning in New York City and a fellow with Physicians for Reproductive Health.
Related
Popular in the Community