In June 1955, The Saturday Evening Post published what was to become one of Norman Rockwell's most popular covers, The Marriage License: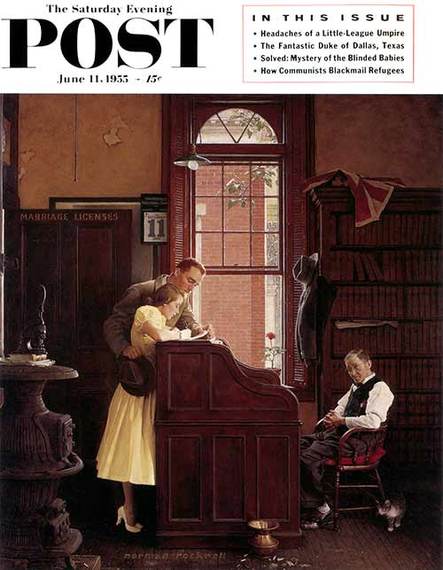 It is a quintessential, romantic, American scene. An attractive couple eagerly signs their marriage license as an avuncular county clerk sits idly by. The clerk's bemused smile lets us know that this is just one of a thousand licenses he has issued. He waits patiently as the couple treasures this private moment, focusing intently on their task. A flower blooms in a pot by the open window.
Sixty years later, another eager couple visits a small county clerk's office to obtain their marriage license. It is Rowan County, Kentucky. David Moore and his fiancé do not have the same romantic experience as Rockwell's couple, however. Despite waiting patiently for their turn to apply for the license, they are ignored, dismissed, and humiliated. Police are called despite the fact that they are doing nothing wrong. The staff is breaking the law by refusing to issue them a license, but Mr. Moore and his fiancé are treated as if they are the wrongdoers.
Rockwell's kindly, spectacled county clerk is replaced in this scene by Kim Moore, Rowan's county clerk. On her website, she claims that she "is here to serve the public in a friendly, professional and efficient manner." This could not be further from the truth. She is mean-spirited, unprofessional and inefficient in her job. Wearing a gray floral smock and a scowl, she addresses the couple with contempt. She forces them to stop filming the encounter. She refuses to issue them a marriage license. Previously, she has denied other couples this same right. She is being sued by the ACLU.
Years from now, this kind of hateful encounter will be an asterisk in the bigger story of the legalization of same-sex marriage. However, this does not make the moment any less painful for Mr. Moore and his fiancé. Armed with legal documents from their governor and the Supreme Court, they have steeled themselves for a fight. They've been together for 17 years, and this should be an exciting, pivotal moment in their lives. But they are robbed of any romance or privacy. They are treated like criminals.
In his Saturday Evening Post covers, Norman Rockwell depicted an innocent America saying grace, going to the barber, visiting the doctor's office, having a soda at the drug store. He painted Boy Scouts, soldiers, grandmas, Santa, a family having Thanksgiving dinner. It is these images of America to which Kim Davis clings. To opponents of same-sex marriage like her, this America is slipping away. They are desperate to maintain it.
But even Norman Rockwell's America changed with the times. When Rockwell finished his tenure at The Saturday Evening Post, he began a series of illustrations for Look magazine in the 1960s that reflected other, harsher aspects of American life. He explored racial conflict, civil rights, violence, poverty. Rockwell once gave us an idealized America, but he went on to provide illustrations of the difficult aspects of our nation, as well. Rockwell's America was complex and rich in its diversity.
Kim Davis' America is an illusion. Refusing to issue marriage licenses in Rowan County will not help make her image of America a reality. America is not what she wants it to be, and she is bitter. She will claim religious persecution, but it is a bluff. She wants to live inside an unspoiled, idyllic Norman Rockwell painting. She wants to be a Christian martyr. Instead, she is a fool.