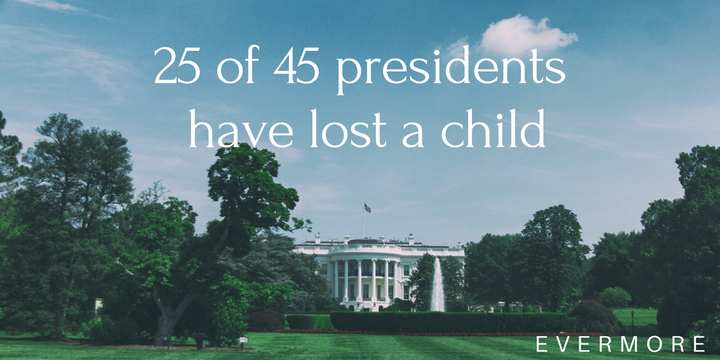 Among the men who have led our nation since its inception, there is a strong bond. And for more than half of our First Families, there is another, silent connection. This thread is woven not only through the families of our commanders in chief; it unites parents of of newborns with those of seasoned war veterans, Chicago's homicides to our fallen policemen in Dallas, devout Christians to observant Jews to pious Muslims: it is the unequivocal, life-changing loss of a child.
According to Doug Wead, a historian and author of All the Presidents' Children: Triumph and Tragedy in the Lives of America's First Families, twenty-six children of presidents died before the age of five, and many more before the age of 30.
Grover Cleveland found the death of his 12-year old daughter, Ruth, "almost unbearbable," whereas James Garfield, who neglected to kiss his daughter Trot before leaving the house for a trip, described his loss by saying it was, "as if the fabric of my life were torn to atoms and scattered in the winds." It is said that John Adams could not speak of his young daughter Susanna's death for years, while Thomas Jefferson, who lost five of his six children, carried a lock of hair from his first Lucy Elizabeth for the rest of his life.
Before entering the White House, Abraham Lincoln would lose Eddie to tuberculosis at age three. It was during the Civil War that his second and favorite son, Willie, an adolescent, would die from typhoid fever. Some historians suggest Willie's death propelled Lincoln to empathize with families during the war. Lincoln was assassinated before the death of his last son, Tad, who died from tuberculosis as a teen. Only Robert, the Lincoln's first child, would survive to become an adult.
Franklin Pierce lost all three of his children, a sentence his wife believed was inflicted upon them by God for her husband's political ambitions. When he inadvertently and unexpectedly won the democratic nomination for President, she fainted at the news and feared the loss of their last son, Benjamin. Following an electoral landslide carrying all but four states, the Pierces' lost their 11-year old son, "Benny," who was the sole fatality in a train accident eleven days before inauguration.
Childhood maladies and accidents are not the sole causes of loss. Alcoholism, suicide and childbirth played prominent roles in the deaths of many presidential adult children. While John Adams, Thomas Jefferson, Martin Van Buren, Zachary Taylor, Millard Fillmore, Theodore Roosevelt, Warren Harding and Ronald Reagan all lost one adult child, some families lost many more. John Quincy Adams and Andrew Johnson lost two, John Tyler lost three, while William Henry Harrison lost five adult children.
While on military duty in the Mississippi delta, General Zachary Taylor lost two young children, Octavia and Margaret, to what historians speculate as malaria. Another one of Taylor's daughters, Sarah, survived the bout that had taken the lives of her two sisters, but lost her life to a second fight with the disease at age 21.
The death of a child is not relegated to those of the past. Five modern-day presidents have suffered this great tragedy: Franklin Roosevelt, Dwight Eisenhower, John Kennedy and Ronald Reagan - both of whom lost two children, and George H.W. Bush. In Jon Meacham's Pulitzer Prize winning biography, Power and Destiny, President George H.W. Bush speaks of how Robin, who died of cancer at age four, remains with him even 60 years later.
Dwight Eisenhower would lose more than his son, who fell to scarlet fever at age three. On the day they would have celebrated his son's 38th birthday, Eisenhower suffered his first heart attack. Fourteen years later and a day after the anniversary of Ikky's birthday, Mamie would collapse from stroke and die within two weeks. She admitted losing Ikky was one of the most difficult hardships that couple had faced.
The impact on parents, then and today, remains a matter of life and death. First Lady Mary Todd Lincoln would outlive three of her four sons and on the first anniversary of Tad's death, she fell ill and died the following day. The same is true of First Lady Grace Coolidge who died one year and a day following the death of her sixteen year old son, Calvin Jr. Theodore Roosevelt would die within six months of his son Quentin who died during a World War I dogfight with German airmen.
As we reflect on the contributions of our nation's leaders throughout the centuries, let us not forget the losses they had in common with families who live and work in our neighborhoods and communities today. We, as a nation, have an opportunity - and a responsibility - to honor those who have passed and help those left behind, presidential or not.
Popular in the Community