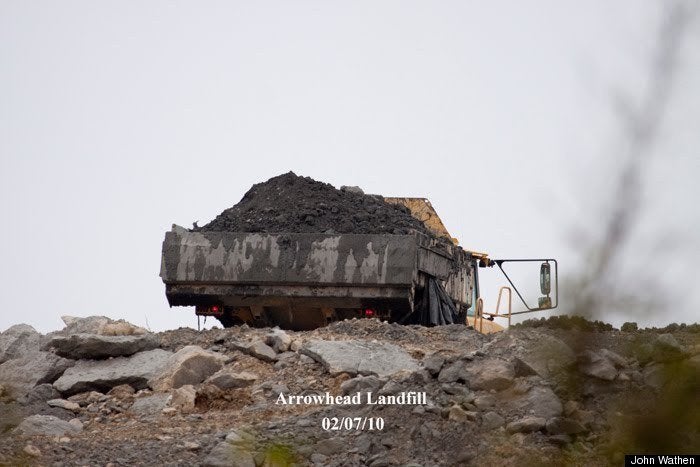 Elisa Young says she has lost at least six neighbors to cancer in the last ten years.
"I've lost neighbors to lung cancer who have never smoked," she said. "I've lost them to brain cancer, breast, throat, colon, multiple myeloma, pre-leukemia. When my son, who's in his 20s, came home to visit, he said, 'Mom, is it normal for your mouth to taste like metal?' We pulled over and he coughed until he got sick."
Young has no doubt about what she believes is causing all the cancer: coal. For the past 10 years she's lived in Meigs County, Ohio, the center of the second largest concentration of coal plants in the nation, and has become an environmental activist.
"There isn't a house on this road that hasn't been touched by cancer... I had melanoma and I currently have two more precancerous conditions for breast and thyroid cancer, none of which are in my family," said Young, 47. "My dog died of cancer, my best friend's dog died of lymphoma. I just gave up a dog because I couldn't afford to take him into the vet. He was getting lumps on him."
Each year, coal-burning power plants release nearly 100 million tons of toxic fly ash into wet ponds, rivers and landfills, according to a 2009 report by Earthjustice, an environmental legal advocacy organization. A 2007 risk assessment by the Environmental Protection Agency found that people who live near one of these coal ash waste sites have as high as a 1 in 50 chance of developing cancer, as well as an increased risk of damage to the lungs, kidneys, liver and other organs as a result of exposure to toxic metals. Further, says the report, the danger to wildlife and ecosystems is "off the charts." Linking exposure to specific diseases can be difficult to prove scientifically -- it has not been definitely proven that exposure to toxic fly ash caused the sicknesses in Meigs County.
Despite these findings, the Environmental Protection Agency has deemed coal ash a "non-hazardous waste" since 1988, a classification that allows fly ash to be dumped into ponds with no protective liner and re-used as pavement, building materials, fertilizer, potting soil and even toothpaste.
In October of 2009, the EPA finally re-evaluated the dangers of toxic coal ash and proposed new rules to regulate coal waste disposal, but the proposed regulations have been stalled for five months at the White House Office of Information and Regulatory Affairs, headed by Cass Sunstein. During their deliberations over the past few months, Sunstein's staff has met with representatives of the coal and fly ash industries approximately 35 times, but has only met with a handful of citizens personally affected by coal ash. According to a press release issued by Ohio Citizen Action last week, Sunstein has not made any public trips to see the real-life effects of coal ash on some of America's poorest communities.
EPA administrator Lisa Jackson told reporters in February that she hoped her agency would unveil the proposal by April. But, she said, "I can't absolutely lock it in." Sunstein's office did not return requests for comment.
Coal ash waste is being piled onto Meigs County from every part of the coal cycle: the mining, the power plants and the dumps. But the area has received very little attention from the EPA or decision-makers in the White House, environmentalists say. "Everything that could affect you with that hazardous waste is right on top of us," Young said. "Nobody's ever come through here and taken samples of our ponds and streams and pastures to see what's accumulated. They're continuing to dump more and more of this on us, and they're not even regulating what is currently making us sick."
Not everyone in Meigs County feels the way Young does about the plants--many people welcome them for their potential to bring more jobs to a county with a staggering 17.7 percent unemployment rate. In August 2008, during a public hearing related to a new coal-burning power plant and landfill being proposed for Meigs County, Jim Phillips of Athens News reported: "Most people who attended the hearing favored the project as a desperately needed source of jobs - a fact brought out when Meigs County Commissioner Mick Davenport asked all supporters in the room to stand, and most people promptly got to their feet." Davenport did not return several calls for comment.
Young thinks electric companies target poor, rural towns because they know the people are desperate for jobs. "They consider us to be the most worthless, powerless population they could find," Young said. "That's why they set up here."
Guy Rose, a farmer in Meigs County, Ohio, said he tried but failed to get a job at one of the four power plants in the area. Having lived on a large piece of farmland in the area for his entire life, Rose said he has lost a number of cattle to cancer, which he says is a very unusual way for cattle to die. He has also had a few health concerns of his own.
"It sure is getting tough to breathe around here," Rose said. "I've had this cough for about three or four years now, but I've never been to doctor. The insurance is so darn high I can't afford it."
Environmental advocacy organizations share Young's concern that the coal industry targets America's poorest and most politically powerless communities as sites for their plants and waste dumps.
"Many studies have shown that toxic waste disposal in the U.S. places a disproportionate burden on poor communities and communities of color," said Lisa Evans, Senior Administrative Counsel for Earthjustice. "Clearly, the facts that these communities have less political power and may already be suffering from environmental and economic blight are factors that make their communities more likely targets for coal ash disposal. For off-site disposal facilities, like the Arrowhead Landfill in Perry County, Alabama, or the coal ash dump in Gambrills, Maryland, I believe this is particularly true."
After a major coal spill in Kingston, Tennessee, in 2008, the Tennessee Valley Authority (TVA) was charged with the responsibility of cleaning up the toxic coal ash and moving it to a landfill that could accept the waste. A spokesperson for the TVA said they made the decision to dump the waste into the Arrowhead Landfill in Perry County, Alabama, a poor, predominantly African-American town, "based on cost, being able to move the material by rail, and the ability of the landfill to accept the waste." She added that the decision was a positive one for Perry County because it would "supply additional jobs to the community," which has long suffered from high unemployment rates.
When Perry County won the contract for the coal ash disposal, Commissioner Albert Turner, Jr., son of the prominent civil rights leader, testified before Congress: "The contract between TVA and the Arrowhead Landfill has provided the county with an economic boost, unseen since the state of Texas struck oil.... In plain words, we have transformed one of the poorest counties per capita in Alabama into one of the wealthiest counties in Alabama."
Turner added, "Now, more than 96% of the residents of Perry County will have clean, fresh drinking water," and repeatedly called the landfill "environmentally safe" throughout his testimony.
But since TVA began moving the coal ash to Perry County in July of 2009, the unemployment rate has actually increased from 19.3 percent to 19.6 percent, according to Department of Labor statistics. And the town's groundwater has consistently tested high for arsenic and other health-threatening toxins. John Wathen, an environmental investigator and clean water advocate for Perry County, says the toxic ash is being very sloppily handled at its new site.
"Literally within 100 feet of people's homes, they're dumping coal ash on the ground, allowing it to blow around," Wathen said. "In Kingston, where the disaster occurred, they're taking meticulous care to make sure none of that stuff becomes airborne on the transfer to Perry. Then they dump it on the ground here, the plastic bags are all over the place, the train cars that are unloaded have to be washed out before they get back to Kingston. So they wash the ash out into a ditch that leads directly into a creek. It's criminal."
Wathen said that anyone who claims that coal waste is non-hazardous hasn't had to stand near it. "I'm a healthy man and I literally break down and throw up every time I'm exposed to it," he said. "And these people are expected to live in it. The federal government, community officials and TVA clearly conspired to take advantage of them."
Dora Williams, who lives with her grandson about 200 feet from the landfill, agrees.
"It's miserable," said Williams, 62. "It affects everything around here -- fruit, trees, cars, trucks, furniture... You can't open your windows. I had a garden; I ain't got one now. The smell, it makes you real weak and sick. When it starts smelling real strong, sometimes I get up at five in the morning and just leave until it lightens up a bit."
Williams says her grandson, who is 26, was unable to get a job at the landfill. "We went to the town meeting, they tell us a bunch of lies, talking about jobs and whatnot. But my grandson went over there and they didn't give him one. They give who they want a job, that's what it looks like."
Some Perry County residents feel like they've been misrepresented by their elected officials, who lobbied for the waste to come to the Arrowhead Landfill because of the lucrative deal involved. Ruby Holmes, 80, says the town members have yet to see any of the money or jobs they were promised, and that none of their opinions were taken into consideration when the decision was made.
"I know we need somewhere to put our garbage, but I didn't thought they would put it this close in front of my door," she said. "We wasn't treated fair. We elect our commissioners to look out for the welfare of our community, and they took things in their own hands. We didn't know anything about this landfill coming in here until it was a done deal, and that's what make me very, very angry. When I talk about it, it upsets me and it run my blood pressure up."
Travis Vaughn, a reporter for the Perry County Herald who's been covering the coal ash situation since July, called Commissioner Turner's comments before Congress "asinine and ridiculous," and reiterated that Perry County was being taken advantage of by the government and the coal industry.
"We're politically insignificant, but more than that, our leaders are so eager to get their hands on money that they don't give a damn about what the people want," Vaughn said.
"They promise us all these benefits, and then nothing happens. They don't listen to us. They won't even show us any records. Two of our commissioners were elected based on their opposition to the landfill, and now they're two of the biggest cheerleaders for the stuff. It's the overall culture of corruption that breeds distress."
From the local level to the national level, many poor communities that are polluted with coal ash waste are concerned that they have very little political representation, and that Cass Sunstein's upcoming decision on the new EPA proposals will be influenced by coal industry lobbyists and representatives.
The coal industry has taken the position that the White House Office of Management and Budget should reject the EPA's proposals and continue to regulate coal ash as "non-hazardous" on the grounds that a "hazardous" classification would limit the beneficial uses of coal ash.
"We don't believe it's necessary to regulate coal ash as a hazardous waste, and that would cause a lot of issue with the fact that coal ash is being used for beneficial purposes, such as the construction of roads and bridges," said Tammy Ridout, a spokesperson for American Electric Power (AEP), which owns two major power plants near Meigs County. "It's used for mine reclamation, it's used in a lot of different applications that allow that ash not to be put in a landfill. So the benefits can outweigh the costs."
But AEP is certainly not unaware of the health risk posed by its plants, as it asked many residents living near its power plants to sign medical waivers.
"People were getting nose bleeds, headaches, acid burns on their faces from the emissions," Elisa Young told HuffPost. "So AEP said they hadn't done anything wrong, but they offered them three times their property value to leave and made people sign medical waivers saying they'd never be allowed to sue for medical problems."
AEP directed questions about health risks and coal ash toxicity to Jim Roewer, a registered lobbyist and executive director of the Utility Solid Waste Activities Group, a trade organization for the coal industry. Roewer said: "The metals that are in coal, some of them are captured in the ash when it's burned. The question of toxicity is one that relates to exposure to the ash. I don't know what kinds of cancers these people have had, and I'm not familiar with incidences of public health damages that have been attributed with exposure to coal ash. But hazardous waste regulations would affect a variety of stakeholders and their ability to use coal ash in beneficial ways."
Roewer has met with the White House Office of Management and Budget twice to discuss the ways that coal ash should be regulated, but he says that allegations that coal industry representatives have had more of an opportunity to influence the EPA and White House decisions than the people being affected by the coal ash are "bizarre."
It is not clear exactly what the new proposed regulations include or whether they are likely to pass, as Cass Sunstein and the White House have remained silent on the issue. The EPA would only discuss the proposal in general terms, releasing a statement that says: "Administrator Jackson is committed to ensuring the protection of public health and the environment regarding coal ash. This rule continues to be under review and we expect to issue a proposed rule in the near future."

The EPA has not yet taken up Elisa Young and Ohio Citizen Action on their invitation to visit Meigs County.
Popular in the Community