My brother P.G. Sittenfeld announced in January that he's running for U.S. Senate in Ohio. Currently in his second term as a Cincinnati City Council member, P.G. is especially interested in education and helping working and middle class families achieve financial stability -- but that's stuff you can find out by looking at his website. What I can tell you is what it's like to be his sister.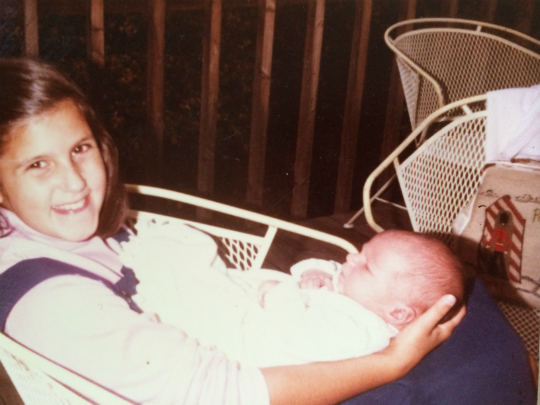 When I was in my twenties, before I got married, I used to regularly get dating advice from P.G. The slightly weird part of this story is that he's nine years younger than I am -- meaning that, yes, I was relying on the wisdom of a teenage boy, a subset of the population not often recognized for great sensitivity, to help guide me through one of life's most delicate and important matters. But here's the thing: Just as he is now, P.G. then was really smart, he was honest, and he was practical. If he thought I was wasting my time with a guy, he'd say so. If he thought I needed to more clearly convey my interest, he'd tell me that, too. Plus, whenever he called, he'd crack me up by saying when I answered the phone, "Sittenfeld, this is Sittenfeld." So in my defense -- if you had a 15-year-old brother like that, you also might have sought out his insights into the mysteries of courtship and the male mind.
Of course, I like to think sibling advice-dispensing is a two-way street. In fact, in order to understand P.G., you need to know that in addition to being the son of two warm, intelligent parents, he's the younger brother of three sisters: not just me, but our sister Tiernan, who's eleven years older than P.G., and our sister Jo, who's four years older. (And no, our parents didn't want only sons -- they just were way ahead of celebrities with the weird-baby-name phenomenon.)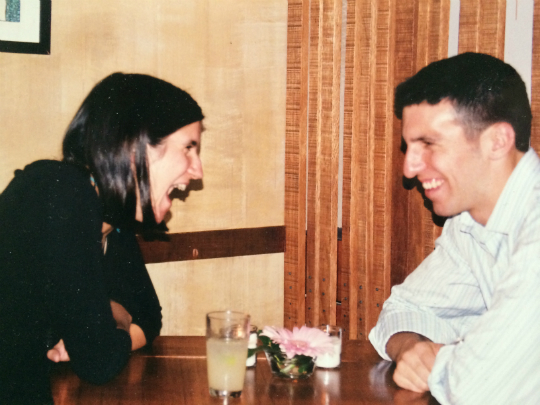 Having three older sisters doesn't just mean that a bewildered five-year-old P.G. was once convinced to try on a yellow dress in a Benetton store or that he has an impressive ability to quote from the movie Dirty Dancing, though both those things are true. Having three sisters also has much more significant implications. It means P.G. welcomes and truly listens to the ideas and opinions of women. It means that he recognizes that women have concerns about issues of health or compensation that can differ from men's -- a realization that you'd think in 2015 isn't that unusual, but among elected officials, it turns out to be rather noteworthy.
When P.G. first ran for Cincinnati City Council, I admit that I wrestled with a question others are now expressing about P.G.'s Senate run: Given his age, I wondered if P.G. was jumping the gun. But even by the time P.G. won his first City Council election, I'd become a total believer, and my faith in him has only strengthened during his two terms. I've seen that without a doubt, P.G. genuinely cares about the community he's part of, down to the nitty-grittiest levels: He loves helping to fix problems as small and prosaic as a pothole and as big as a school that's not serving its students. And his age is an advantage -- he has a huge amount of energy, he's progressive about social issues, and he actually knows how to send his own tweets.
One of the things P.G. has done that I'm personally most proud of happened in the fall of 2012. As the election approached, billboards went up in predominantly black neighborhoods in Cincinnati sending threatening and confusing warnings about voter fraud, warnings clearly meant to discourage any voting on the part of people living in these communities. P.G. was rightly appalled at the discrimination and reached out to a national billboard company who donated billboards all over the city that had red, white, and blue backgrounds and said: HEY CINCINNATI, VOTING IS A RIGHT, NOT A CRIME.
Here's what else P.G.'s résumé can't capture: how friendly and funny he is, and how hard-working and curious. He genuinely loves being a public servant. As a writer, I've purposely chosen a profession that allows me to spend my days sitting in a room alone, but if you look up the word "gregarious" in the dictionary, you just might find a picture of P.G. He'd be delighted to share a meal of sloppy Cincinnati chili with you no matter who you are -- a college student, a firefighter, a fiftysomething woman or a male senior citizen. He even gets a kick out of those ceremonial occasions, like riding up in a cherry-picker to light a twenty-foot menorah, or using enormous scissors to cut the ribbon at the opening of a community center. When I heard recently that a longtime political consultant named Jerry Austin had said P.G. displays "political talent" he and others hadn't seen in nearly 40 years, I wasn't surprised. P.G. has an ineffable quality that you can't buy and you can't fake -- there's a perfect match among his talents, passions, and responsibilities. He's doing exactly what he was put on earth to do.

I know P.G. well enough to realize that he's far from perfect (I'll spare you the story of the epically huge fight we got into inside a K-mart in 1999, but trust me -- he was wrong and I was right). I also know P.G. well enough to believe unequivocally that he'll make an excellent senator. I'm excited to share in this exciting journey for my brother and Ohio.
_________________
Curtis Sittenfeld is the author of the bestselling novels Sisterland, American Wife, Prep, and The Man of My Dreams, which have been translated into twenty-five languages.
Calling all HuffPost superfans!
Sign up for membership to become a founding member and help shape HuffPost's next chapter