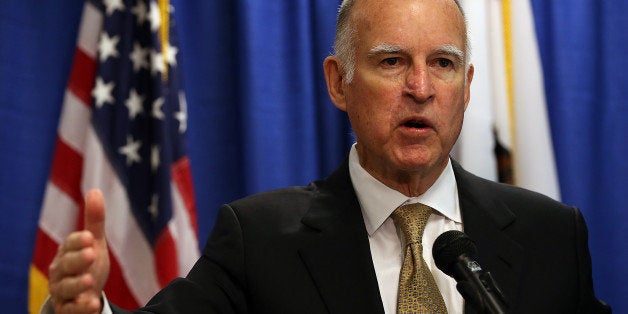 With the California legislature off on a month's vacation beginning with the 4th of July weekend, it's a period in California politics in which several matters are poised awaiting resolution; namely, policy on water, high-speed rail, and space, the state controller's race, and Governor Jerry Brown's future.
As part of Brown's "up-wing" approach -- my term for politics that are neither left-wing nor right-wing but rather oriented to uplifting civilization through new technology, creative utilization of existing technology, and new structural forms, discussed in this April piece on "California's Up-Wing Governors" -- high-speed rail has always been a key positioning issue. Using proceeds from the state's carbon trading market, Brown has secured ongoing funding sufficient to trigger release of already secured funds and construction of early phases of the project. Are some adjustments to the Central Valley and Southern California phases in store? And when will formal construction begin? We'll have a better idea later this summer.
California's extended and rather extreme drought was already driving home the significance of water policy in the greenhouse era even before the Iraq crisis showed how literal "water wars" might become.
Since Iraq is in the midst of a worsening drought in this greenhouse era, and electric power has been very spotty since the US invasion destroyed much of the country's infrastructure back in 2003, ISIS, with a hold on the resources and dams of the upper reaches of the Tigris and Euphrates Rivers, may possess a chokehold not only on the future of the disintegrating Iraqi state, but also on much of Syria.
Compared to this, California's long-standing water wars, in which I first heard the term "water war," seem trivial. But what is trivia in the larger sweep of history can, and often is, heap big politics in these disunited states.
California's big water bond still lies in limbo. Then Governor Arnold Schwarzenegger finally broke the decades-long deadlock on water policy near the end of his second term, working an $11 billion water bond through the legislature. But it was too big, and a bit too festooned with what some call pork, mostly indirectly-related environmental projects, to risk final enactment at the ballot box, so it has remained in abeyance for most of Brown's current term as governor.
Longtime space advocate Governor Jerry Brown spoke at the unveiling of the Space Shuttle Endeavour exhibit at the California Science Center in Los Angeles in 2012.
Brown, of course, has other big plans of his own for water -- most notably his updated Peripheral Canal project to move Sacramento River Delta water southward -- and this water bond, or, more accurately, a version thereof, has always been a big factor. But a big factor as a scaled-down bond.
The good news is that there is a political consensus that a revamped water bond needs to move forward. Brown, perhaps lowballing things to get the ball rolling, proposed a conceptual $6 billion water bond, including $2 billion for storage, i.e., dams. Proposals with bigger numbers have come up short in the state Senate and Assembly.
Notably, water storage is a major part of all plans now, something which was not true before Schwarzenegger got the original water bond passed. There is much that can be done with conservation and efficiency techniques, but California is a big state that is getting bigger. Vast portions of the population live far away from natural sources of water. And agriculture needs water, too, even if government were to get into the business of cutting off certain highly water-intensive crops as some environmentalists advocate. Letting all that run-off escape to the Pacific was never a particularly bright idea.
As one would expect of someone who got the nickname "Governor Moonbeam" for advocating a state satellite and a mission to Mars, not to mention someone who had his own personal Apollo astronaut as an advisor, Brown has always been in favor of promoting the space industry and the overall aerospace sector which provides an infrastructure for new industry. California's aerospace sector suffered a great collapse following the end of the Cold War and is still struggling to recover.
Brown is a great fan of Pasadena's Jet Propulsion Lab, which runs NASA's deep space missions of unmanned probes.
Mojave Air and Space Port, jumping off point for the first private space flight, is a federally certified civilian spaceport in part due to efforts by Brown's former chief of staff, former Governor Gray Davis.
But it's not all just "the vision thing" for Brown, as some recent pragmatic moves on space-related issues show.
Early this year, Brown and legislative allies moved to aid SpaceX and other firms by exempting them from paying taxes on space flight-related property and components.
SpaceX, run by Tesla Motors and PayPal founder Elon Musk, who helped inspire Brown friend Robert Downey, Jr.'s portrayal of Tony Stark, aka Iron Man, is bidding to become the next big thing in commercial space exploration and off to a flying start, as I wrote here in August 2012.
Then Brown moved with negotiation and legislation to help California land contracts for a new strategic bomber aircraft. The state legislation, which passed both houses of the legislature before it took its summer break, will provide tax credits for 17.5 percent of manufacturing wages paid to in-state workers on the project.
China has developed new hypersonic nuclear-tipped cruise missiles as part of its strategy to attempt to counter the power of the US Navy.
What's the aircraft? Still without a formal designator, it is designed, according to Pentagon sources, to be capable of long-range missions into hotly contested areas with advanced air defense networks.
That's a description that fits China, which is hard at work on developing (A2/AD, anti-access/area denial, in the military term of art) weapons systems. These are aimed at limiting or even negating the operational ability of US aircraft carrier strike groups in the Western Pacific, where China is pursuing very aggressive strategies with its upset neighbors.
In other words, as Brown pursues his own diplomacy with China, focused on commerce, trade, investment, and helping the PRC with progressive policy development on renewable energy, energy efficiency, and greenhouse gas cuts, he also bids fair for California to become the maker of weapons systems to counter China's aggressive military build-up.
That's what we might call "creative tension" in policy toward China.
Of course, there are elections to look forward to.
California's June 3rd primary election finally concluded last week with the end of a very long count. And the identity of the second place finisher in the race for state controller is ... state Board of Equalization member Betty Yee.
Yee, an underfunded candidate from San Francisco who served as deputy budget director in the Gray Davis Administration, ends up with a 481-vote edge over former Assembly Speaker John Perez of Los Angeles, whom most had expected to win the race. Republican accountant David Evans, who ran second in the election day count behind Fresno Mayor Ashley Swearengin, the moderate conservative Republican who backs Brown's high-speed rail project, fell back to a relatively close fourth place.
The final percentages? Swearengin 24.8 percent, Yee 21.7 percent, Perez 21.7 percent, Evans 21.0 percent. This will be the most closely contested California statewide race in the fall, with Democrats poised to sweep all other offices in what will be the latest Brown landslide. But will Yee be the Democrat? The well-funded Perez, whose platoon of political operatives and consultants managed to miss the rise of both Yee and Evans, has called for a partial recount of areas where he showed strength.
How did Brown end up in the final June primary count? In a record low turnout with disproportionate Republican participation, Brown, who ran no ads despite having a $22 million campaign warchest, garnered 54.3 percent of the vote. His two main Republican challengers, former assistant U.S. Treasury secretary Neel Kashkari and state Assemblyman Tim Donnelly, trailed far behind with 19.4 percent and 14.8 percent respectively.
Kashkari, best known as coordinator of the highly controversial Wall Street bailout, shows no sign of having the issues or the resources to make a real run at Brown.
One person who did have the resources to make a run at Brown died over the weekend.
The first private space flight in history took off from Mojave Air and Space Port ten years ago in California's high desert.
The death on the 4th of July of billionaire media mogul Richard Mellon Scaife, a key pioneer of the right-wing move into using the news media to spin up a political agenda, reminds of his foray into California. Anxious to have a regular voice in California politics, Scaife bought the Sacramento Union, previously best known as the journalistic home of Mark Twain, and spun it up to a hard right-wing, anti-Democratic paper with a particular animus for then Governor and Democratic presidential candidate Jerry Brown. Central to this strategy was long-running California journalist Dan Walters, hired away by the Sacramento Bee as part of its strategy to kill off its daily competition, a plan which ultimately succeeded. As I reported in a long 2012 Sacramento News & Review feature on Walters's rather amusing four-decade pattern of attacking Brown and predicting ongoing Republican hegemony in California.

Scaife made Walters the state's only daily political columnist and unremitting attacks on Brown, who in the Scaife/Union/Walters formula never could do anything right, were the column's bread and butter. But Scaife tired of his California venture and sold the paper just as Brown was beginning a political comeback at the end of the '80s. Soon he would have an even juicier target set for his other properties: Bill and Hillary Clinton.
Speaking of which, Hillary's latest roll-out, around her secretary of state memoir Hard Choices, seems a bit, well, underwhelming. And not just because Isis swept through Iraq during the first week of her book tour. Or because she complained that she and Bill were so "dead broke" when they left the White House that they had trouble buying houses. I attended her big UCLA speech four months ago, for which she was paid an astounding $300,000, and thought she was impressive but just off. I'll have much more to say about her as we go forward. She can still overwhelm the likely band of relatively little-known and/of inexperienced Democratic contenders, not to mention Vice President Joe Biden.
On the other hand, Brown would be an almost perfect candidate to take her on and quite possibly out. If he were 10 years younger in this still ageist society and had less that he wants to accomplish in his final term as governor.
REAL LIFE. REAL NEWS. REAL VOICES.
Help us tell more of the stories that matter from voices that too often remain unheard.