Just when you thought the scene for photo-sharing apps was too saturated for yet another entrant, Shots of Me was released last week. The app, which allows users to snap and share selfies, is being endorsed and funded by Justin Bieber, so it warrants some discussion.
According to The Dish Daily, Shots of Me is safer than its counterparts. Unlike other apps, like Instagram, there isn't a field for users to write comments, which limits the extent of trolling and cyberbullying. The only way to leave feedback is by pressing "like" on a photo, and users are able to send private messages only to accounts that follow them.
Since cyberspace has become a stomping ground for bullying, creating an app that disables the ability to write public comments seems like a good idea, right? But keep in mind that harassment can also happen in direct messages, as well as tagging other Shots of Me accounts in post captions.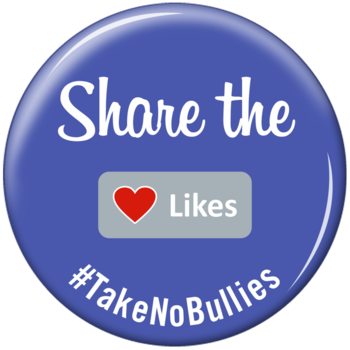 Sharing kindness can make a huge difference (Image via #TakeNoBullies.)
There's plenty more to consider when it comes to photo sharing in the digital world. Recently, attention has turned away from Florida's tourist attractions and sandy beaches to its youth bullying tragedies -- and, unfortunately, revenge porn, as well. As a Bloomberg article describes this type of harassment, "Boy meets girl. Boy and girl start dating. Boy and girl have fun together. Girl sends boy naked photo of herself (aka nude "selfie"). Eventually, however, girl dumps boy. In retaliation, boy posts photo of naked girl online, sometimes including her name, address and phone number."
Not all relationships are sustainable. Children's mindsets and interests change as they grow older, and their relationships often drift apart as a result. Yes, the recipient of that seductive selfie may be a friend at the moment, but if associations sour down the line, that person can easily photo shop it and share the manipulated product on their social profile.
A handful of states have proposed or introduced legislation to make revenge porn punishable by law, including New Jersey, California, Wisconsin, New York, and Maryland. This is certainly a step in the right direction, and hopefully more states will follow suit. However, as Florida attorney Richard Kuritz puts it, in states without stipulations against revenge porn, once you transmit a photo to someone, you're giving it free range to go viral. From that point on, what happens to it is out of your hands.
Understanding the symbiosis between revenge porn and selfies is a key step in preventing victimization.
Don't let your online photos jeopardize your offline life -- take the time to learn about how to share responsibly.
But what many people don't seem to remember is that online well-being is not just predicated on your pictures, it also depends on who you're connected with. Is it time to sift through your friends list to see who you know and don't know? Are some of your friends actually strangers?
As a parent and cyber advocate, I have browsed many teens' Facebook pages and have been stunned at the snapshots I see. Although I err on the side of caution, I'm confident many of these photos could easily be manipulated into revenge porn.
Of course, we should consider how grownups contribute to revenge porn. In many cases, their behavior online is less than impressive. As adults, we're supposed to lead by example, yet some act with less prudence than toddlers.
How can we help our teens understand the importance of this lesson? Let's try to wrap our heads around this entire cyber-explosion of selfies, revenge porn, and cyberbullying. It starts and ends with digital citizenship. If your children are raised to respect themselves and treat others with kindness offline, it should overflow into their cyber-lives.
Sometimes it takes events like a college rejection for using poor judgment on social media for a teenager to get the message -- or worse, tragedies like the suicide of Amanda Todd. Our kids don't deserve to be subjected to this kind of pain -- they need our help as role models.
•Don't send anything that could conceivably be used against you. If you choose to send a seductive photo, know the risks you're taking.
•Examine your friend lists on social networking sites to make sure you're sharing with people you know.
•You can never know enough. Educate yourself on digital citizenship with tools from CyberWise.
Related