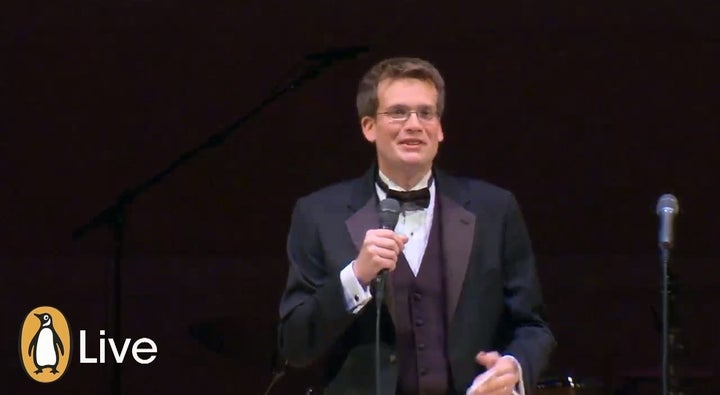 Last night, YA author John Green held a sell-out event called "The Evening of Awesome" at New York City's Carnegie Hall.
The event was held in honor of the one-year anniversary of Green's bestselling book The Fault in Our Stars (included in our Best Books of 2012.) The night was filled with singing (partly from musical guests The Mountain Goats), dancing, music, reading, a Q+A portion, and acting. Green hosted the event with his brother, Hank Green - together they present a hugely popular YouTube series of video blogs under the name The Vlogbrothers, as well as the annual fundraising event Project for Awesome and the Crash Course series of entertaining short films teaching their audience about science, history and literature.
The event sold out at lightening speed (yes, an author sold out Carnegie Hall). For those not fortunate enough to snag a ticket, the event was also livestreamed on the web, and bookstores around the country hosted special watching parties.
The fans (known as Nerdfighters) were lined up around the block to get in (even though the seats were assigned). We have never seen so many people get so excited about seeing an author. When Green took the stage, they screamed louder than a roomful of Beliebers.
During the event, John Green discussed the story behind his YA hit. The Fault in Our Stars follows the life of a teen girl, Hazel Grace, as she battles cancer and falls in love with a fellow cancer survivor. Green talked about a young cancer patient he knew, Esther Earl, and the impact she had on his writing the novel. He noted that "understanding that love is stronger than death was essential in writing The Fault in Our Stars." He also stated, "The real hero's journey is not from weakness to strength...[it] is the journey from strength to weakness."
Hank Green played some very funny musical numbers on the guitar (some literary themed, others science themed) and The Mountain Goats played a short medley of their own songs in the middle.
There were also a few surprises thrown in. Shortly before the Q+A portion, John mentioned that the person who would be asking him questions (all curated from audience members/fans via Twitter) was an author who had written some Dr. Who episodes. A buzz went around the crowd. Surely it cannot be Neil Gaiman??
Enter surprise guest, author Neil Gaiman.
The one answer that stuck out from this section was to the question: "[What is your] advice for aspiring novelists?" Green responded with, "Read a lot. Read broadly... Tell stories to your friends, and pay attention to when they get bored... Write a lot."
Gaiman also had some advice on that subject: "Read everything. Write. Do not hope that elves will come in the night and write your novel for you. They NEVER do. I've tried, and it's a waste of time. And finish things, just whatever it takes to finish, finish, and then get on with the next one. You will learn more from a glorious failure than you ever will from something you never finished."
The night concluded with a song performed by Hank Green, a cover of They Might Be Giant's "New York City" (John Green sang along). The Mountain Goats came out for one more song as well and every guest, including Gaiman, danced on stage.
Before this unique event, we conducted an email interview with John Green about how it came about, and why:
Why did you decide to host the event with your brother and The Mountain Goats?

Well, I don't actually have any talents. Like, I can't sing or dance or play an instrument or make art or anything. The only thing I'm good at doing is sitting alone in my basement for long stretches of time typing, which doesn't make for particularly compelling theater.
My brother has been my closest collaborator for many years, because we share a YouTube channel and many other projects. And The Mountain Goats are my favorite band. I asked them if they would join us for this fully expecting them to say no, but they are kind and generous souls.
Why did you decide to hold an anniversary party for The Fault in Our Stars?

I never imagined the book would find such a wide audience, or that Time would name it the best fiction book of 2012, or that it would be published in 35 countries, or any of that. All of this just never even entered my imagination. So it's both an opportunity to celebrate and give thanks. But really Hank and I are always looking for excuses to bring nerdfighters together, because it's a lot of fun.
Are you finding the success of The Fault in Our Stars hard to follow? How is writing your next book going?

The writing of my next book is going hardly at all. Hank and I tour the UK in a couple weeks and then when I come home, I should have a few months to write. As much as I enjoy traveling and meeting readers, it will be very nice to be able to be a writer again, and also to hang out with my family more.
Who would you love to see direct the film adaptation of The Fault in Our Stars?

I am so blissfully ignorant of Hollywood that I honestly have no good answer. I adore the producers and the writers who've been involved with the film development thus far, and I trust that they will find a director who's right for it.

You are pretty involved with your fans (YouTube videos, this event, etc). You give a lot more than the typical author. Why is that?

I don't really think of it as giving, because I also receive a lot: Readers make music and art and fan fiction and t-shirts inspired by my books, which is tremendously fulfilling. One of the most important things art can do is inspire more art.
I also like my readers, and I feel lucky for the conversations we get to have inside of books but also for the ones we get to have off the page.
How does it feel to have the tickets for Carnegie Hall sell out so ridiculously quickly?

It felt great. Also a bit terrifying.
WATCH the whole event below:
Related
Before You Go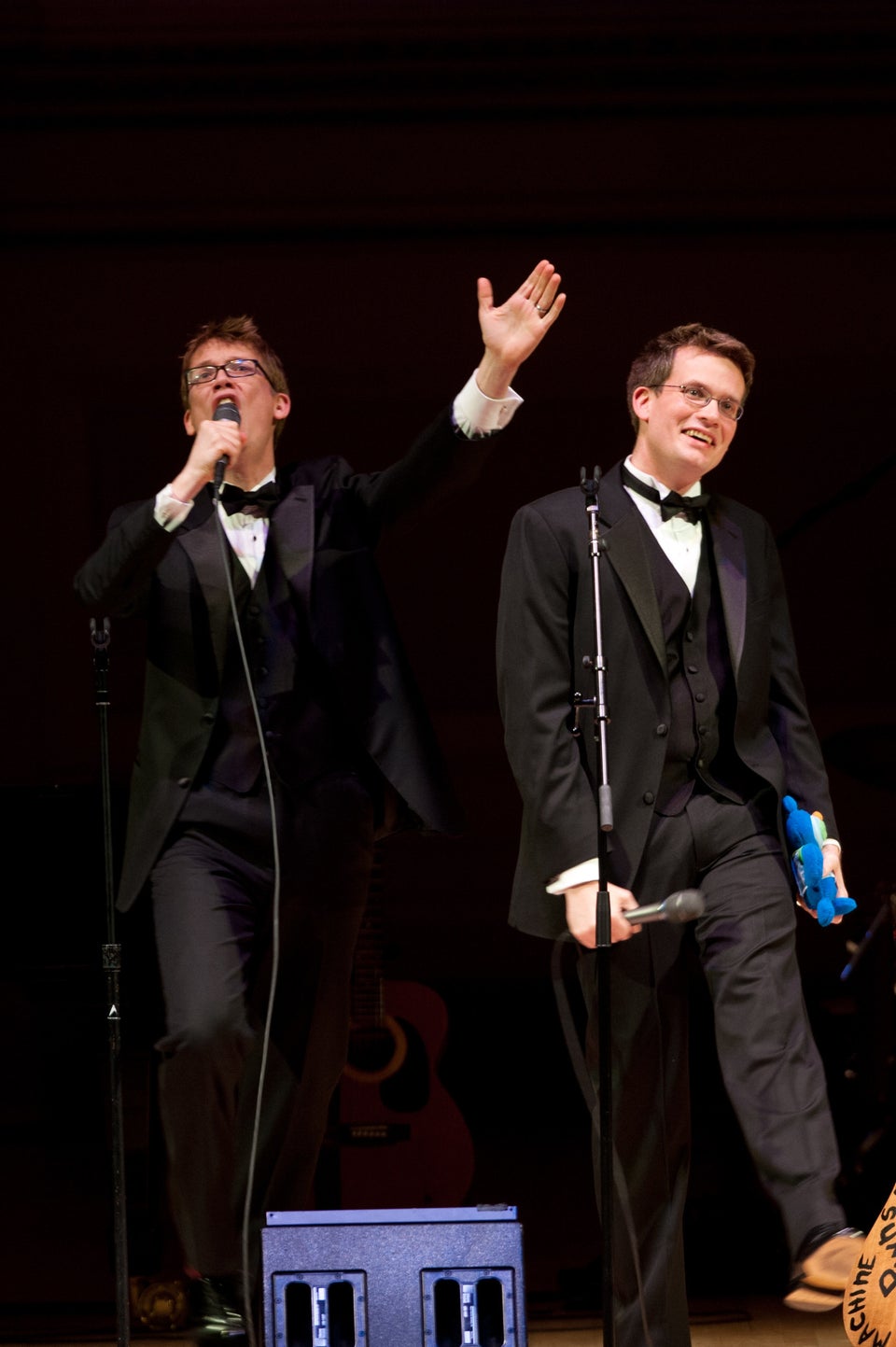 Evening of Awesome
Popular in the Community