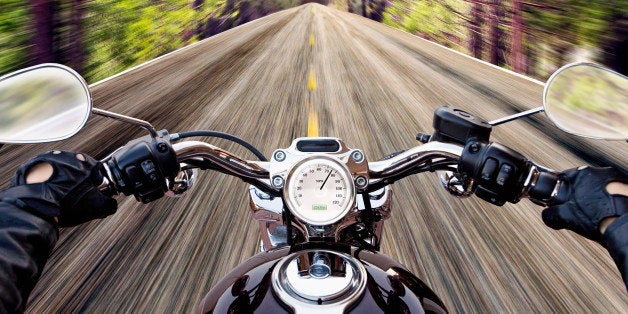 Ever dream of dropping everything to travel the world? To live like a Gypsy and visit foreign lands, eat exotic foods, hear new languages and music. In an Indiegogo crowd-funded documentary one biker makes the quest to do just that.

The documentary, entitled Somewhere Else Tomorrow, spans 2.8 years and 27 countries, including travelling roughly 5,300 meters high through the Nepal Himalayas in eyesight of Mount Everest with only 50 percent of oxygen level there. The film is now at the end of post-production and will soon be released to its Indiegogo backers.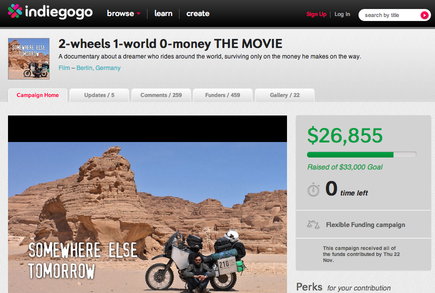 It had received nearly $27,000 of its $33,000 goal from 459 backers. (Unlike the other big crowd-funding platform Kickstarter, Indiegogo allows the user an option to keep the large majority of funds raised even if the funding goal isn't reached).
Here's a clip of the project's German producer and director Daniel Rintz with his editor as they discuss his experience meeting a family in Pakistan and at the top of his Indiegogo page here can be viewed his trailer.

"There was nothing I wanted more than to travel around the world," said Rintz in the film's trailer. "And I was tired of dreaming about it. So instead of saving up first, I decided to try and make the money along the way."
Rintz, whom I contacted via email, was a student when he decided to journey the world on a motorcycle using what little money he had on preparations.
He says he was "determined to earn every mile." This translated into taking any odd job that he could find along the way that helped fund his travels -- such as painting a bridge, fitting windows and even working at a rice paddy (although he admits it was "just for the experience" and didn't really yield much money).
"I lived a very, very basic life, ate the cheapest of food and used my tent as often as I could, but I was at my happiest," he says. "I never felt more independent and free."
He recalled a harrowing time when his bike broke down in route from Southern Iran through Pakistan, through the desert. It was the first time in fifteen years that his bike failed him. And at the time, he was 50km from the Afghani border and just half an hour from Dalbandin, a village in Pakistan where a French man was then-recently kidnapped. The Taliban, he noted, operates near the region, where suicide bombings and kidnappings are frequent. Rintz hoped to only stay four days while travelling through the country, but he stayed instead for more than six weeks. Turned out, he was happy to linger around for longer than expected:
Boy was I wrong about this place. I was forced to immerse myself into this culture in order to get out of it. I learnt more than the average tourist does...Every Pakistani I talked to for more than a couple of minutes said to me: 'Please go on, travel the world and tell everyone about your experiences in our country.' Because they know what they are portrayed like. And they know it only takes a couple of extremists to screw up the reputation for a whole nation.
In one clip, Rintz mentions how he grew up in Communist Germany where travelling was limited to just several neighboring countries and that this journey therefore allowed him to further open his eyes to the world.
"For me, learning from these random encounters, getting a sneak peak into those foreign cultures taught me more than all the books I read," he later added.
REAL LIFE. REAL NEWS. REAL VOICES.
Help us tell more of the stories that matter from voices that too often remain unheard.