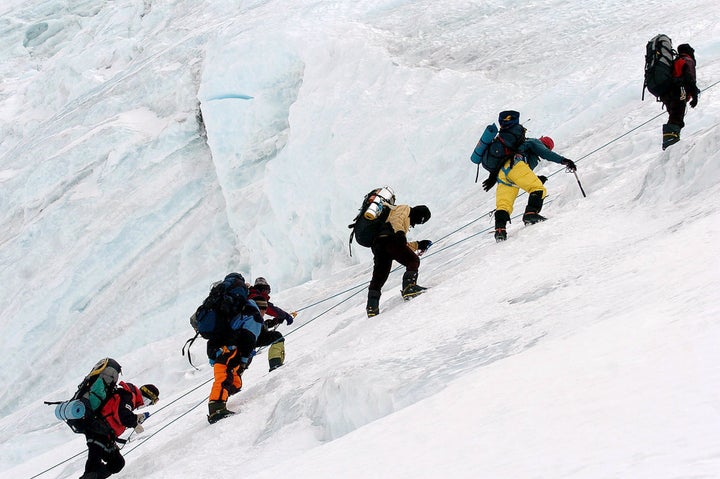 Two months on the world's highest mountain: where do I begin?
I guess I should start with why I found myself up there to begin with. Three years ago, I decided I wanted to climb the highest mountain on each of the seven continents, in hopes of raising support for the women and children of the Democratic Republic of Congo (DRC), home to the world epidemic of rape and sexual violence in the world.
When I started, I would not have considered myself a "climber." I loved the mountains and hiking, but had never actually summited anything that required real mountaineering skills. Even before I had learned of what was happening in DRC, I had wanted to climb the seven summits, but it wasn't until I learned of the atrocities committed against women and girls that I found the fuel to make me do it.
I haven't turned back since.
When I embarked on Everest, I had five of the seven summits behind me, but everything about this mountain, both physically and emotionally, was on a whole other level. Through every step, camp, and decision, I came to understand myself differently, and felt an endless fulfilment and motivation in what got me to this place, regardless of what happened along the way.
When you climb Everest, you climb it not once, but many times. We began our trek down the valley at Lukla (9,383 ft.) and climbed over seven days to Everest Base Camp at 17,700 feet. Once at Base Camp, you make the same venture up and down the valley several other times, mostly for altitude recovery. You also shuffle up and down from different camps along Everest to acclimate. By the end, we climbed the ice fall -- one of the most dangerous parts of Everest -- four different times: the first to reach one-quarter of the way up, the second to reach Camp 1, the third to reach Camp 2, and the fourth to attempt the summit.
Each ice fall climb was a different experience. It was important to set off through the ice fall before 5 a.m., so that you didn't risk getting caught on the ice in the heat of the day, when there's a higher risk for avalanches or for the ice to shift or break off. This often meant that some of my time on the ice fall was bitterly cold, while other times I thought I was going to cook right there on the glacier. There were times my body felt great and I could move quickly, other times I could barely muster the energy to reach the next camp.
For two months, I played a mental game with myself. Each time I reached a new camp, I felt a surge in confidence. Even though I had trained and prepared for this climb, both mentally and physically, Everest has a way of knocking you down, and you have to fight to not get psyched out and discouraged.
Honestly, it did not help that I was not the fastest on the team. Some days I felt invincible, and some days I felt like I hadn't trained a day out of my life and I was out of my league. The altitude was a constant struggle and it amplified the effects of all of the other factors that determine how well you climb -- sleep, hydration, food. I never took for granted any given day that I felt well up there, and I hope to keep that gratitude now that I am back in the comforts of home.
Reaching Camp 3 (24,500 ft.) was a high point, and I really felt that I had a good shot at the summit. We were a smaller team, after having lost some of our strongest climbers to illness. I had survived a painful, 11-hour climb to Camp 2 and what felt like 100-degree temperatures on the glacier. My tent was shredded at 2:30 a.m. at Camp 2 from 70+ mph winds (thankfully our guides let us use their tent), and at one point I had the energy to do yoga at 21,300 ft.
Camp 3 is probably the most dangerous of the four camps. If you leave your tent, you have to clip into a safety tent so that you do not slide down the Lhotse Face. But that was not the only reason I was anxious: from this point, you have one more camp to reach, the South Col, before you attempt the summit. I had about 48 hours to go until I was on my summit bid.
I had come too far, experienced too much, to not reach the top. I did not want to let anyone down, including myself. My two months on the mountain had already changed me and I was starting to view life differently. Above all, I was charged to be doing this for the women of DRC, and pursuing a dream that seemed impossible.
There was no turning back now.
Stay tuned for more diaries from my trip to Everest for the women and children of DRC. To support my campaign, Climb Take Action Seven Summits, click here. Every cent of your donation will go to International Medical Corps and VDAY, two organizations providing humanitarian relief in the Congo.


REAL LIFE. REAL NEWS. REAL VOICES.
Help us tell more of the stories that matter from voices that too often remain unheard.