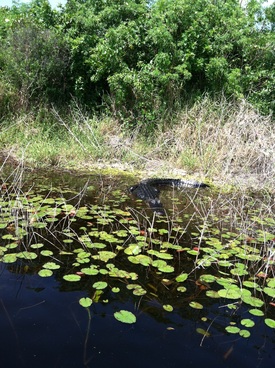 This week, the U.S House of Representatives passed a bill to move forward several Everglades restoration projects. According to Audubon Florida's Director of Everglades Policy Julie Hill-Gabriel, if the water resources bill becomes law, four Everglades restoration projects will be eligible for federal funding for the first time.
Okay, I get it. The only alligator you like is the one on your Lacoste polo shirt. Your favorite bird is either barbequed or fried. And you utterly despise mosquitos.
Why then, you ask, should you care about Everglades restoration?
And the economy. The Everglades cornerstone of the regional economy, supporting the state's estimated $67 billion tourism industry, a $13 billion outdoor recreation economy, and $100 billion agriculture sector.
These sound like talking points, you say? Let's take a quick look at the history to understand how and why it matters.
Almost everywhere you go in South Florida used to be part of the Everglades. Miami International Airport? A wetland. South Beach? Mangroves. Weston? Well, take a look at what is just little west of there. When we talk about the "Greater Everglades," it refers to the ecosystem from the Kissimmee Chain of Lakes (close to Disney World), all the way south to Florida Bay by the Keys. Not just Everglades National Park in Miami Dade County.
Last century, conveniently after the invention of air conditioning and mosquito control, people started to settle in South Florida. After a few rainier than usual wet seasons and particularly nasty hurricanes in the 1940's, the Florida government asked the federal government for help to drain excess water off the landscape.
On this particular task, the federal government was quite effective. The project, known as the Central and South Florida Flood Control Project, transformed miles of wetlands into a regional water management system with thousands of miles of canals, thousands of levees and berms, dozens of pump stations and hundreds of water control structures and culverts. A gargantuan feat in human engineering.
The new water management system was so efficient that it drained too much water from the region -- water that otherwise would have gradually seeped into our aquifer to recharge public water supply and give life to the region's abundant ecosystems.
The severely altered ecosystem/man-made infrastructure remains today. During rainy periods, water is quickly flushed to tide. Approximately 1.7 billion gallons of water from the Everglades drains to the coasts each day. Conversely, this water is not available for use during dry periods.
This has some serious consequences for the region's ecosystem and economy. This summer, the St. Lucie and Caloosahatchee estuaries were hammered by large releases of water from Lake Okeechobee, leading to widespread devastation of these ecosystems. Prior to human alterations to the ecosystem, this water would have naturally flowed south. Sadly and ironically, in one or two years from now, the same estuaries may need water from Lake Okeechobee to help sustain their ecosystems during the dry season, likely at the same time agriculture and public water supply users will compete for water allocations.
Fortunately, at the turn of the new millennium, a new plan emerged. Encouraged by the unusual coalition of environmentalists, agricultural interests, and public water utilities, the Federal and State Governments embarked on a groundbreaking plan, known as the Comprehensive Everglades Restoration Plan (CERP), or just "Everglades restoration" for short. This effort is known as one of the largest ecosystem restoration projects in the world.
The plan sets forth more than 60 different projects to store water, clean water, and flow water through the system. It is projected to take several decades to complete. The plan aims to restore ecosystems, provide flood protection for residents, and ensure clean and abundant water supplies for South Florida's residents.
Thirteen years into the plan, we are slowly trudging along. There are a few Everglades restoration projects that are nearing completion. The Picayune Strand project, which restores wetlands on drained and on Florida's southwest region is nearly complete. This past March, the 1st mile of Tamiami Trail Bridge opened.
Where do we go from here? Finish projects. Get new ones authorized. And keep an eye toward adaptive management. No one said this was easy. Or cheap. Or that we would get it right all the time. But for our water, for our economy, and for our future, we must keep going.
Related
Popular in the Community