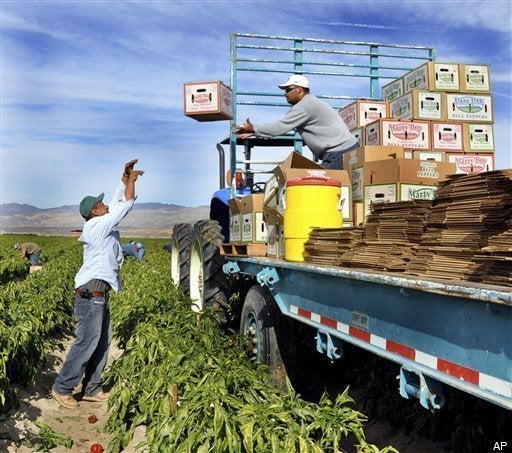 WASHINGTON -- The balance between Republican calls to reduce government regulation of business and the GOP's campaign against undocumented workers is about to be tested by a bill that would mandate use of an illegal-worker detection system, which critics say would cripple U.S. agriculture by depriving farmers of cheap labor.
House immigration subcommittee chairman Elton Gallegly (R-Calif.) said Thursday that he plans to introduce the bill to mandate the use of E-Verify within the next month. The program is already mandatory for government agencies and contractors and used voluntarily by nearly 250,000 businesses to check the legal status of potential hires. But Gallegly said he hopes making it a requirement for all U.S. enterprises will drive out illegal workers entirely.
"If there was ever a need to do something quickly, when we have 14 million Americans who aren't working today, I think they deserve to be put in the front of the line," the California Republican said at a hearing on the use of E-Verify.
For their part, however, farm owners say few U.S. citizens want the type of jobs taken by undocumented workers, including fruit-picking and similar low-paying, backbreaking work. Since a bill to create more agricultural work visas died in Congress last session, critics say mandating E-Verify would abruptly cut off the supply of agricultural workers, leading to higher food prices and creating more demand for cheaper imported foods.
"Pressing harder on the gas without fixing the vehicle will only hurt our economy," Rep. Zoe Lofgren (D-Calif.), the ranking member of the immigration subcommittee, said Thursday. "Particularly in agriculture, mandating the use of E-Verify would reverse the polarity of the magnet, shipping millions of jobs overseas."
It does appear that few U.S.-born workers are willing to accept agricultural jobs, despite high unemployment. A 2010 drive by United Farm Workers called "Take Our Jobs" -- though well-promoted by Comedy Central host Stephen Colbert, who Lofgren called to testify before the subcommittee last year when she was its chair -- placed only a few U.S. citizens. David Cox, the chief executive of a California fruit-growing company, said he has hired a few naturalized Americans, but some quit almost immediately and others said they plan to leave as soon as they can find another job.
"As the economy improves, there will be much fewer to do this kind of work," Cox said on a conference call on Wednesday. "If E-Verify became mandatory, we would lose most of our workforce overnight."
Although the program is free online, farm owners also said a bill to mandate E-Verify would drive up costs, particularly for remote businesses that do not have high-speed internet access. Bloomberg News Service estimated it would cost small businesses $2.6 billion annually to implement E-Verify if it became mandatory.
Theresa Bertucci, associate director of U.S. Citizenship and Immigration Services, said the agency is expanding E-Verify. But Republicans questioned the Obama administration's efforts to spread the program.
"There seem to be a whole lot of things this administration does -- carrots and sticks, some say the Chicago way -- to get people on board," Rep. Louie Gohmert (R-Texas) said during Thursday's hearing. "If the administration were really on board, there would be some carrots and sticks to drive people to participate."
Even if a bill mandating E-Verify passed, though, it might not have the effect intended by supporters, Richard Stana of the Government Accountability Office cautioned the committee. Immigration and Customs Enforcement Chief John Morton has estimated that the agency can deport about 400,000 people per year under its current funding, leaving millions of undocumented immigrants in the country. "They don't have the resources now to enforce the I-9 system, much less E-Verify," Stana said.
Other problems with the program, including the possibility for American citizens and legal workers to wrongfully come up as undocumented, were listed in a recent GAO report.
Democrats indicated they would stall on E-Verify until some of those problems were resolved. "Could it be that E-Verify just isn't ready for the spotlight?" Rep. John Conyers (D-Mich.) asked. "Why don't we slow down a bit and get more rigorous proof that this is working."
Popular in the Community