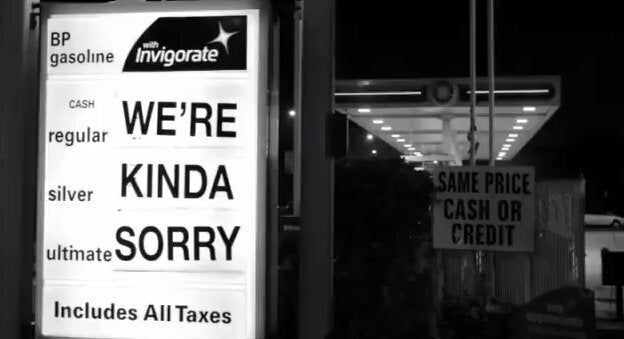 Months ago, we were contacted by our pal and longtime art supporter Everlast with an offer we couldn't refuse. He had a new song that needed a music video and he wanted that video to feature TrustoCorp street art. Being an art collector and major supporter of the graffiti and street art community, Eric 'Everlast' Schrody knows the power of art and its ability to transcend, uplift and communicate. We appreciate that and more importantly, we loved the song and loved the opportunity to collaborate with a bona fide Hip-Hop legend. The message of the song is right on time and on point with who we are and what we want to say. We immediately began to plan a raw, street level music video that combined the message of his song with the message ofour art. The final, uncensored video can be seen below, but we'd like to give the readers of The Huffington Post a little insight into the making of the "I Get By" music video.
This song is about struggle, hustle and perseverance against all odds. A message that resonates with many Americans right now. "I Get By" was written with the working class in mind and could be taken as an anthem for their journey. In a similar fashion, much of our politically charged street art is a response to these same issues yet manifested as official looking street signs, fake products or other outdoor advertising. We felt a synchronicity right away with the song, but had to decide how to incorporate Everlast himself into the process. To his credit, he jumped right in. He wanted to be in New York, on the streets, installing art with us no matter the risk. A few days and 7 ski masks later, we were ready to shoot.
WATCH AN EXCLUSIVE BEHIND-THE-SCENES VIDEO:
We shot in Brooklyn over the course of four days. Typically shooting from 10 p.m. until 7 a.m. every night. We wrote a rough draft of the video, planning what Trusto messages would best underscore Everlast's lyrics throughout the song, then sought out the best locations for each. A few shots were controlled and approved, but the rest were an overt display of mischief and mayhem.
Our concept for Everlast's role was to have him work as 'lookout' while delivering his lyrics during the art installation process. In order to capture each shot, we planned the vocals and art installation to the very last detail to minimize exposure and risk. The goal was to pull up in our Trusto van at each location, jump out and hit the streets while Everlast sang to the camera and get the hell out of there in one take. Luckily, that's exactly how it went down.
In a time of economic turmoil in America, we are proud to be a part of this video and its (hopefully) uplifting message. When times are rough, you do everything you can to survive and sometimes that means getting your voice heard by any means necessary. This video, combines Everlast's music with TrustoCorp visuals to make what we hope to be a relevant commentary on the state of the American working class. Are things getting better or are they getting worse? No one seems to know -- but in the meantime, we all have to get by.
'I Get By' by Everlast, featuring the art of TrustoCorp:
Support HuffPost
The Stakes Have Never Been Higher
Related
Popular in the Community