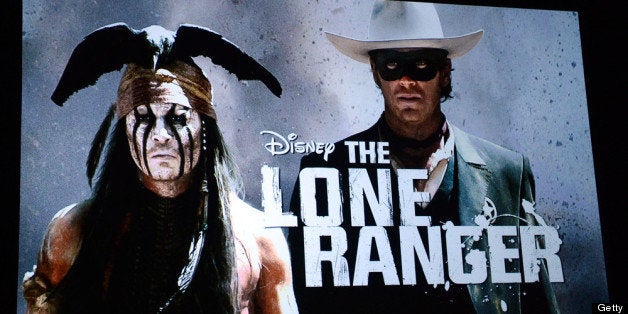 While everyone is focused on Johnny Depp's Tonto, debating the merits of donning "red face" in order to "... give some hope to kids on the reservations," the President of the United States has quietly continued his reparative work on the broken U.S. Federal Indian Policy to nary an audience.
The timing couldn't be more ironic, or telling, about how we choose as a nation to frame Native America. It is so much easier to add our $12 to the coffers of Disney and Depp in order to enter the debate about our fantastical American history.
What we really could, and should, be doing is paying attention to the real life and work being done to address our own historic holocaust. "This land is our land, this land is your land"? This land was their land, and how we choose to continue this sentimentalist view, and therefore keep our moral distance from responsibility, is right out of a Hollywood escapist fantasy.
Enter Depp to play Tonto, a "Native American" (quotes in deference to Native filmmaker Chris Eyre's observation on HuffPostLive, "I don't see anything Indian about him... what is it, the buckskin pants?") dreamed up by a white guy, and voila, everybody is talking about "Indians."
To wit, last week Obama signed an Executive Order establishing The White House Council on Native American Affairs. The establishment of this Council is to institutionalize the work done thus far by Obama and his top aides, including Jodi Gillette (Standing Rock Sioux), Special Advisor to the President on Native American Affairs and Charlie Galbraith (Navajo), deputy associate director of the Office of Intergovernmental Affairs in the White House Office of Public Engagement.
Since taking office, Obama has appointed the first-ever Senior Policy Advisor for Native American Affairs within the Domestic Policy Council (Gillette), supported the previously rejected United Nations Declaration on the Rights of Indigenous Peoples (UNDRIP), signed the Native American Apology Resolution, H.R. 3326 and thereby "... apologized on behalf of the United States to all Native Peoples for the many instances of violence, maltreatment, and neglect of Native Peoples by citizens of the United States," made a number of Native American appointments to key posts (including the first-ever Native American to be tapped for United States Representative to the United Nations Human Rights Council, Keith Harper), successfully encouraged the resolution of historic resource settlements, and most notably hosted an annual White House Tribal Nations Conference. This gathering includes a representative from each of the 566 federally recognized tribes and key Cabinet members. The new Executive Order builds upon this annual gathering, aspiring to ensure that future administrations can't undo the advances made by Obama and company.
Obama's newly appointed Secretary of Interior, Sally Jewell, made an emotional address to tribal leadership on June 27 at the National Congress of American Indians mid-year conference in Reno, NV. Jewell publicly announced the Executive Order and will serve as Chair of the Council. "The President is firmly committed to building the nation-to-nation relationship with tribes... This is about forwarding and promoting self-determination and self governance." The Council is meant to organize the federal government's interactions with Indian tribes in a comprehensive and permanent fashion, breaking down agency "silos" and building capacity.
When asked if this effort was the president's way of making good on the (somewhat hushed) apology, Jodi Gillette replied, "We are trying to weave that through all of our work. Like the president says, 'It's not just about words, its about action.' We can't undo what was done in the last 150 years. It's about doing right by Indian country for the next 150 years."
So, what does this mean to you, Depp-loving American? It means that you don't have to count on the occasional return of Hollywood favor for a celebrity-loaned spotlight on Native American children. Real work is being done here, and the strides are measurable.
Everybody loves a good escapist fantasy now and then, and this isn't such a bad thing. What is not acceptable, however, is the collective amnesia about the responsibility of the United States. As the Apology Resolution clearly and correctly states, we must "... acknowledge the wrongs of the United States against Indian tribes in the history of the United States in order to bring healing to this land." While it is a grand thought that Tonto can provide a foil to Manifest Destiny, this is truly a job for the superhero (aka American voter) in each of us.
REAL LIFE. REAL NEWS. REAL VOICES.
Help us tell more of the stories that matter from voices that too often remain unheard.