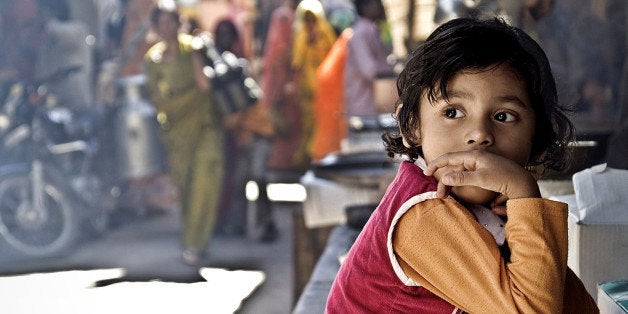 My father was born in a village in India...and only 3 of his 11 siblings survived beyond five years of life.
As he began to study and work in India, he had the opportunity to come to America where he met my mother, and they began our family. But he always told us stories of the everyday challenges his family faced, and the children of India still face.
I grew up in the U.S. where I enjoyed access to excellent healthcare and became a doctor myself. But I know that 6.3 million children around the world die every year before they reach their fifth birthday, and more than 20% of those deaths occur in India. Many of these deaths occur from common, preventable and treatable illnesses like pneumonia and diarrhea with dehydration. We need to do something to change these statistics.
As a volunteer with the American Heart Association, I help develop liaisons with the seven existing formal resuscitation councils and lead the International Liaison Committee on Resuscitation, which provides science reviews that eventually form the foundation of the AHA Guidelines for CPR & Emergency Cardiovascular Care. These studies reveal that "we have come a long way, baby!" in regards to improving survival around the world...but children under 5 are still needlessly dying from preventable causes. Community health workers and healthcare providers in limited resource areas of India simply do not have the tools and knowledge to recognize and treat pneumonia and diarrhea before it becomes lethal.
At the American Heart Association we believe everyone deserves to live a healthier, longer life. Alongside the United Nations, the World Health Organization and others, we are determined to decrease Under Five Mortality. We know that quick and correct treatment can make the difference in whether these children live or die, and we've launched a very simple but important campaign, Saving Children's Lives.
The American Heart Association PEARS (Pediatric Emergency Assessment, Recognition and Stabilization) training program helps healthcare professionals around the world recognize early stages of treatable illnesses in children that can quickly progress. We can contextualize and apply that training to apply to the unique needs of limited resource areas like India. It is our obligation -- and our honor -- to help contextualize and bring that science and training to areas where it can make a difference so more lives can be saved.
We are launching Saving Children's Lives, a training program designed to help train community and healthcare providers in Gujarat, India in the skills needed to treat illnesses that lead to mortality in children under five. A "train-the-trainers" program along with integration with local organizations will create a sustainable model that will empower and motivate community and healthcare providers to continue this lifesaving work.
In the initial pilot we plan to train 180 local healthcare providers in the key skills needed to recognize, assess and treat illnesses in babies and children at risk. They will immediately be ready and able to provide improved care and "pay it forward," training other providers to multiply the impact.
Last week, we initiated our training program at The Children's Hospital of Philadelphia, bringing together experienced program developers from many parts of India, who have expertise and success in developing community-based healthcare programs in India. These "mentors" will travel to Gujarat in December, and begin workshops with community healthcare workers in each of the 26 Gujarat districts, to demonstrate and start to apply training.
Our ambitious 3-year goal is to build from training an initial 180 healthcare providers to a sustainable trained work force of more than 1,000. There is great expectation, that with this successful pilot and the support of the Indian government, the Saving Children's Lives program concept can expand throughout the country and serve as a model for other regions -- and other countries. Because...every child deserves a chance to live!
To learn more about the Saving Children's Lives campaign and how you can help, please visit here.
This blog post is part of a series produced by The Huffington Post in conjunction with the launch of HuffPost India (December 8, 2014). To read all posts in the series, visit here.