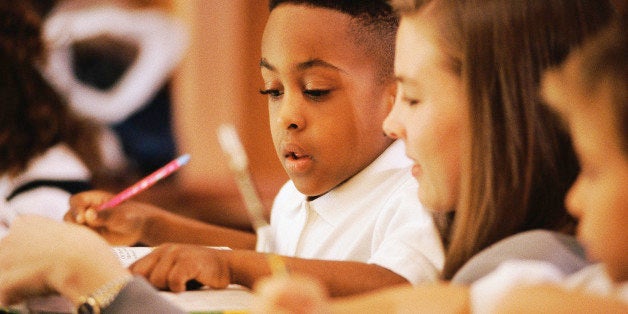 To be honest, it didn't even happen on Penn's campus. It happened six blocks off Penn's pristine campus at a hundred-year-old, tired building -- Lea Elementary School, one of many economically disadvantaged schools in the Philadelphia Public School District. I volunteered at Lea both through a student volunteer service group, the Penn Leadership Training Institute, and through one of Penn's signature Academically Based Community Service Courses, entitled Community-Based Environmental Health.
I made a conscious decision to make service learning a core part of my college education. And I am here to report that my investment in service learning has paid off in spades, and I recommend that every college student give it a try.
First and foremost, service learning taught me about social justice and the problems facing urban centers today. I had learned about inequality and wealth disparity in countless books and news articles. But seeing it in person brought the issue to life. I could compare the students' experience to my own childhood and recognize why so many disadvantaged children remain in poverty.
As a business student, I've taken plenty of courses on setting strategy, but none have taught me as much about "real world" problem solving as service learning. For example, through the Penn Leadership Training Institute, my team designed a leadership-training curriculum for the Lea student government and coordinated volunteers to implement the program. We had to navigate stakeholder needs with the requirements and limitations of the school. We had to figure out what the Lea Student government representatives needed the most and how to teach it to them in a meaningful way. We needed lessons they would remember and be able to apply - and ones they would enjoy. Balancing all those needs challenged and developed my problem solving ability.
My work with Penn Leadership Training Institute taught me about communication and attention to detail. Working with schools is hard work. I spent hours on the phone talking with teachers, principals, and guidance counselors, discussing our program and our lesson plans. I was forced to communicate cogently and persuasively. Schools wanted to know every detail of every activity we were planning, and we had to ensure that each day was planned precisely.
I learned how communities and organizations actually work. For example, in my Community-Based Environmental Health course, we reviewed several case studies and academic articles about childhood lead poisoning. When asked to address the problem at Lea, we thought we had a foolproof plan. But the more we worked with Lea, the more we learned the barriers that organizations face and how communities with limited resources respond to problems. There was no one-and-done solution to address childhood lead poisoning, and we had to think creatively to design a strategy that fit Lea's unique environment.
Awareness of sociopolitical issues, problem solving, attention-to-detail, strong communication, and an understanding of organizational management? Those sound like the qualities we need from more college graduates. And they also sound like the qualities employers look for after graduation.
On an institutional level, more colleges and universities need to include service learning in their curriculum. Penn's Netter Center for Community Partnerships is a national leader in academic service learning, having offered over 160 Academically Based Community Service Courses. For the benefit of college students everywhere, more schools need to follow suit. From a personal standpoint, I feel strongly that more college students need to give service-learning a shot. I could not imagine a more enriching experience.
I want to be clear that when I endorse service-learning, it is not simply because volunteering is fun or because it's the right thing to do. It's valuable, and your experience will pay dividends for years to come. If you embrace service-learning for all it's worth, you will gain the planning, communication, and assessment skills you'll need to succeed in business, government, the non-profit sector, or virtually anywhere else.