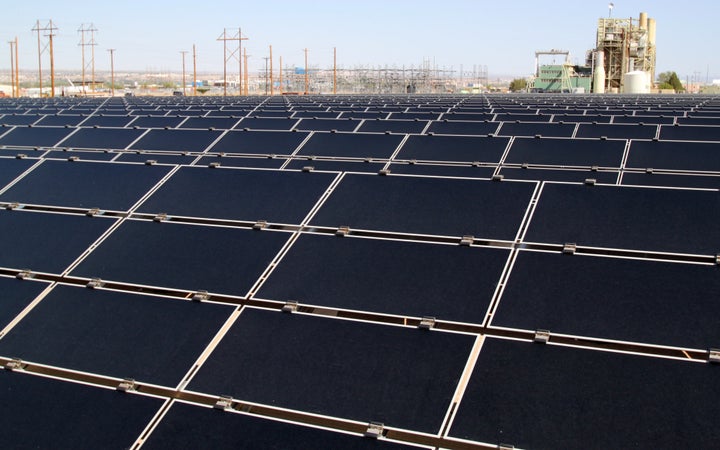 Perhaps it had something to do with it being Earth Week, but it's clear that something amazing -- and very Green -- is happening here in the City of Angels. We are rapidly emerging as the epicenter for clean technology and green business, as well as attaining new status as the EV capital of the world. Yes, the world. Once mocked by our admittedly more environmentally-evolved Northern CA brethren (my New Yorker parents love to hate L.A. too) as being a congested, smoggy nightmare, L.A. is rising to the challenge and building an entirely new economy and infrastructure, in part fueled with one of our "other" greatest assets -- the sun.
Seven years ago, pregnant with my daughter, several like-minded, mostly Prius-driving business professionals and I conceived the Sustainable Business Council LA, with a mission to establish Southern California as a center of sustainable business. After spending the past week attending various sustainability-related events here in L.A. and grasping the magnitude of the upcoming, potentially explosive economic and environmental convergence here, I can confidently say "mission accomplished!"
Shuttling across the city in my ice blue Nissan Leaf, I had the honor of moderating a panel on California's bold Renewable Portfolio Standard at USC, crowning L.A. Car Guy and Miyako Hybrid Hotel as co-winners of the Inaugural SBC Sustainable Business Award, marveling at the over-subscribed luncheon launch of the L.A. Emerging Commerce Council at the L.A. Chamber, hearing Mayor Villaraigosa (who was introduced by as L.A.'s Greenest Mayor by longtime environmental champion L.A. Mayoral Candidate/ City Council Member Eric Garcetti) at LABC's always fascinating Sustainability Summit at the Getty Center, and finally, proudly celebrating Santa Monica's newly awarded status as the 2012 Siemens Sustainable (mid-size) Community.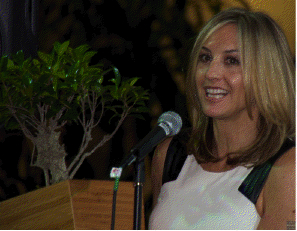 Alisha Auringer, Manager of the Environment, LAcarGUY, accepting SBC's Sustainable Business Award.
In the absence of consistent and effective federal legislation and support (with exceptions, like the innovative SunShot Program) progress is definitely emanating from the local level: The DWP, L.A.'s electric and water utility and the nation's largest "muni," just announced their CLEAN L.A. Solar Program, which means that you can now install solar panels on your roof, sell all the power back it to the DWP, and receive a competitive return on investment.
Next10's recently released 2012 California Green Innovation Index documents how clean technology investment and innovation are helping drive growth in California's overall economy. Yes, the traffic is still horrendous, but we are witnessing L.A. rise to meet this challenge and embrace electric vehicles. China's BYD (EVs, batteries, solar) decided to locate its U.S. headquarters here in L.A., and we've got our own crop of homegrown EV companies, such as CODA automotive and 350 Green, a resident at downtown L.A.'s Cleantech Incubator. Mariana Gerzanych, CEO, spoke to a packed room at the Chamber as she spoke about her company's explosive growth. 350 Green just installed California's first public fast-charging station, which can recharge the battery of my Nissan Leaf in about 30 minutes.
L.A.'s green businesses are also spearheading innovation and economic development. At our Inaugural SBC Industry Achievement Awards In Santa Monica, more than 200 members of L.A.'s vibrant Green Business Community gathered at the Lexus Santa Monica showroom on the evening of April 18th to honor and celebrate Southern California's most sustainable businesses. So Cal businesses Earth Friendly Products and Patagonia were awarded ficus bonsai tree "trophies" to recognize their Lifetime Achievement in Sustainability. Van Vlahakis, owner and CEO of Earth Friendly Products, spoke about his company's CA-based solar-powered factory, and Ecos laundry detergent -- his company's number-one-selling green laundry detergent. Attendees also got a sneak peek of the upcoming feature film A Green Story, which portrays Vlahakis' skyward path from his humble beginnings in Greece.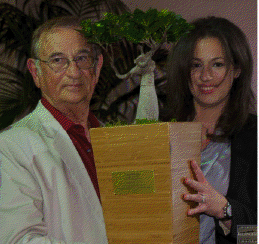 Van Vlahakis, Owner and Chief Executive Officer, Earth Friendly Products, presented with SBC's Lifetime Achievement Award in Sustainability by his daughter, Kelly Vlahakis-Hanks, VP, Earth Friendly Products.
Patagonia was heralded for its historic commitment to pesticide-free cotton; the fact that they have helped to create a huge demand for organic cotton; their tithing initiative; their commitment to donating one percent of sales or ten percent of profits to charity; and the fact that they became California's first Benefit Corporation, which will likely inspire many other businesses to do the same.
L.A.'s challenges (traffic, pollution, an aging infrastructure and electricity grid) are creating enormous opportunities for those businesspeople who see an immense economic opportunity in clean technology, electrifying our transportation system and saving energy. According to Fred Walti, Executive Director of the L.A. CleanTech Incubator, "I've been a part of the PC revolution, I was part of the Internet revolution, and now I think the CleanTech revolution is going to dwarf those previous two in size. It's a huge business opportunity." L.A. is an exciting place for this enviro/working mom to be in 2012.
Calling all HuffPost superfans!
Sign up for membership to become a founding member and help shape HuffPost's next chapter