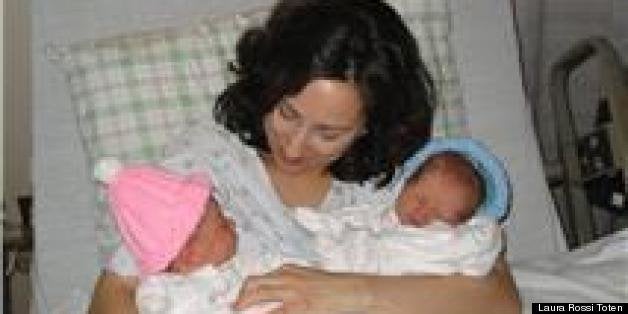 In honor of Mother's Day, women in 24 cities across the country are participating in the reading series Listen to Your Mother in celebration of Mother's Day (May 12, 2013). The series "Gives Mother's Day a Mic," and features local writers reading their personal essays about motherhood in front of live audiences. The following is the essay I read on May 4 at the Providence Listen To Your Mother Show (which I both directed and produced with Carla Molina).
This Mother's Day, I will thank YOU 365 times!
Since I don't want to spend the day repeating myself (I do that the other 364 days of the year!), next Sunday, I will silently celebrate each of the 365 gifts you have given me since last Mother's Day.
My heart overflows with love when I think about all the things you two have given me!
As you both know, I began my blog three years ago after Dad and I received some medical news about M (and his special needs). In that moment, I saw the world through your innocent, brave, hopeful and beautiful eyes and, with lots of confusing thoughts racing through my head, I made the decision to commit to finding a daily gift -- the virtual silver lining each day no matter what -- from you and your twin sister, J.
And so, with you both at my side, I set out on my Gift Mission (silently chanting "You get what you get and you don't get upset!").
The only way I can explain it is to tell you that I feel like you do on Christmas morning -- every single day! I can't wait to tear off the wrapping paper, untangle the glittery ribbons and open your unexpected gifts. Of course, these gifts aren't real gifts like perfume or jewelry, and usually you don't know you are giving me a gift. I quickly learned that it's the gifts you can't hold in your hand, but that you hold in your heart that are small miracles.
The gifts have been unique, personal and intimate. When I think about the variety, I'm breathless. Of course, I expected surprises, but what I didn't account for was that your daily gifts changed and redefined my entire life, shaping it to fit and embrace the unexpected -- something I have never been able to do.
As twins, you are both connected in a special way.
As individuals, I'm in awe of your uniqueness. And because we are a family with a special needs child, your daily gifts have taught me how to find gratitude -- even on the tough days.
Your beautiful, simple gifts have transformed me and made me a better Mom and a better person.
Since you two are tireless in your requests for a list of my favorite gifts -- these are the ones I'll always cherish:
Wet Kisses
Waking Up Before Dawn
Silence
Patience (more of it from me)
Finger crossing
Hand-holding
Believing in Magic
On Mother's Day 2013, I will thank you for all 365 of your gifts and for proving to me that even though we don't always get what we want, we do get what we need.
You are -- and always will be -- my greatest gifts.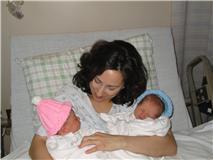 Based on an RI-NPR essay for "This I Believe" broadcast on Rhode Island Public Radio.