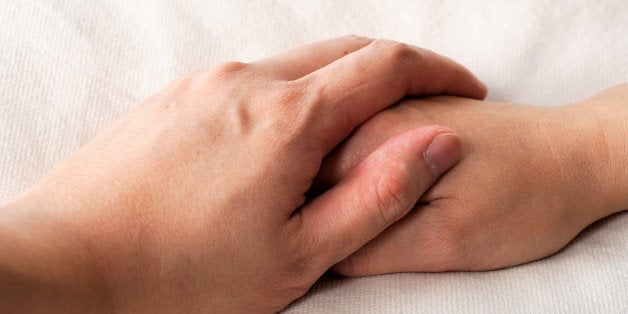 As the days of May begin to cruise by and we begin to lean on another Mother's Day, I can't help but reflect upon the impact my mom had and still has on my life. Even though she passed more than four years ago, there isn't a day that goes by that my mom's teachings, wisdom, sense of humor, and way of living doesn't permeate into my day. As I reflect in gratitude, it seems it's always Mother's Day in my world.
I am so grateful for all my mom taught me: to say please and thank you, to be considerate of others, to share, to laugh, to be smart with money, to be a good friend, to forgive, to read, to listen, to never give up, to tell the truth, to clean up my mess, to respect others, to love unconditionally and to "keep your eyes on your own plate and enjoy your meal."
Mom, on this Mother's Day weekend, I'll reflect in gratitude -- of all my awards, degrees, victories, and honors, my greatest pride comes from being able to say that I am your son -- and although I miss you more than my words could ever say, I am proud that what you have instilled in me with your words and actions continues to echo all over the world.
My promise as a son: sharing my mom's story.
It was a year from her diagnosis to her death. Mom was a dynamic, classy, beautiful woman, always sharing her vibrant laughter and contagious smile. She and dad had been married since she was a teenager. They put their whole heart and soul into creating the life they dreamed of, and even though she was still young, they had planned to eventually retire and travel.
Cancer had a different plan.
Instead, we spent a year in and out of the hospital as she battled this unmerciful devil. Watching as it slowly and methodically consumed my 57-year-old mom and her future. That year of hospital visits seemed like an entire lifetime. That eighth floor would not only serve as a place where mom's amazing doctors and nurses would treat her, not only as the place she would take her last breath, but also as the place she would come to inspire all of us with her grace, strength, courage and unconditional love.
Mom was only five feet tall. I used to laugh that I was the same height as her while I was still in elementary school. She married my dad when she was still a teenager and together, having both been raised in poverty, they moved from Chile to the USA with the intention of building a better life for themselves and their children.
And what a life they built! Her heavily-attended funeral caused the shutdown of the main roads in our Long Island town. So many people from so many places came to pay their respect to this incredible woman I was blessed to call mom. Kind words from countless people sharing stories on how mom helped them was a reflection of her generous heart, honest wisdom and unselfish spirit.
As for me, a normally loving person, during that year on the eighth floor, I had come to hate cancer. I hated the cancer for its cruelty and merciless nature. I hated this heartless enemy for not showing compassion or sympathy. I hated this evil cancer for putting us all through an emotionally laborious hell with no payoff but more sadness. I hated cancer.
For mom, I can only imagine the horror of this process. There are so many ups and downs, seemingly archaic tests and treatments, and plenty of time for contemplation and tears. You often hear the terms "battle" and "fight" attributed to this nasty, grueling process. A year in and out of the eighth floor had taken its toll on all of us.
One day, mom taught us all such a great lesson: You win 100 percent of every fight you DON'T engage in. She decided that instead of losing the battle with cancer, with the same elegance and grace she had been known for, she would politely excuse herself from the process. What a beautiful day that was! Mom decided that instead of dying on cancer's terms, she would LIVE on her own.
While the strength she showed during that year was nothing short of incredible and miraculous, it was her wisdom that would have the final say... and inspire us all.
On that wonderful day, the stressed out patient was gone and we got mom back. She was happy, laughing, joking, giving orders, saying "I love you" every chance she got; she was FREE! She said, "I don't want to live like I'm dying... I want to live like I'm living!"
During that year, in my private time with mom, we shared memories, love and laughter. We talked about life, and she would often explain to me what she was feeling and how the process of dying gave her so much clarity on spirituality and God. We talked about the afterlife and what this life had meant to her. She spoke to me as a mom, a friend, a mentor and a fellow observer. Her insight was captivating, inspiring and lifechanging.
Our last conversation was about what she wanted from me after she was gone. Amongst the simple things she wanted me to do was to make sure my dad, the love of her life and my brother and sister were always ok. She also spoke to me about the days immediately ahead; perhaps her final great lesson for me. She said, "I know you'll give a good talk at my funeral, but I want you to make sure you keep it positive and talk about the blessings this cancer brought us."
As you can imagine, this request by my mom was a tough task. How does one speak well of cancer? I wasn't sure what I was going to say. I still hated cancer with a passion. It had killed my mom. It had stolen her future and broken the heart of everyone who loved her. Cancer was my enemy.
As I stood there at our local church, in the same spot my mom and dad had recently made a special trip to renew their vows of 40 years, ready to give my mom's eulogy, I looked up as I stood under the crucifix and was reminded of one of the powerful messages passed on by Jesus -- the message to love your enemy.
My mind struggled with this idea. How can I love such an evil enemy -- an enemy that had put us all through so much, showing no mercy, an enemy that callously moved on to the next person after brutally ending my mom's life, without having to answer to justice? How could I love such an enemy?
But then it dawned on me: Sometimes it's not what you GET for what you go through... it's what you BECOME for it.
So I stood there, following the wishes of my mom, in the spirit of what Jesus taught and shared the blessings of the experience with a "thank you" to cancer
for inspiring us to spend more time with the amazing woman who brought us into this world,
for helping us see the importance of slowing down and not take any day for granted.
We learned so much about mom and grew a new respect for her, her life, her spirit -- not only as a great mom, but as an amazing woman.
Thank you, cancer, for if it had not been for you, we may have never just sat with my mom, without distraction of TV, phone or computer. We may have never taken the time to just talk, look at pictures, talk about God, life, laugh, cry, share our victories and losses.
My brother, sister, and I would have never stepped up to consciously appreciate all our beautiful mother had done for us and our family.
We may have never taken the time to thank my mom in person, while holding her hand
for always having a smile on her face when she picked us up from the school bus stop;
for always letting us get a lollipop after a haircut;
for getting me and my brother superhero underoos;
for making sure I always had a good soccer ball to play with;
for always cheering us on when we were winning;
for always cheering us on when we were losing;
for protecting us even if at times it was protecting us from ourselves;
for teaching us to keep our elbows off the table and to say please and thank you;
for helping us to see that sometimes the best answer a parent can give is an observing protective silence;
for giving me a wonderful, strong, intelligent and loving little sister and a big brother who will always be a hero to me;
for teaching us what unconditional love is;
for being an amazing wife and soulmate;
for inspiring all of us with her strength and perseverance that shocked even the medical community.
Yes, cancer, by threatening death, what you did was breathe new life into our family's relationship, our connection, our sense of unity, history and reinforced our appreciation for the undying power of love.
Thank you, cancer, for inspiring everyone in my family to strengthen our bond with our wonderful mother... and bring forward our unspoken faith in God and his perfectly imperfect order.
Cancer, God has structured the universe in such a magnificent way that even an evil force like you can only affect the impermanent. You can only kill what, in essence, was dying anyway.
But you can never touch the permanent, the love, the laughter, the victories, the family connection. You can never take away one single hug or comforting kiss... and you can never dilute the wonderful memories and endless love we have for our mom.

Mom passed peacefully, surrounded by the people she loved so dearly.
My mom: An amazing woman whose timeless wisdom I am still discovering. She will forever be missed. She will forever be loved.
I'm not even sure why I'm sharing this story. I feel there is a message in it for the right person who reads it. Maybe it will inspire you to express your love more or live your life more daringly or maybe you're going through the same thing now with your mom or dad... I don't know. But if it helps even one person, it's worth it for me to share.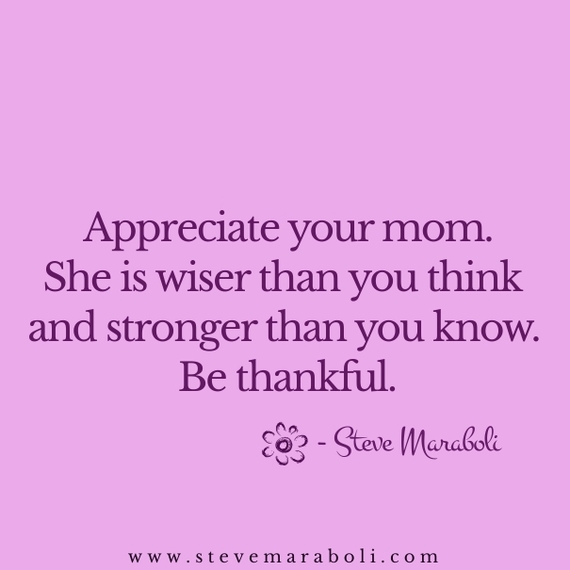 Related