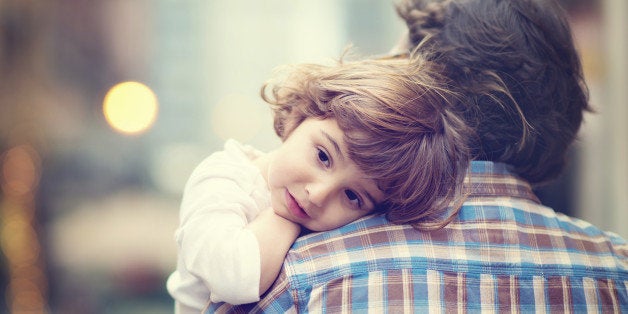 After a prolonged illness, my father died on a chilly spring day when the lilacs had just started to bloom. In that last month of his life, when he could no longer talk, we learned to communicate in other ways. I cooked for him, fed him, clipped his nails. He thanked me by putting his hand on my head. What there was to say, we had already said. In those last days, I read essays, poems and stories to him. I read other people's words. What I read to my father and what I wanted to read after he died became the genesis of this anthology.
My father was born the eldest son of four in 1934 in Lake, Mississippi and raised in Newton, Mississippi. He broke his nose playing high school football and went on to attend the University of Mississippi in Oxford. As an undergraduate, my father once had drinks with William Faulkner at the Peabody Hotel in Memphis. They were both waiting to catch a train that would take them back to Oxford. They got to talking about horse trading. Learned either from people or books my father knew about empathy. He never made fun of people. His narratives about people were underlined with dignity, grace, honor, and humor. I like to think that my father learned about character from the master that night at the Peabody. I often told him if he hadn't gone into finance, he'd have been a writer.
About a year after he graduated from college, he broke up with a girl from the Mississippi Delta, and, to recover, he visited his sister in Washington, D.C. She threw a party, served a vodka punch and my father met an exotic Ingrid Bergman beauty named Madeleine. That night, after the party, my father told his sister, that woman, Madeleine, was the woman he wanted to marry. Three days later, my father proposed marriage in a car he borrowed from Senator James Eastland, staring at Eastland's cigar stubbed out in the car's ashtray as he did so. He spoke no more than he needed to. When I think of my father in the time before he became my father, he seems marvelously determined and ready to get the hell started with his life. My father always appreciated a straightforward narrative.
It took a certain amount of imagination and courage to marry my mother, Madeleine, a woman who had escaped the Nazis in Vienna, Austria, and who worked for the C.I.A. in Washington. She was nothing like any woman he had ever known. She became the love of his life; he hers, and they stayed married for the next 54 years. Once, a man who knew my parents told me, when he heard the way my mother say my father's name -- Shimmy for Jimmy -- he knew how difficult it would be to find a woman who would say his own name in that in-love way.
After my sister and I were born, and after a short period selling farm equipment at his father's International Harvester tractor store in Newton, my father joined Merrill, Lynch, Pierce, Fenner & Smith in Jackson, Mississippi as an account executive in 1961.
One evening, my parents attended an outdoor Joan Baez concert in Jackson. It was about 1964 and my father loved Baez, and that night he laughed when he saw her stick her tongue out at Look and Life magazine photographers. People parked in a big, open field and afterwards, a young man from out of state couldn't start his station wagon. My father offered a jump-start. The two spoke briefly. Where was he headed? my father asked. Meridian. My father told the young man he grew up near there. The station wagon started and the two went their separate ways. Later, my father recognized both the station wagon and the young man in the newspapers. The young man my father recognized was Michael Schwerner, one of the Civil Rights workers murdered in Philadelphia, Mississippi. The FBI found the burned-out station wagon before they found the bodies.
There were other factors beside the nightmarish racial conflicts that led my father away from Mississippi, a place he loved more than any other place. His decision to leave wasn't easy. But in the end, my father was ready to get us away from the violence, the hate, the confines, restrictions, and, some would say, advantages of growing up in a state amongst all his extended family.
My father survived and even thrived away from the south, in Chicago, despite the snowstorms and the impossible Dow-Jones industrial average of the 1970's. He found his footing in that perilous place, nicknamed The Windy City, the city where Binx felt "genie-souls perched on his shoulder" in Walker Percy's novel The Moviegoer. Maybe my father found his own genie-soul there, somewhere within Chicago's muscular skyline and market fluctuations.
In the 1980's, I moved from Chicago to New York to write the entertainment pages for Glamour magazine. One February, my father called to say he was coming to town on business, and I told him to pack his tux. I had special tickets to a CBS Records party. The invitation they sent was printed on a white glove. This was 1984.
Our cab let us out on the street because the road was blocked off to the Museum of Natural History. Behind police barricades, crowds of people stood outside in the sub-zero weather. My father put on the white glove with the invitation printed on the palm. When he held up his gloved hand, the police allowed us through, and the sea of people parted. Once inside, my father shook hands with Michael Jackson and Brooke Shields, who stood together inside a dinosaur skeleton. We were all there to celebrate the historic success of the album "Thriller." Years later, whenever my father told friends about that evening, what he stressed more than anything was how the NYPD let us through because of that one white glove. He laughed and said he never felt more powerful.
I knew my father in many ways -- in the south and in the north, through the stories he told me, the places we visited, the food we ate, and through the music we listened to -- anything by Johnny Cash, Hank Williams, Emmy Lou Harris, and George Jones, way before they became hip. But I knew my father best when we talked about books. When we talked about a book, any book, he talked easily and about anything. When we talked about a book, we always talked about important things.
My father read more than any other non-writer I've known. His favorite authors were William Faulkner, William Shakespeare, James Lee Burke, Eudora Welty, and John Updike. He also loved Alice Munro, Gore Vidal, Henry Miller, Patti Smith, Bruce Chatwin, among countless others. Because I loved my father and because he introduced me to most of these authors and because they really are great writers, my father's favorite authors became mine; my favorite authors became his. Reading and talking about what we were reading was a way my father and I had of staying close, even when we weren't living nearby. Eventually, probably because of my father's love for the written word and talking about literature, I quit my job at Glamour to become a writer and a teacher.
My father and I became literary groupies together. We often attended The Oxford Conference for the Book in Oxford, Mississippi, where he had the opportunity to meet writers he admired, among them Lee Smith and Bliss Broyard. They were two of the first writers to respond to this project with such enthusiasm so that we could include their wonderful essays in these pages. One night after dinner at the conference, we were outside on the square, and my father got to telling a story about how Barry Hannah's uncle Snow Hannah shot Red Alexander during a card game in Forest, Mississippi. "Shot him," my father said. "But didn't shoot him dead. That took a while." One of the writers there, Mark Richard, turned to me and said, "Have you used this yet?"
Most of the young adult novels I wrote set in Mississippi (How I Found the Strong, When I Crossed No-Bob and Sources of Light) had everything to do with my father's stories and both of our growing-up years in the south. In so many ways, his memories became my memories.
When my father was diagnosed with inoperable brain cancer in June of 2010, he told me he didn't want a lot of weeping and wailing. "Let's just take this as it comes," he said. "Let's not get all emotional. When I was 45 and I had my first heart bypass, I asked myself Why me? Well, now, I'm 75. Why NOT me?"
We were careful with words. We didn't use the C word. It was "mass" or "images" and sometimes "spots." We stayed positive. We thought of the next meal. We considered dessert. We talked about what we would read next.
"My balance is off." That was his only complaint and it was hardly a complaint; just a statement of fact. He even said it like, so what? I'm not 100%, but so what? For him the days were always "beautiful." I always looked great. My food tasted wonderful. People were so nice. What should we read today?
When he fell the third time, and he said in his bed at the hospital, "This room sucks the memory out of me," that was when he made the decision to go home and spend the rest of his time surrounded by family, camellias, good food, music, and the literature he loved.
His particular illness is known to change people. Patients can become mean, angry, even violent. But my father retained his calm, his graciousness, his dignified, gentlemanly manner friends still recall. He thanked every nurse, caregiver, and visitor. He said he hoped he wasn't a bother when I helped him walk. When he could no longer walk, he apologized to my husband, who lifted him into his wheelchair. As debilitating as his illness was, my father never disconnected with who he was, who he had been, and the stories that shaped him.
When my father began to forget, I stopped beginning sentences with, Remember when... He often spent a morning sitting up in bed, hand on chin, two fingers on his lips, thinking. Great literature helped my father make sense of his life and his feelings in a way that nothing else could. In this way, I think that my father was a very realized man. He lived his life and he considered it too.
During his last few weeks, my father and I both spoke less and less. Having little use for our own words, we found comfort and solace in the words of others. As he lay dying, all the talk of symptoms, ability and inability, therapists, caregivers, insurance, and healthcare gave way to other, preferable narratives as we read and read and read. I read out loud from all the authors he loved, until his last breath, letting the words and sentences hover in the room for as long as they would stay, like so many invited friends come to say goodbye.
After my father died, I couldn't read or write, perhaps because, in the end, my father was unable to read or write. I didn't know it then, but I was looking for a collection of intensely personal essays, written by great women writers telling me about their fathers and how they came to know their fathers, a collection which might help me make some kind of sense of my own very close relationship with my father. I wanted to know from women, replacement sisters, if they had similar relationships with their fathers as I had with mine. Or, if their relationships were altogether different, I wanted to know how exactly these relationships were different. I wanted to know if the fact that my father was southern had anything to do with anything. I suppose, more than anything, I just wanted to know that I wasn't alone in my love, my loss, my loneliness.
Related
Popular in the Community