18-year-old Jazzmine could be any other bubbly teenager. She likes cracking jokes, she loves pretty clothes and she wants to go to college.
But Jazzmine's playfully brown, almond-shaped eyes easily melt into the tears that lie just beneath the surface as she recalls the loneliness, confusion and utter heartache that defined her young life for six long years -- starting when she was 7 years old -- as she bounced from placement to placement through the child welfare system.
"A group home is not a permanent place," says Jazzmine, who has since been reunited with her birth father. "It's more like a train station. You're just sitting there waiting for the next person to come get you."
Youth who come into the care of our child welfare system are among the most vulnerable children in our society. We owe it to them to make sure they are safe and to give them the best chance at success.
Every child deserves to grow up with at least one trusted, committed parental figure -- an adult who keeps her safe and serves as a stable, nurturing bedrock. Rigorous research shows us that children who are placed in families have better educational outcomes, are more likely to be employed and are more likely to succeed in families later on in life. Experience and research have helped us evolve in our understanding of what's best for children. Now we know that children are most likely to thrive in families, and we know much more than ever how to help families care for their children.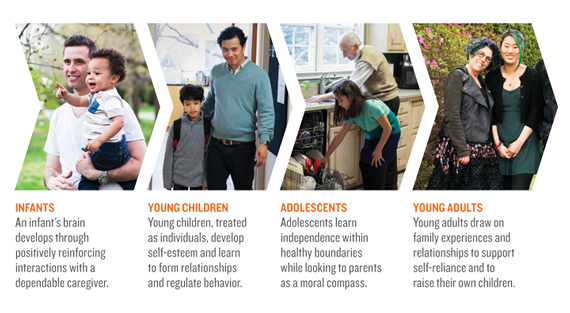 Despite this research, we inappropriately place too many children into institutions and group settings without adequately assessing need. Beyond the research, and even though some kids grow up to succeed without a family, you and I wouldn't want that for our own kids. Yet, one in seven youths who are removed from their homes are being placed in institutions rather than with families. That's nearly 57,000 children nationwide. For teens, the rate skyrockets to one in three youths in care.
Recent data show that there is no reason for so many young people to be placed in group homes. Not all group placements are inappropriate, but not all children are in the right place. Some 40 percent of young people who live in group placements while in the care of child welfare systems in the United States have no clinical need to be in such settings; many others with challenging behaviors or mental health problems could be safely and more effectively treated in a family setting.
These sobering patterns point to the urgent need to ensure, through sound policies and proven practices, that everything possible is being done to provide a full continuum of services for all children and to find loving, nurturing and supported families to help raise more of our children who are in the care of our child welfare systems.
The Adoption Assistance and Child Welfare Act of 1980 codified our country's belief that children in the child welfare system should grow up in families. To preserve the well-being of children who enter the system, out-of-home placements must be in the "least restrictive setting" possible -- the setting most like a family.
"Every Kid Needs a Family: Giving Children in the Child Welfare System the Best Chance for Success", a new KIDS COUNT policy report from the Annie E. Casey Foundation, calls for the country to reinforce this commitment by encouraging child welfare systems to be more rigorous in their approaches to finding families for the children they serve. When we unnecessarily institutionalize our most vulnerable children, far from helping them deal with the challenges and traumas they have experienced, we actually may impair their emotional, physical and social development.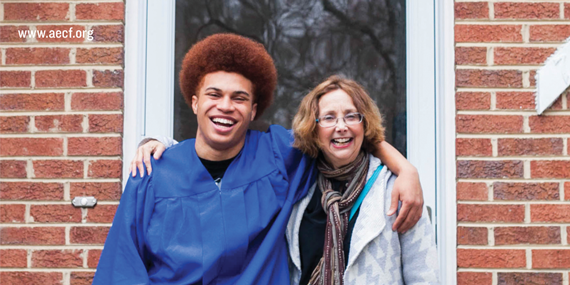 Every Kid Needs a Family recommends ways communities can widen the array of services available to help parents and children under stress within their own homes. When children do have to be removed to keep them safe, we recommend approaches for ensuring children have a better chance of reuniting with their birth families and retaining bonds important to their development. Wisely, many public systems and private providers have shifted their practices to do more to ensure every child has a family. These agencies have broadened their array of services to provide more community- and home-based services so more children can be safely reunited with their families as quickly as possible.
For example, Washington D.C.'s Child and Family Services Agency implemented a program called KinFirst. Even as an allegation of abuse or neglect is being investigated, workers ask parents in a nonthreatening way about relatives who could care for a child. Once a relative is identified, caseworkers have the ability to expedite the licensing process. In Connecticut and Philadelphia, children are not placed in group homes unless approved by the agency's top child welfare executive, which sends a strong message that family settings are a priority.
Private providers who once only offered residential care are helping to lead the way as well. For example, Children's Village in New York City opened 100 years ago as an orphanage but has evolved to provide community-based services for children in foster care. It now works with more than 400 foster families -- all with the goal of using its residential treatment facilities "as an intervention and not a destination."
The report also shows ways in which group homes -- a vital option for the small percentage of young people who cannot safely live in any family during treatment -- can help those young people heal and return to families more quickly, prepared to thrive there. To be sure, a small number of children have such complex needs that they need specialized care in a residential treatment setting. But just like we use the hospital emergency room for immediate and critical needs, residential treatment should be used only for emergencies as a short-term intervention -- not a long-term arrangement.
In fact, research has shown that even children who need specialized residential placements should not be there for longer than three to six months. Meanwhile, leading experts have concluded that group placements should never be used for young children and that those who are raised in such settings are at high risk of developing clinical attachment disorders. Yet nearly a third of children who have been placed in group facilities are younger than 13.
The key to making child welfare systems work better is to give them the flexibility to invest in best practices. Meanwhile, we must also do more to support relative and foster families, including making sure they have access to benefits for which they are eligible such as Temporary Assistance for Needy Families and the Children's Health Insurance Program. Even parents whose substance abuse or mental illness caused them to be separated from their child can be capable of safely raising their child again if given the right support and resources.
We have examples of exceptional leadership and innovation in both the public and private sectors -- proving that it is possible to place more children with families. If all communities were to implement the policies and practice that we now know work, we would improve the lives of these vulnerable children today and into the future.
By definition, the young people who come into our child welfare systems already have suffered the trauma of family disruption. Without family, children are ill equipped to beat the odds stacked against them. Every kid needs a family, and every kid deserves one.
We must act now. Kids can't wait.
REAL LIFE. REAL NEWS. REAL VOICES.
Help us tell more of the stories that matter from voices that too often remain unheard.