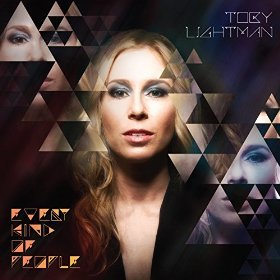 A Conversation with Toby Lightman
Mike Ragogna: Toby, you're about to tour in support of your latest album Every Kind Of People. Now that there's been a little distance between its release and this tour, how have these songs matured or evolved since they're recording?
Toby Lightman: I have been playing some of the songs off this new record for a while now, but they never get old to me. These songs in particular resonate daily for me. I think as I get older and more comfortable with how I feel, I am able to relate more to them. I have older songs that I feel that way about too and relive that same emotion or feeling every time I play them, but not all of them. I feel that with every new song that's on this record.
MR: What was the creative and recording process like?
TL: It was really challenging! It took me a while to figure out who to record with. I had a style in mind, which was a fusing together of where I started in more pop/R&B with the more organic blues that I gravitated towards. It was hard to find the right producer who was hearing that sound in his head. Once I found that producer, all of the musicians that he gathered were totally on board with what I was after musically. I'm really pleased with the way it all turned out...although it took a hot minute.
MR: Which musical acts inspired you when you were young and when did you decide you wanted to make music as your career?
TL: I have to say, I grew up listening to a lot of different types of music. Madonna, Michael Jackson, Fugees, Sheryl Crow, Stevie Wonder. I never had one favorite, I like them all for different reasons. The moment I decided to pursue music was when I finally had the courage to sing in front of an audience. I had been singing in choirs, in large group settings, but hadn't really sung more than a line or a solo, until my music teacher asked me to audition to sing the solo at my high school graduation. I ended up getting the solo and sang a whole verse of the gospel version of "Bridge over Troubled Water." That was the first time anyone had heard me, my family, my friends, my schoolmates. I was shocked by their reaction to my voice, that I knew it wasn't something that I wanted to pursue, it was something that I had to pursue. An interesting lesson to learn after singing in front of almost 1,000 people!
MR: You've had many song placements over the years in such high profile TV shows and films as Vampire Diaries, Bones, One Tree Hill, and many others. When you as the artist have major success in that arena as opposed to with your project releases, does that affect how you approach creating music or the energy dedicated to one format over the other?
TL: I try not to let it control the creative process. I think when it first started happening, I would try to write songs that were "placeable." But over the years, I've learned how to fuse the two goals together of having songs that appease my own need for emotional release and songs that can get placed. When I'm writing, I'm always looking for inspiration. Sometimes that will be my own experience, but sometimes I am able to take a brief and put myself in that role and feel what they're feeling. It's just another way for me to channel a feeling. But it always ends with a genuine feeling from me.
MR: Which are your favorite Toby Lightman recordings from over the years?
TL: I have to say my favorite songs are usually the ones I've written strictly alone. I have co-written quite a bit because sometimes you need a little push. A push for a better lyric or a push just to write in general. But when I've sat down alone and was able to channel an emotion, those will always be the songs that I connect with the most. "Everyday," "Better," "Bumps in the Road," "You're Welcome," "When You Ran." These are just a few of the songs that sometimes I have a hard time getting through because they cut a bit deeper. I know it sounds cheesy...
MR: How do your stage appearances differ from how you approach recording? What do you bring to the live format that isn't captured on recordings?
TL: Being on stage is so different. I love both process' the same really. But there is nothing like being on stage. It's so primal. You have no time to overthink, no time to redo mistakes. You have no choice but to lay it all out on the line. When I'm on stage, I take more chances vocally because I want to feel something different. Every time I perform, it's a new experience. I also am a self-deprecating idiot in between songs to counter the heaviness of the lyrics that I'm singing. And most of the time that's not to appease my audience, it's almost more to make me feel comfortable with how much I'm opening up emotionally in front of everyone!
MR: Do you have any favorite venues that you like to perform in?
TL: I LOVE Jammin' Java in Vienna, Dakota Jazz in Minneapolis, World Cafe in Philly, Eddie's Attic in Atlanta... There's a bunch. I like anywhere my fans like to be really!
MR: What advice do you have for new artists?
TL: Get out there. Write songs. Play shows, play open mics. Don't just try and be famous. I see so many people trying so hard to just be famous and spend no time on making their talent as good as it can be. You can push your way to the top, but if there's nothing behind the curtain, it ain't happening. Talent and good music will always come first for me when I'm discovering new music.
MR: What's coming up beyond the tour?
TL: A cookbook? No, just kidding. Well sort of. I already have plans to put out a bunch of other music and am excited to get started on different projects. But I just shot a video for the song "Your Welcome" and am psyched to release that next!
*******************************
DANIELLE NICOLE'S "YOU ONLY NEED ME WHEN YOU'RE DOWN" EXCLUSIVE
According to Danielle Nicole's camp...
"Written in New Orleans by Danielle Nicole and GRAMMY® Award-winning producer/guitarist Anders Osborne, 'You Only Need Me When You're Down' is one of six tracks showcased on the ex-Trampled Under Foot singer/bassist/songwriter's self-titled solo EP, set for release on March 10 via Concord Records. Influenced by artists as diverse as Etta James, Bonnie Raitt, Paul McCartney, The Neville Brothers, Sarah Vaughan and Janis Joplin, Danielle calls her sound 'blues-based roots.' The video spotlights her versatility and range as she lays down the bass lines while also handling the vocals, with Mike 'Shinetop,' Jr. Sedovic on keyboards, Brandon Miller on guitar and Jan Faircloth on drums. A full length album is scheduled for release in late summer 2015, featuring more music created in New Orleans with Osborne, Galactic's co-founding drummer Moore and Sedovic.
******************************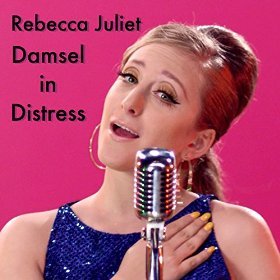 A Conversation with Rebecca Juliet
Mike Ragogna: Rebecca, your song "Damsel in Distress" is your latest single. The song is about empowerment, but have you ever at least felt like you were in that position and how did you push through it or change your self-perspective?
Rebecca Juliet: I've definitely been in situations where I am not empowered. Being catcalled on the street is one example. Just the other day, for instance, I was walking to a grocery store two blocks away from my apartment (by the way, wearing sweatpants), and was whistled at three times. I wish that I could say that such incidents are rare. These demeaning actions occur much too often to too many women, and aren't a reflection on the victim, but rather the offender. Recognizing that such instances aren't about me but rather about a system that gives the impression that my body is an object allows me to move forward and focus on making a positive change.
MR: For some, do you think it might be a matter of slipping into the "damsel" identity as opposed to doing the work to self-empower?
RJ: I don't think that anyone would intentionally put himself or herself in a servile position; no one ever wants to feel lesser. That being said, that's the way that women start out. Our society is an innately uneven playing field. I once saw a great comparison of women in our society being like bicycles on the road. Technically, the road is supposed to be shared equally between cars and cyclists, but it was made for cars, not for bicycles.
With that in mind, whether or not a woman wants to fit into a "damsel" identity, unless she is actively working to escape from that prescribed role, that's where she begins and often where she will be forced to stay.

MR: The net sales of the recording from Amazon and iTunes are going to Girls Inc. Of New York City. Why that organization?
RJ: First of all, living in New York City, I wanted to find an organization in my area. There are opportunities for philanthropy everywhere, and I firmly believe that people can make the most change in a physical area that they know well, as working somewhere close to home means having an increased understanding of the needs of that community.
I chose Girls Inc. of New York City in particular because, as a student, I am keenly attuned to the importance of education of all kinds. Girls Inc. of New York City provides many types of education to underprivileged girls from all five boroughs. These programs range from economics to STEM fields to pregnancy prevention to media literacy to community service and to, I believe most importantly, the cultivation self-esteem.
MR: Bust Magazine called your song a Feminist Pop Anthem. I know they were only referring to the recording but do you consider yourself a feminist?
RJ: I absolutely refer to myself as a feminist. I know that some people shy away from using that word because being a feminist can be equated with misandry, or in colloquial terms, "man-hating." But that's a total misconception. Feminism is about creating equality between the genders, not about switching around a hierarchy. The goal of feminism is bringing the underprivileged up to the same level as those with power, not bringing the privileged down.
Everyone who sees women as equal to men are feminists, whether they would use the term or not (and I think that they should!). Feminism is an inclusive movement, intended to buttress the rights of every woman--including trans women. In my mind, there isn't really a middle ground: there's sexism, and then there's feminism. Being complicit in a sexist system by not taking a stand against it allows for the perpetuation of that inequality.
MR: In your opinion, what needs to change to assure women's equality in society, not just on a legislative level?
RJ: I think that changing people's mindsets is actually the first step to guaranteeing women's equality. Legislation is terrific, but that's only half of the battle. If no one believes in what laws protect, they aren't entirely helpful. What's more important is inculcating the belief that women and men are inherently equal, and therefore deserve equal treatment in all spheres.
There are so many stereotypes in our society, and one of the scariest things about them is that many people pretend that there aren't. Women are still expected to be thin and have long hair and shave and diet and have babies, but I always hear about how much society has improved. Yes, we are definitely better than we were fifty years ago, but I sure hope that in fifty years we'll be better still. One of my friends has an amazing tee shirt that says, "I'll be a postfeminist in the post-patriarchy." Our world is still run by men in so many ways, and before legislation can truly support women, people need to recognize 1) that our society is still glaringly sexist, and 2) that's something that everyone needs to actively work to change.
I believe that an obstacle to those realizations is the view that this movement is solely a woman's movement. To make real change, we all--all genders, all races--need to see the feminist movement as a comprehensive struggle.
MR: Profits from the sales of your 2013 recording "Angel On Our Shoulder" went to charities benefiting Sandy Hook Elementary's victims' families. You seem to be socially active when it comes to charitable causes. Where did you get the awareness to become energized enough to champion these causes and topics?
RJ: I've lived in New York City my whole life, and I really do believe that living in such a socioeconomically divided city is part of what gave me this drive. It's odd to be an area with apartments that are worth millions of dollars, and walk five blocks away and see a low-incoming housing project. Seeing the extremes of our society compelled me from a very young age to try to make a difference.
I also went to a full time Jewish school when I was younger, and I believe that having a religious education imparted the necessity of tikkun olam, repairing the world, in whatever way I can.
MR: What advice do you have for new or emerging artists?
RJ: It sounds terribly cliché, but I really do believe that kindness and helping others is one of the most important things in the music (or any) business. On a really nitty-gritty level, no one wants to work with someone who's haughty or rude on set or in the studio. On a larger scale, I know that I've taken much more pride in my music because of its charitable element, so in that way, philanthropy has inspired me to keep going and keep pushing myself.
MR: What's next on your agenda? Where would you like your musical career to be five years from now?
RJ: If you remember junior year of high school, you might not be surprised to hear that it's pretty chaotic between schoolwork, SAT prep, and the college search. As a result, I haven't had much opportunity to reflect on where I'd like to be with my music down the road. That being said, singing and philanthropy have been my passions for as long as I can remember, and I definitely want to continue to combine these passions by making more music that effects positive social change for years to come.
******************************
THE LEEWAY'S "IF ONLY" EXCLUSIVE
According to The Leeway's frontman Pedro Barquinha...
"'If Only' is a song off of The Leeway's self-titled EP. This sad ballad is an ode to commitment issues when it comes to relationships. It depicts a character who's had trouble committing in the past and is now with someone who he probably likes more than anyone he's been with before, but the old feelings creep up nonetheless making him unable to stay in the relationship. The song draws as much from the great Jazz songwriters as it does from Folk lyrically, and musically."
And The Leeway's camp adds...
"The Leeway are a Brooklyn based indie/folk band lead by Pedro Barquinha. By taking elements of Folk music such as dense vocal harmonies and an acoustic instrumentation of banjo, mandolin, guitar, bass, and piano and then mixing it with intricate arrangements, The Leeway brings a sound that's both innovative and fresh."
Calling all HuffPost superfans!
Sign up for membership to become a founding member and help shape HuffPost's next chapter