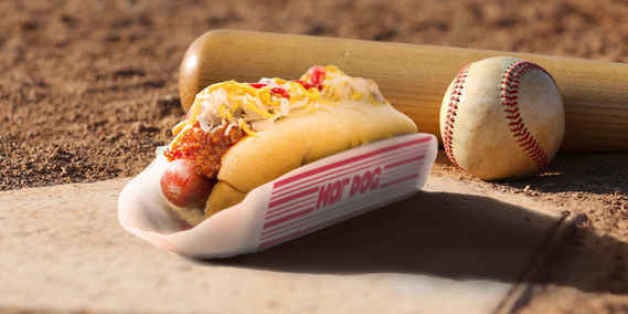 With respect to the peanuts and Cracker Jacks of the old ball game, baseball's changed a lot since becoming the national pastime, and we're not just talking about, um, enhanced performances. So, too, has baseball spectatorship -- in particular, the art of eating and drinking your way through nine long innings. Sure, hot dogs are good, but once you've had one piled high with poutine, you're a changed man. And these days, if you're overpaying for a stadium beer, it might as well be craft.
In honor of opening day, we took it upon ourselves to rank all the MLB stadiums based on food and drink. We awarded extra points for local-centric foods, creativity, and craft beer dominance. We deducted points for weird-for-the-sake-of-weird Frankenfoods. Ready? Play ball. No, seriously. There are meatball sandwiches below.
30. Kauffman Stadium
Kansas City Royals
Look, when an investigation reveals you were serving expired food and committing a whole bunch more gross food violations (even during the World Series!) as recently as last fall, it's going to take some time to earn the public trust back. Beyond that, why is a BBQ landmark like Kansas City serving Sweet Baby Ray's (a Chicago-based operation) as its 'cue of choice? Can't someone get Oklahoma Joe's, Gates, or Arthur Bryant's on the phone? All isn't totally lost -- Boulevard is a welcome presence in the beer department -- but for now keep it clean so no one has to read about "mouse feces" for a while.
29. Wrigley Field
Chicago Cubs
The Cubs' baseball operation has overgone enough of an overhaul that some are (probably crazily) predicting that Back to the Future had it right all along. Overhauling the concessions operations will be a bit more slow going as the venerable stadium undergoes a massive multi-year renovation (including a bleacher project that won't be complete until the middle of this season. But for now you're not likely to find a ton of boundary-pushing ballpark fare -- though sticking to a dog and a beer kind of feels right here anyway, and AB's acquisition of Goose Island has expanded the offerings in that regard.
28. Rogers Centre
Toronto Blue Jays
Since we're in Canada, the best choice here is, obviously, the Quaker Steak & Lube. Oh, that's, uh, a chain based out of Pennsylvania that opened its first Canadian outpost in a baseball stadium? Well, the wings are still excellent. On the brighter side, the sausage carts outside the stadium are really, really delicious.

27. US Cellular Field
Chicago White Sox
Even the staunchest Cub fan will begrudgingly acknowledge the superiority of Chicago's South Side team when it comes to the food department. Local chain Beggars Pizza was a welcome addition to the mix last year. Another favorite is the corn off the cob -- a fresh-cut pile of corn doused in the elote-inspired toppings of your choosing. There are some other curveballs (heyo!) in the mix, like a carvery turning out corned beef on marble rye and the like, and batting helmets full of barbacoa-topped nachos (this will not be the last time we hear of those), but not a ton else with much of a "wow" factor.

26. Busch Stadium
St. Louis Cardinals
While we're normally in favor of all things BYO, Busch Stadium seems to let Cards fans bring their own food to make up for what's available inside. El Birdos Cantina has a build-your-own nachos station, while toasted (that's the Midwest term for deep-fried) cannelloni are the sole regional representative, unless you count the beer. And if you were wondering what beer you're drinking, you clearly have forgotten you're in St. Louis.

25. O.co Coliseum
Oakland Athletics
Try to forget for a moment that the Coliseum looks like a prison camp from the future and that Billy Beane's regular season HOF-ers will inevitably choke hard in the playoffs. Progress is being made with the local beer selections (Pyramid Alehouse, Linden Street Brewery) and brick-oven pizzas at the West Side gastropub. The food options fall off a cliff from there, unless you're a fan of soggy, gross garlic fries that will just remind you that San Francisco's ballpark has much better garlic fries... and a much better atmosphere... and much better players... and isn't in Oakland.

24. Angel Stadium of Anaheim
Los Angeles Angels of Anaheim
Thankfully, Angel Stadium reaps a bit of the benefits of its SoCal location with Stone leading a list of craft breweries on draft, which also includes Saint Archer and Lost Coast. Last year's season gained local pizza chain Oggi's and SoCal chain Chronic Taco. But there's a surprising lack of much else going on -- and that includes gimmicky food, which is practically a requirement these days.
23. PNC Park
Pittsburgh Pirates
Like Rogers Centre, the Quaker Steak & Lube is one of the best options here. Unlike Rogers Centre, we're finally in Pennsylvania and this makes a bit more sense. Thankfully the wing chain at least gets overshadowed by Pittsburgh sandwich legend Primanti Bros. (you want the capicola & cheese) and local burger chain BRGR.

22. Globe Life Park in Arlington
Texas Rangers
Globe Life Park is riding this whole bacon thing HARD. Like a state fair underwritten by cardiologists seeking work, Arlington's "Just Bacon" stand offers bacon cotton candy, bacon lollipops, bacon beer, bacon sunflower seeds, and chicken-fried bacon on a stick. You came to Texas for its bigness, so go whole hog on dessert too with deep-fried s'more Oreos (we're not calling them S'mOreos). The Major League Brewhouse hosts a lineup of mildly crafty brews to put back with a side of beer-battered Sidewinder fries or brisket sausage.

21. Minute Maid Park
Houston Astros
Nothing like hitting the ballpark to drink... SO MUCH ORANGE JUICE! Thank you, thank you. Minute Maid made some headlines last season for a partnership with local BBQ titan Ronnie Killen on a deal to serve his brisket, but unfortunately the partnership was short-lived due to logistical issues (fear not, they're still serving 'cue, just not THAT 'cue). You can also get your meat fix (and frighten Robin Ventura) with a Nolan Ryan beef burger and chase it with brews from St. Arnold. Also: a "Street Eats" station serves up food truck-inspired fare like pulled pork tacos and Buffalo meatball subs, along with other rotating chef specials.

20. Fenway Park
Boston Red Sox
No amount of Gulden's mustard will hide the fact that Fenway franks are just plain, sweaty Kayem hot dogs wrapped in nondescript buns. The baseball temple plays it too safe (re: boring) when it comes to eats -- sticking mostly to burgers, dogs, and helmet sundaes -- although, they do manage serviceable lobster rolls and a thoroughly greased sausage & peppers from the cart on Lansdowne. You may want to consider drinking at Fenway-adjacent bars rather than endure MLB's most expensive beer prices inside the park, especially when there's the possibility of being charged by an outfielder and hit with an errant slice of pizza at the same time.

19. Great American Ballpark
Cincinnati Reds
You can get local favorite Skyline Chili at not just a solitary location, but several scattered throughout the park. Some corners of the tasting public may not see this as a good thing, but there's a certain charm to the stuff when you've been drinking beer, and you should be doing that, as Cincinnati has really upped its game in recent years and that's become increasingly reflected within the park. Montgomery Inn is another local favorite with a welcome presence throughout as well, doing solid BBQ. And with a name like Great American Ballpark, it's all-too appropriate that Frisch's Big Boy is now on-hand slinging burgers.
18. Comerica Park
Detroit Tigers
Many ballparks dabble in the "hey we made a crazy hot dog" game, but the introduction of Comerica Park's poutine dog was particularly inspired (hey, Windsor is just across the way, Canadian fare makes sense). If your encased meat tastes run more stateside, Leo's Coney Island does a solid rendition of the chili-topped Detroit classic. This year's addition of Bacon & Eggs -- a bacon strip topped with three deviled eggs is... interesting? Also, the stadium's worked in recent years to better represent one of the nation's most thriving and creative beer scenes, and there's been progress (including an all-Michigan craft bar), but they could definitely take it further.

17. Tropicana Field
Tampa Bay Rays
Florida's gifts to America, in this very particular order, are the Florida Man Twitter account, oranges, and Cuban sandwiches, and Tropicana Field delivers at least two of those. Besides the Cubano and a citrusy corporate name, the Rays' stadium just added a new, uh, lineup which includes mac & cheese in a cone, pulled pork-laden baked potatoes, and an outpost of Tampa's most popular food truck, Taco Bus. With Cigar City leading a fairly impressive craft draft list, the Rays' stadium comes in decidedly higher than its team ended 2014.

16. Chase Field
Arizona Diamondbacks
The 18in corn dog stuffed with cheddar, jalapeños, and bacon makes their Sonoran dog (the bacon dog you'll actually want to eat) look dietary by comparison. If tubed meats aren't your thing, there's tubed dessert in the form of the churro dog, the bun is an éclair! Or you can just keep to the revamped Draft Room, the new outpost of local favorite Lo-Lo's Chicken & Waffles and the food truck alley that will host a new lineup for each series.

15. Turner Field
Atlanta Braves
Braves fans only have two seasons left to be the only baseball crowd that can order WaHo hash browns scattered, covered, peppered, and diced during a baseball game. Or to get one of the best damn burgers in America from Holeman & Finch's H&F Burger kiosks. The stadium, which will be demolished after the 2016 season, also has outposts of La Taqueria -- one of Atlanta's best Mexican spots, a Kevin Rathbun Steak Sandwich, which sells... steak sandwiches, and a SweetWater beer island. All of this gives us high hope for the new stadium's food options.