Hundreds of thousands of women and girls are dying every year as a result of childbirth. In fact, there is one maternal death every minute. For every woman who dies in childbirth, there are at least 10 women who suffer significant injuries or are disabled. The thing is that it doesn't need to be this way.
"Almost all of these deaths can be prevented," said Christy Turlington, leading maternal health advocate, at the Social Good Summit taking place in New York City this week. "There are not a lot of issues out there you can say that about," she says.
While health care is deficient in many developing countries, maternal health care is particularly neglected. For instance, in 2000, the United Nations committed to ending extreme poverty worldwide through the achievement of eight Millennium Development Goals. Two of these goal were to improve maternal health and improve child health. It so happens that these two MDGs are the ones that have experienced the least progress.
"If we can't support a woman while she is giving life, then we don't support women," said Christy Turlington in an interview at the Social Good Summit.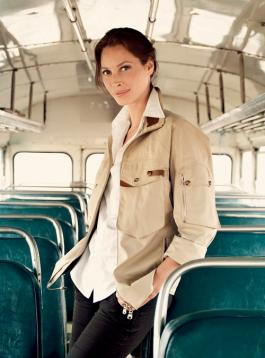 Like many women, Christy was excited to become a mother. But just after delivering her first child, she suffered a serious complication. While she had a birth team that worked quickly to manage the situation, she was shocked to learn that hundreds of thousands of women die each year during childbirth -- and that 90 percent of these deaths are preventable.
Moved to speak out about the importance and necessity of maternal health, Christy made a film documenting the stories of pregnant women from four parts of the world. These include a remote Maasai tribe in Tanzania, a slum of Bangladesh, a post-abortion care ward in Guatemala, and a prenatal clinic in the United States. Over the last year and half No Woman, No Cry has been showing at film festivals, women and girl conferences, medical schools, the United Nations, the World Bank, the Oprah Winfrey Network, and other influential public forums.
Photo courtesy of Every Mother Counts.
"My goal is to make sure that those individual stories are heard so that then we can really rally -- those of us who have a voice -- who have the ability to speak out about these issues and be heard," says Christy. "There are so many millions of women and girls who don't have that ability."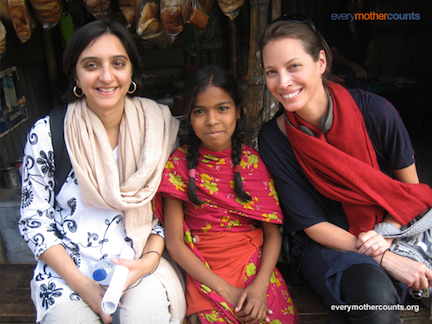 Photo courtesy of Every Mother Counts.
Wanting to take the public awareness from No Woman, No Cry a few steps further, Christy founded Every Mother Counts, an advocacy organization to increase education for maternal and child health, as well as a resource to help people get involved to make a positive difference for women and children.
Through Every Mother Counts, you can donate your old cell phone to equip health care workers in the Democratic Republic of Congo with phones and software to better reach pregnant women in need. You can share your own story connected to pregnancy and childbirth. Or you can donate to support midwife training in Afghanistan, where maternal health rates are at their worst.
Most of the women who have died in childbirth could be alive today if they had access to basic maternal health services. We need to look this issue in the eye and see that women are not dying because of untreatable diseases. They are dying because women and girls have yet to be valued as lives worth saving. "We named our organization Every Mother Counts. It's really that every woman and every girl counts," says Christy.
Tabby Biddle is reporting this week from the Social Media Summit in New York City. She received a press fellowship from the UN Foundation for UN Week to build awareness around global health.
Popular in the Community