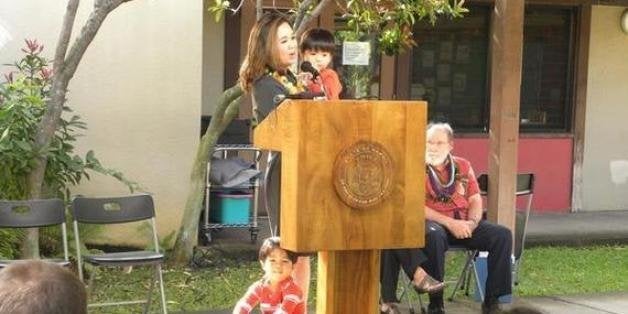 Thank you to Mom-Mentum for graciously allowing me to re-post this piece on Huffington Post. Considering that the Hawaii State Legislature will be convening in about a week, I appreciate the opportunity to present this interview with a high-ranking state senator to additional audiences.
The second Friday before Christmas was like most of my days -- with some unique details. I was in the final stretch of finishing the update of my ebook, so I was:
making last minute edits,
chasing after various interviewee approvals, and
double and triple-checking for typos.
I also had a call with one of the mothers in the book, Hawaii State Senator Jill Tokuda, who was in the midst her own daily juggle: gingerbread-house making for her older son's classroom and preparing for her new role as Chair of the Hawaii State Senate Ways and Means Committee. We talked about working families, the economy, and how to reframe the state's perspective to truly consider the economic value of working parents.
I always enjoy talking to Sen. Tokuda. Her contribution to Lean On and Lead, Mothering and Work in the 21st Century Economy -- an audio interview describing her experience bringing a newborn to the Hawaii Senate Floor -- is one of the most compelling interactive elements of the ebook.
"For Aden, there was no choice, absolutely no choice at all [because] he was born during session... He was about six weeks premature, a little earlier than expected... I was chairing the Higher Ed Committee at that time, and when he was born, I had just gotten through some of the hearings that I needed to get through. I took a week off... and three weeks after he was born, [Aden] started coming with me every day to the senate. I admit at first I was a little nervous in terms of bringing a baby onto the senate floor every day -- because you don't know if your newborn is going to be crying or fussy. Obviously, until they show up, you're never sure of their disposition. Floor sessions can sometimes be very brief especially in the senate, but they can go a little long at times. But I was very fortunate that Senate President Hanabusa was very understanding. There was no question at all. She said, 'bring the baby, bring Aden.' [The whole senate] was very accommodating."
Now at the age of 38, with two sons ages four and six, Senator Jill Tokuda is one of a very small group of women nationwide chairing a legislative budget committee. When she and I talked that very busy day before the holidays, she noted that with her new appointment, "a caregiver is in the driver's seat."
For all of us who are caregivers, we know how important -- and unusual -- it is for leaders to understand the day-to-day realities of earning a living and contributing to the economy while also caring for children, parents, or others. And though so many of the root causes of our day-to-day frustrations are related to the social, economic, and even physical infrastructure of our lives, because of this lack of institutional support, we often look inward for solutions to our problems, focusing on self-help strategies for improving our ability to survive and prosper.
Yet no matter how much we change our attitudes
or improve our efficiency, or feng shui our homes,
there are still only twenty-four hours in a day.
If the only day care available for our kids is fifteen miles in one direction, and our work is twenty miles in another, no amount of self-improvement will make it easier to get our family home at the end of the day. Two adults working 40 plus hour weeks means that no matter how efficient and elegant our planning, there is no time for housework, helping the kids with their homework, or exercise unless we give up the little bit of leisure time that's left. If one or both parents travel for work, time and distance are immutable factors that have major impacts on our ability to reconcile the needs of work and home. And God forbid if someone gets sick.
Clearly, the solutions to our problems need to go beyond scotch tape and paper clips.
After my call with the senator, I continued my day with my own precarious balance, texting my older son (a high school senior) to confirm his college application progress before getting back to the work that will hopefully contribute to paying for that education. Thankfully, my husband took our younger son to the orthodontist that afternoon so I could finish the rest of my work that day.
Since we can't add hours to the day, we need to add support -- from those around us and from our lawmakers. The Hawaii State Legislature opens on January 21. As we increase the number of caregivers driving change, I am confident that the crucial link between a robust economy and policies that support working parents will move to the forefront.
Calling all HuffPost superfans!
Sign up for membership to become a founding member and help shape HuffPost's next chapter