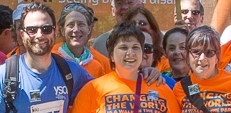 I am the mother of two adult children. My son, Daniel, had severe asthma as a child. My daughter, Katie, was diagnosed with a complex seizure disorder, intellectual disabilities and social anxiety issues.
I became a strong advocate by necessity.
My goal, like that of most parents, has always been to ensure that my children have access to the best and most appropriate opportunities in life. What I have learned over three decades of working toward this goal is that the supports that are available to the parents of a "special" child differ dramatically from those that exist for a family with a "typically developing" child.
From Parent to Parent Advocate
When I started my journey as a parent, the world of services for children and adults with disabilities was dramatically different than it is today. Often there was no structure in place to accommodate the "special needs" family.
With that realization, my journey as an advocate began. Many times I had to initiate the development of adequate supports through advocacy. My efforts expanded beyond the realm of my child, because I knew that there were other parents who were struggling with the same needs for information and support. I fervently made certain that families were educated about all the special help that could be available in my daughter's school. As Chair of the Parent Association for 10+ years, I knew that my voice was heard when I was referred to -- sometimes with exasperation -- as "the parent."
My daughter aged out of school at 21, a terrifying transition time for many families of young adults with intellectual and developmental disabilities (IDD). When we moved from the special education world to the adult disability service system, I felt as though I was once again thrown into an abyss.
As a working Mom, I had no knowledge of how to navigate services for adults with IDD, and it wasn't easy to attend daytime meetings that might help me figure it out. I had an abundance of experience and insight on educational and other services for children, but I had no information about the larger world of adult developmental disability supports in which Katie would be immersed.
Once again I donned my advocacy hat and did everything I could to find, access, shape or create supports to meet the needs of my daughter and other young adults. At YAI, where Katie receives many of her services, I have been an involved and vocal advocate. I have found myself in the familiar role of "the parent" as I advocate for families to have a seat at the table when it comes to shaping services for our loved ones.
Cultivating a New Generation of Caregivers
The current service system provided by the New York State Office for People with Developmental Disabilities (OPWDD), which oversees funding for programs by YAI and other agencies throughout the state, offers many excellent supports for adults with IDD.
The system, which is considered one of the best in the country, exists because of the hard work of family advocates that preceded us. Advocates who got to know their local elected officials and shared their stories with them. Parents, siblings and other family members -- along with individuals with disabilities, themselves -- who made sure that the legislators who represented them understood that residential, day, employment, health care and other vital services strengthen communities and are crucial to the well-being of their entire families.
As I type, everything is changing. Medicaid funding for disability services is being reduced at the federal level, and people with IDD and their families in states across the country are being impacted. Managed care is coming soon, which will require service providers, individuals and families to rethink and reconfigure what supports are available and how they are offered.
Perhaps most important to me and my generation of family advocates is the fact that all of us are aging.
At 68 years old, I am the "baby" among many of my peer parent advocates.
As a group of people who care about ensuring a safe and fulfilling future for our loved ones with disabilities, we are approaching crisis mode. Who will continue to advocate for our family members? Who will understand how we evolved and what is necessary for our families' survival?
To address this crisis, several family advocates have done the only thing we know how to do: We have sprung into action. Here in New York City, we have created the NYC Family Advocacy Information Resource (NYC FAIR).
We are a small but determined group of parents, siblings and other family members of individuals with IDD. We are concerned that the current generation of family advocates is aging and we are looking to partner with the next generation of parents, siblings and others to become active participants in the lives of our loved ones.
Our mission is to expand and strengthen the community of family advocates, train and mentor younger parents and siblings, empower families transitioning to adult services by providing information regarding supports beyond the educational system, connect families with other families, and strengthen the ties between family advocates and disability service providers.
The time has come to educate and empower a new group of advocates who can continue the work we have done to ensure that our loved ones have the supports they need to build the lives they want.
This transition might not be easy, but the future of services for generations of individuals with disabilities depends on it.
Calling all HuffPost superfans!
Sign up for membership to become a founding member and help shape HuffPost's next chapter