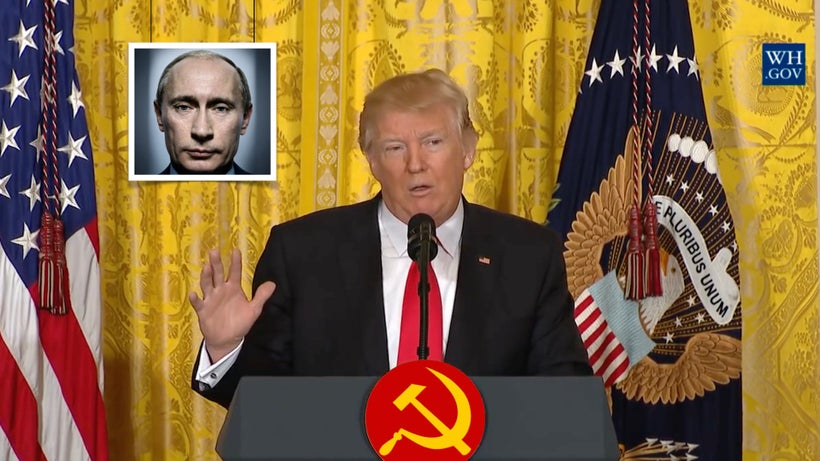 On October 13, 2015, Trump lawyer, Michael Cohen received a signed 17-page letter of intent from Russian born Trump business partner, Felix Sater that outlined a deal to buy property and build a lavish Trump tower in Moscow financed by a Russian billionaire.
3 months later, the Trump Moscow deal is dead – the reasons have not yet been made public.
This deal was in place during part of the Presidential campaign and was first revealed by CNN in September 2017.
In March, 2016, George Papodopalous, a foreign policy advisor to the Trump Campaign, meets a British educator in Italy who brags of "substantial Russia connections." Two weeks later, in London, Papodopalous meets the educator again, along with a Russian woman introduced to him as Vladimir Putin's niece, who it is later revealed was a Russian spy attempting to lure Papadopoulos into a sexual affair.
At the end of March, candidate Donald Trump unveils his foreign policy advisors. According to recently released court records, during that meeting Papodopalous said that he has a connection that could help arrange a meeting between Trump and the Russian president.
In early April, then campaign advisor, Paul Manafort emails a man in Moscow who works for him about money he was owed by Ukrainian officials. Manafort also instructs Hope Hicks to disregard media questions about his own relationships with Russian oligarchs.
On April 3rd, 2016 Papadopoulos emailed seven Trump campaign officials regarding his Russia progress. The first of his many email's subject line read: "Meeting With Russian Leadership – Including Putin."
Papadopolous persisted in his attempt to arrange a Trump Russia meeting throughout April.
The existence of these emails was made public for the first time on August 14th. 2017.
In late April, Jeff Sessions and Jared Kushner meet privately with the Russian Ambassador, Sergie Kislyak at the Mayflower Hotel in Washington, DC at a reception prior to a speech being given by then candidate, Donald Trump.
During his confirmation hearing, in the spring of 2017, Sessions did not reveal this meeting.
Sessions, however, did recall the meeting during subsequent testimony months later.
(You can ALSO watch this episode of Be Less Stupid for more)
From the end of April through the Middle of May, George Papodopalous continued his email exchanges with Russians about arranging a meeting for Trump, details of which were shared with campaign chair, Corey Lewandowski. Simultanously, another foreign policy advisor, Carter Page, also suggests Trump visit Russia.
On May 21st, 2016, at the NRA convention in Kentucky, Donald Trump Jr secretly spoke during dinner with a Russian banker that Spanish police accused of being a mafia godfather. Earlier in his career, the banker was a member of the Russian parliament, affiliated with the same political party as Vladimir Putin.
News of this meeting was kept secret for nearly a year and a half, until it was revealed November 20, 2017.
During the 3rd week of May, 2016, Papadopolous emails now campaign chairman, Paul Manafort about his progress in setting a meeting between Donald Trump and Vladimir Putin.
On June 9, 2016 Donald Trump Jr held a secret meeting in his office at Trump Tower with a Russian attorney who promised to provide incriminating information about the Hillary Clinton campaign – information that would come directly from the Russian Government, as part of their support to help elect Donald Trump president.
The meeting was arranged by Trump Jr's friend, Emin Agalarov, the son of a Russian Billionaire who owned the arena where Trump held the 2013 Miss Universe pageant in Moscow.
This meeting was also attended by campaign chair, Paul Manafort, and the president's son-in-law, Jared Kushner.
This secret meeting was revealed by the NY Times on July 9th, 2017, nearly a year AFTER it took place.
On June 19th, Popadopolous tells campaign chair, Paul Manafort that he'd be happy to go to Moscow on behalf of the campaign to arrange the details for a Trump Putin meeting. Meanwhile, simultaneously, Carter page asks the campaign for permission to go to Moscow to attend an energy conference.
On July 7th, in an email to his Moscow employee, Paul Manafort offered to brief a Russian oligarch on the current state of the Trump campaign.
On July 8th, Carter Page visited Moscow for the conference, when it was over, he emailed Trump campaign superiors that he had private conversations with Russians and will update when he returns.
On July 20th, Carter Page has a conversation with Russian Ambassador, sergie Kislyak during the GOP Convention where he discussed US sanctions against Russia.
In early September, in an interview with Russian media, George Papadapalous said that Donald Trump is "open to usher in a new chapter" on Russian / US relations. Meanwhile, then senator, Jeff Sessions secretly met with the Russian Ambassador in his Capitol Hill office.
During the 3rd week of September, Donald Trump Jr is secretly contacted by wikileaks via Twitter. In an email to Steve Bannon, Kellyanne Conway, Jared Kushner and Hope Hicks, Trump Jr reveals wikileaks has reached out to him. Conversations over twitter continue through election day.
Subsequent investigations reveal Wikileaks' association with Russian officials.
On November 8th, Donald Trump is elected the 45th President of the United States.
On December 1st, just 3 weeks after Trump's election victory, Jared Kushner and Michael Flynn held a secret meeting in Trump tower with Russian Ambassador Kislyak to discuss setting up a secret back channel inside the Russian Embassy to communicate with the Kremlin during the transition.
This secret meeting was first revealed by the washing Post 6 months after it took place.
Two weeks after the Kislyak meeting, Kushner again met in secret, this time with the head of the Russia state owned bank at Trump Tower in New York City.
According to the NY Times, when he submitted his paperwork for top secret clearance, Kushner would have been required to mention this meeting with the Russian banker and his others with the Russian Ambassador – but did not!
And finally, on December 29th, 2016 incoming national security advisor, Michael Flynn had a secret phone call with the Russian Ambassador that was picked up by US Intelligence. The call was kept hidden from the public for 6 weeks, until it was revealed by the Washington Post.
Lying about the substance of this phone call to the FBI resulted in Flynn pleading guilty to a felony and agreeing to cooperate with federal law enforcement investigating Russia's attempts to influence our election… and if and how they coordinated with Donald Trump and his administration.
According to several media outlets, the subject matter of the Decemeber 29thFlynn call with Kislyak was directed by the president's son in law, Jared Kushner.
So: In addition to the long list of in person meetings secretly held by members of the Trump administration with the Russian Ambassador, and the head of the Russian bank, among several others, at the Mayflower hotel, at Trump Tower, at the NRA Convention, at the GOP Convention, and meetings In London and in Italy, —
–Reuters reports there were ALSO an ADDITIONAL 18 phone calls between April and November 2016 between the members of Team Trump and Russian officials. That's right. 18 additional secret phone calls.
In a press conference on Feb 16, three weeks after his inauguration, President Trump was asked about any contacts members of his administration had with Russia during the campaign for president in 2016, and Trump said:
"Russia is a Ruse. I have nothing to do with Russia. To the best of my knowledge, no person that I deal with does."
The lies and the treason will end when we boot Trump from office and he is behind bars. For life. For treason.
Jon Hotchkiss is the host of Be Less Stupid and a 14 time Emmy nominee. Like the Facebook page for more videos.
REAL LIFE. REAL NEWS. REAL VOICES.
Help us tell more of the stories that matter from voices that too often remain unheard.
This post was published on the now-closed HuffPost Contributor platform. Contributors control their own work and posted freely to our site. If you need to flag this entry as abusive,
send us an email
.