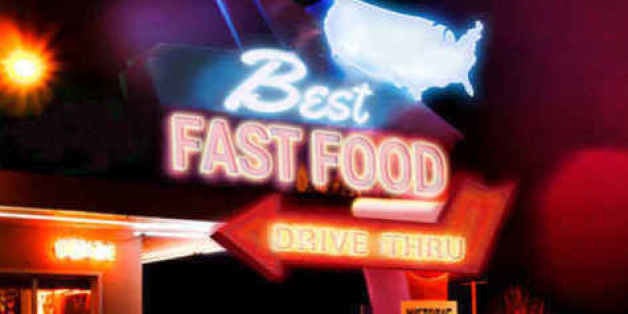 Fast food is about as American as apple pie (from McDonald's, of course). Seriously, recent Pew Research Center data showed that 50 million Americans are served fast food every day. And since we spend a damn good chunk of our time here at Thrillist writing about and tasting fast food, we began to wonder which states do it best, and which leave much to be desired when looking for quick eats.
To find out, we ranked every state by the fast-food options available there, concentrating on a variety of factors, including:
1) the big chains (Burger King, KFC, etc.) that began there
2) the regional ones (Whataburger, Culver's) that also originated there
3) the cool, little chains just in that state
4) the variety of choices and presence of enviable franchises
5) the deliciousness and uniqueness of their options in general
We also created a set of criteria to determine which places were fair game: there had to be counter service, food had to generally take between 1-8 minutes to prepare, and there had to be at least three locations for a place to be considered a chain. Also, no pizza. Stop calling pizza fast food, even if it's hot and/or ready. Clearly this ranking is based on science, math, technology, and hard facts (and maybe our extremely correct opinions), but hey, if you disagree or think we missed something, throw down in the comments. It'll give us something to eat next time we visit.
In 2011, Bo Muller-Moore, a Vermont folk artist who made his own "Eat More Kale" T-shirts was sued by Chick-fil-A because they said his slogan was too similar to theirs. Muller-Moore fought the legal action, and the public outcry caused even the governor of Vermont to launch a "Team Kale" movement to help Bo with his legal fees, and warn fast-food companies about messing with VT's "buy local" movement. All of which is to say: Vermont is basically the antonym of a fast-food mecca. If only Al's French Frys in Burlington had a few more locations.
Notable fact: Vermont regularly wins all the "healthiest state" awards.
Poor Alaska. It's not its fault franchises are too weak to handle its crazy-cold temps, but alas, they are, which means the fast-food landscape is pretty damn desolate. But hey: reindeer sausage!
Notable fact: This state is legitimately home to some of McDonald's best employees.
It's too cold in the winter to come up with your own fast-food chains. And -- despite Mickey D's infamous McLobster in the '90s -- lobster meat doesn't seem like the best fast-food move. (NOTE: Oh be quiet, Red Lobster, you're fast-casual!)
Notable fact: They have 25 Tim Hortons?
Montana's beef country, but its fast-food legacy is pretty limited to being the namesake of Arby's Big Montana. Also, there are a lot of Arby's in Montana.
Notable fact: Helena marks the Westernmost place where you can get Hardee's before it's magically transformed into Carl's Jr.

46. Rhode Island
Does Del's Frozen Lemonade stand count as fast food?
Notable fact: Coming up with a notable fact for Rhode Island is very hard... the Talking Heads are from there, though, and David Byrne often sings about fast food.

45. New Hampshire
In doing research for this story, we came across a comment on a blog in which a man named "Derek" from Southern New Hampshire discusses how he loves regional fast-food chains but can't get any good ones in NH, so he drove six hours to Delaware to get a Thickburger at Hardee's. And 14 hours to Ohio to go to Jack in the Box. And though I'm not sure why anyone would travel six hours to Delaware to do anything besides go to that weird pizza place with the swirled sauce, the point is this: the Granite State's chain game is subpar.
Notable fact: Dick and "Mac" McDonald, the brothers who opened the original McDonald's in 1940, grew up and are both buried in Manchester, New Hampshire.

44. South Dakota
It's not that South Dakotans don't love fast food. It's just that nobody wants to drive eight hours for a cheap burger, so if you're not in a place like Sioux Falls or Rapid, your drive-thru options are limited to whatever's in town. Or in whatever town is nearest.
Notable fact: There are approximately 3.65 million heads of cattle in South Dakota -- or about 4.3 cows per resident.

43. Delaware
Delaware might be the First State to, umm, rattle the Constitution or something -- but not in fast food. Two pluses: the tiny state has given the country Wings To Go, which has expanded to 10+ states, and the Thanksgiving sandwich-making folks at Capriotti's. And despite being such a small state, they still found room to host Southern chains like Chick-fil-A and Sonic.
Notable fact: Capriotti's has expanded to 14 other states (and DC).

42. Oregon
Oregon's pretty fast-food starved (sorry, TacoTime, but we sometimes forget who you are). Even its precious Burgerville is Washington-based. Plus, with the notoriously slow speed of service in Oregon, even getting a McDonald's cheeseburger can be a 15-minute affair (on a slow day).
Notable fact: Hipsters in Portland started planning road trips late last year when In-N-Out announced it might open a location in 2015... five hours South of Stumptown.

41. North Dakota
There's a ton of fast food in NoDak -- especially now that an oil boom is drawing hungry black-gold-collar workers -- but aside from Burger Time (which is not an arcade game), there aren't really any notable chains the state calls its own. Still, in Grand Forks, there's The Kegs, which is on the National Historic Registry.
Notable fact: Since the fracking boom, fast-food demand has grown so much that some McDonald's are starting people at $14/hour, plus a signing bonus.

40. Washington
Washington's so conscious, even its most notable fast-food chain, Burgerville, is local-centric... and like post-recession Seattleites, a huge number of Burgervilles are now located in Oregon. There're still drive-ins like Enzell's, Muchas Gracias, and Zip's, but much of Washington's too granola for fast food.
Notable fact: Vancouver-based Burgerville was one of the first fast-food joints to focus on local, seasonal ingredients.

39. Wyoming
Cheyenne-based Taco John's might have become a sensation with its loose take on Mexican, but Wyoming's not exactly known for its fast food, though there are some Midwestern tourists who would probably kill for a Whopper while watching Old Faithful blow its load. Think about it, National Parks Service.
Notable fact: Taco John's coined the term "West Mex," which is like Tex-Mex, but with more meat and fried potatoes.
Connecticut rises above most of New England on the basis of two Bridgeport legends: 1) Duchess, which is one of the only fast-food places I know of where you can order veal Parm, and 2) the original location of Pete's Super Submarines, aka Pete's Subs, aka Subway, and the $5 Footlong. But once you get out of Bridgeport (take the ferry!), you're left with the usual suspects. Unfortunately none of which are Stephen Baldwin.
Notable fact: Subway's original name, Pete's Submarines, was dropped because people thought it sounded like "pizza marines."

37. Mississippi
Despite letting their fast-food cash flow like frying oil, Mississippi has a huge dearth of their own chains. Holding down the solo honor is Bumpers Drive-In of America, which looks like it was plucked off Route 66 (that's obviously the name of their double cheeseburger, which you should order), and then multiplied throughout the Magnolia State, carhops included. Besides that, there are at least 26 (!) national chains, so we hope you like McDonald's.
Notable fact: According to Health mag, Mississippians spend 62% (!) of their dining-out budget on fast food.

36. West Virginia
West Virginia is a pretty bleak place; after all, it's earned the bottom spot in the Gallup-Healthways Well-Being Index for five years running. We can safely say, however, that this lack of well-being is not due to a lack of fast-food options (they actually might have too many). They've got all the major players (17 Chick-fil-As!! 7 Five Guys!!), plus a bunch of Long John Silver's and Captain D's for all their fast fried-fish needs. But, most importantly, they've got Tudor's Biscuit World, a West VA-born chain that bakes up fresh biscuits and makes them into a slew of different delicious sandwiches, along with breakfast platters and more.
Notable fact: Tudor's Biscuit World originated in Charleston, West VA in 1980.

35. Iowa
You can't fathom how many Arby's exist in Iowa. Though it started in Ohio, Iowa has its fair share of people practicing "meat craft." Also, Arby's website still uses MapQuest, but enough about Arby's, let's focus on the rest of Iowa's fast-food game. They've got some of the great Midwest chains (Culver's! Steak 'n Shake!) but their claim to fame is Maid-Rite, a loose-meat sandwich chain that specializes in un-sloppy Sloppy Joes. And, well, that's about it.
Notable fact: An assistant football coach at University of Iowa left his 200k a year job last year to open a Culver's franchise. This is a real thing that happened.

34. Indiana
Contrary to popular belief, Indiana has more than just popcorn (not that we weren't okay with just having popcorn). On top of a ton of national big-hitters, they boast Lee's Famous Chicken, which, though it was technically founded in Ohio, was the product of Colonel Sanders' nephew, who grew up in Indiana. So, really, it basically started here.
Notable fact: Lee Cummings, the founder of Lee's Famous Chicken, was related to KFC's head honcho, and much of his inspiration came from cooking in his Indiana home.

33. Arkansas
Clintons and Walmarts are probably Arkansas' most famous exports, but it could soon be chicken tenders. With state after state (four and counting) opening up more Slim Chickens locations than ever, they're poised to break out. And with local mini-chains like Mexican Chiquitos, Andy's, and David's Burgers -- not to mention a full complement of Taco Buenos and Sonics -- Arkansas has a lot on their plate (boom!).
Notable fact: Slim Chickens' first location was in Fayetteville.
Related