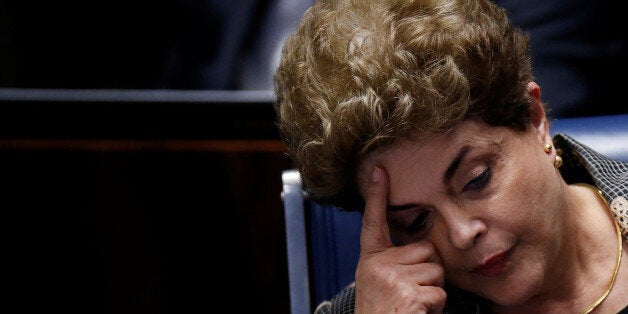 On August 31, a rainy afternoon in São Paulo, I watched the 2016 coup play out on the Senate TV channel. They referred to the process as a legal impeachment. They claimed that Brazil's president, Dilma Rousseff, had committed a macroeconomic crime.
My dear reader, stop pretending to be impartial. Stop trying to convince yourself that this decision will overthrow the Workers' Party (PT). It's will not.
Those who stood behind this coup have, by default, supported Michel Temer, Eduardo Cunha, Aécio Neves and their followers.
Those who were in favor of this coup have endorsed corruption.
I am not a member of the PT. I will never become a member of any party, due to my work as a journalist, as well as for personal reasons.
But I am not afraid of taking a stand: I think it's important to say that this impeachment was actually a coup. I believe it was a parliamentary coup brought about by corrupt politicians.
I watched Dilma Rousseff's trial since it started on Thursday, August 25, paying attention to the arguments of the prosecution and the defense. There was no consensus over the fiscal maneuvers, which are central to the impeachment claim.
The Senate voted favorably for her impeachment, with a score of 61 to 20. Senator Randolfe Rodrigues was responsible for proposing a separate motion concerning Dilma's political rights. However, the 43 votes in favor of barring her from holding any public office for the next eight years were insufficient.
In a nutshell: The coup removed her from office, but some senators, mainly from PMDB (the current president's party), realized that an open war against the PT was not a smart idea. They decided that they didn't want to bar Rousseff from public office for eight years, unlike what happened during the legitimate impeachment process against Fernando Collor de Mello.
Here are the facts about the politicians that voted in this process.
Renan Calheiros is a defendant in at least 11 investigations into corruption crimes.
Another member of his party, Romero Jucá, was involved in plotting to stop investigations into the Car Wash Operation.
I think it's important to say that this impeachment was actually a coup.
Antonio Anastasia, who was responsible for preparing the impeachment report, has been accused of receiving R$ 2 million from the Andrade Gutierrez, UTC, OAS, Odebrecht and Queiroz Galvão contractors as well as from the BTG Pactual Bank, which were all mentioned in the Car Wash Operation.
Aécio Neves was mentioned at least five times in the plea bargain process of the Petrobras corruption scheme.
Michel Temer, the new president of Brazil, has been accused by the Car Wash Operation investigators of receiving R$ 5 million from congressman Eduardo Cunha since 2015. The former speaker of the lower house of Congress, whose political rights have not been suspended, has allegedly received R$ 52 million in 36 installments, according to an accusation in one of the numerous plea bargain statements.
It may sound repetitive, but one thing is clear: All these crimes are more relevant than the fiscal maneuvers carried out by Dilma Rousseff during the Harvest Plan.
All these investigations involve money stolen from the Brazilian people, and not financial operations devised to obtain financial resources for the "Bolsa Família" and other social programs.
All the facts of this coup must be reiterated, no matter how repetitive they may sound.
Senators from PSDB (and their political allies) consider the fact that Dilma has kept her political rights as a "coup" against the impeachment process.
The hard and cruel truth is that the Workers' Party corrupt congressional base disrespected the constitution and double-crossed a president elected by 54 million votes.
And they did it in order to keep stealing from all of us.
This post first appeared on HuffPost Brazil. It has been translated into English and edited for clarity.
Calling all HuffPost superfans!
Sign up for membership to become a founding member and help shape HuffPost's next chapter