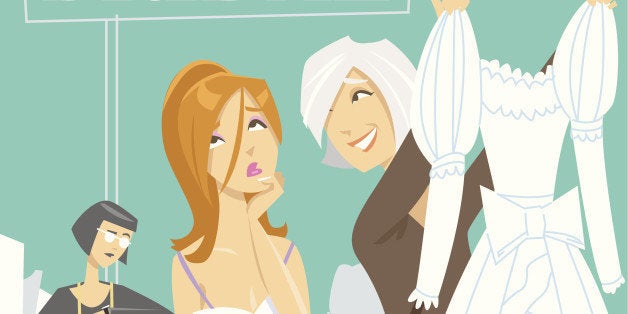 Welcome to our bridal salon! I'm your personal gown consultant. We're going to find your dress today! I can just feel it. Can't you?

Let's begin by perusing the items here in the showroom. Oh. Please don't touch. And do you mind taking a step back? You're breathing too closely on the gowns. From the relationship we've developed over these past 20 seconds, I know I have the perfect dress for you. I'll be right back.

This is Eden. She's a strapless, lace trumpet gown with a sweetheart neckline. You'll love this dress -- Eden's our most popular seller and you said you wanted something different!

The sample I'm having you step into is not even close to your size. Two thousand, three hundred and fifty-seven brides previously tried it on. Sixty-three women put it on just this morning! I will use these construction clamps, found in your local hardware store, to pull the dress reallyreally tight, giving you the false assurance that the gown fits. I need to pinch six clamps down the back of the dress, like so. Most of my brides start uncontrollably sweating at this moment too; I'll be done in a jiffy.

Did I pinch your skin? Oh good, you're not bleeding. Let's hold hands while you slip on these four-inch heels that are definitely not your size. Careful! We're not responsible if you roll an ankle.

Looks like I'll need to use one more clamp for the center of the neckline. Just try to ignore this mass of heavy-duty steel when you're in front of the mirror. This is the most money you'll ever spend on a single garment, so I want to ensure that you have a sufficiently imprecise idea of what you could look like on your wedding day.

Come teeter on this tiny pedestal, and channel your inner Amazonian princess while analyzing your reflection in this poorly lit dressing space. Imagine yourself about eighteen inches shorter, proportional and standing in bright light. That's what you might look like on the big day!

Now, I think this gown really tells your guests, "I'm a vision of the landed gentry's spirited heroine," with a hint of, "I am honored to be nominated among such a talented group of women."

What do you mean you can't envision how Eden really looks on you? I used seven performance-enhanced clothespins to ensure this is almost definitely, vaguely, exactly what you will look like at your wedding.

Oh, now that you mention it -- Eden actually comes in a blush mayonnaise tone of bright off-white. You'll notice that this sample looks a smidge jaundiced pale pigeon breast right now. That's because the fabric has oxidized during the half-decade it's been in our stockroom. Oh, and the lace will be a touch iridescent, so the dress either looks French eggshell white on some brides, or almond milk latte white on others. Regardless, just know that the gown will lack the pastel puke undertones that you're seeing in this sample. Though I must admit -- this greenish tint is becoming on you! You'll know what the real shade will look like against your skin tone when the dress arrives six weeks before your wedding date, which is not enough time to make any changes should you dislike it.

Even though you said you do not want to wear a veil, I am clipping the piece de resistance on your scalp to force an emotional spasm. Now, slightly bend your arms at the elbows and bring your hands together in front of your waist, like you're holding freshly cut roses from Oprah's bountiful garden.

Yes, Eden is under your budget, by one whole dollar, but we're having a price increase right now for reasons that remain unclear. So you'll want to put in your order five minutes ago. No, alterations are not included. Rates begin at the cost of three flower girl dresses plus one ring-bearing puggle tuxedo.

Oh, it looks like my next bride arrived! Please take this index card noting the name of the dress you didn't ask for, at the price you can't afford, with the alteration costs that will require you to forgo offering cocktails at your cocktail reception. Before you leave, we are offering a one-time-only 10 percent discount. Would you like to place your order today?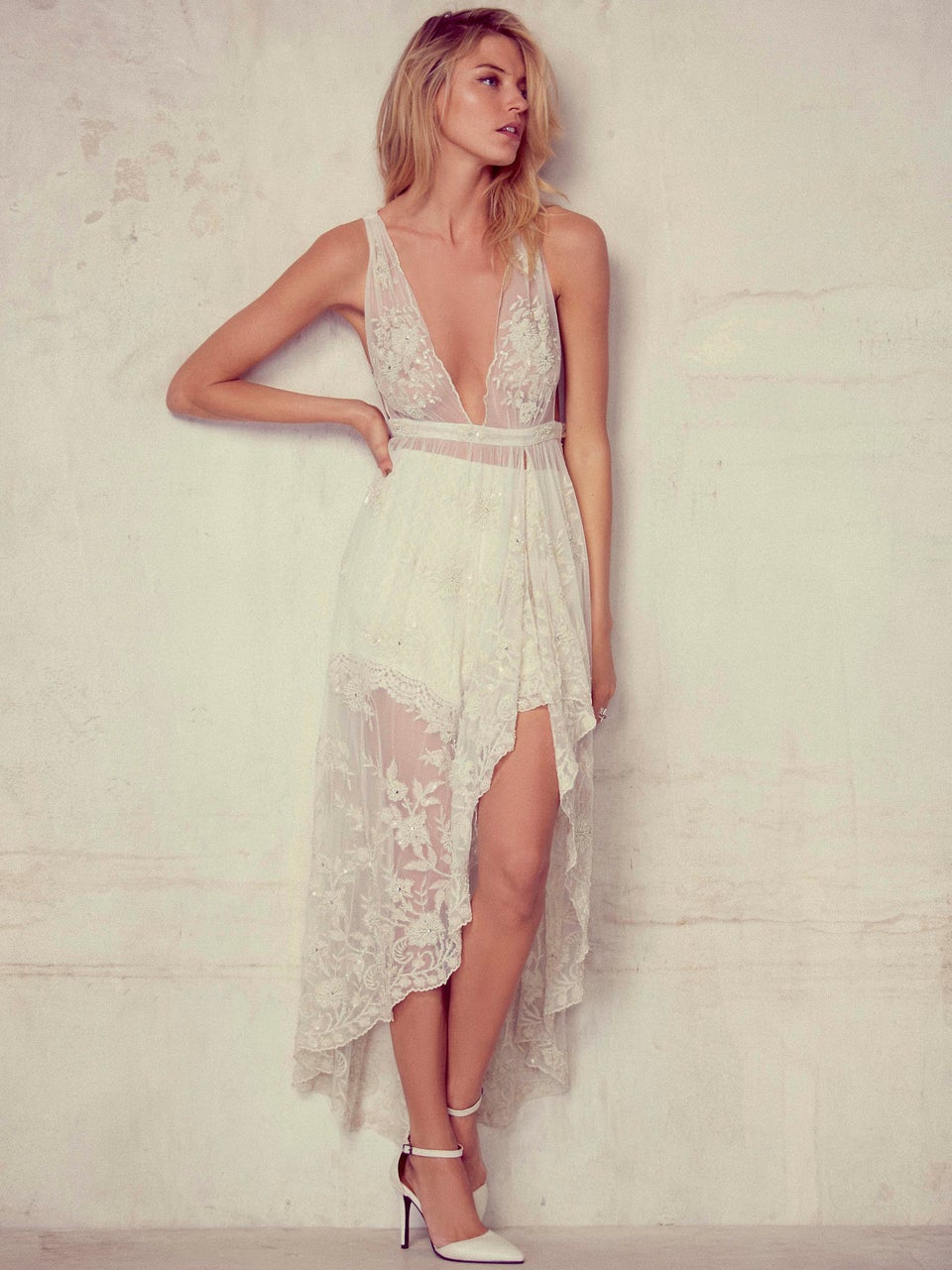 Alternative Wedding Dresses
Related