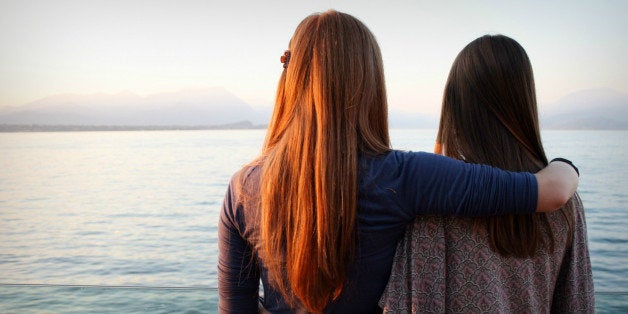 After 23 years of marriage, I felt small and weak and empty. And lonely. Oh, so lonely. I was not that strong, vibrant, hopeful girl I had once been. Her spirit had been crushed by her husband's alcoholism and by her own fear.
Eventually, the fear of staying was greater than my fear of leaving. So, I did it. I don't know from where the courage came, but I latched onto it and just left. Just like that, I left the only world I had known for 23 years.
I had four children. I was a stay at home mom for 21 years. Shame created a decade-long silence, so my actions shocked those who knew our relationship from outside of the walls.
At first, I was on a high, empowered by my newly reclaimed strength, proud of what I had finally done. I walked through my days with a new sense of freedom and rebirth. Here was my chance to start anew.
Eventually, reality set in. Was this courage or was this stupidity? I had no source of income. I had no marketable skills. My ex had closed all accounts and hadn't paid support for months. I felt alone.
But I discovered that I was never truly alone. Women - friends, family, complete strangers - helped guide me through that dark tunnel. Their presence lit my path along the way.
Just when I thought the darkness had overcome me, a woman at the hair salon shared her story and told me that I would be just fine. You are stronger than you think, she says. Just when I thought I couldn't find a job, a good friend asked her employer to give me a chance. I will help you in any way I can, she assures me. Just when I thought it wasteful to pay for an eyebrow wax, the salon owner says that she won't accept my money. I have been there, she tells me, and, in time, you will be able to stand on your own two feet. A young employee at a local restaurant asked why I hadn't been in as often. Upon hearing the story, she responds with gift cards. I am a child of divorce, she says. I remember how hard my mother struggled in those early days.
Random acts of kindness. Random thoughts of encouragement. Random gifts of strength.
Time and time again, women were there for me. They were my cheerleaders, my mentors, my spiritual gurus. They took my hands and looked in my eyes and told me that I was strong, when I felt like I was falling to pieces.
I am not sure if those woman knew how desperately I needed to hear each and every one of their reminders, their stories, their tokens of hope.
I am also not sure if they know how eternally grateful I am that they reached out and shared their wisdom and their belief that women must lift each other up.
Two years later, I can see the light at the end of the tunnel. They were right. I am strong. I am on my way.
And for the women out there who need to hear it, you too are strong. You are fabulous and worthy. I pass on the strength that all of those women have gifted me and I hand it to you.
Open this gift, every single day.
You are strong. And you will be just fine.