The new English cooking is overtaking the restaurant scene in London, Heston Blumenthal with his Fat Duck and newer Dinner in the Mandarin Oriental Hotel, Ruth Roger's The River Cafe, Fergus Henderson's St John's Restaurant in the St John Hotel, and my favorite Francesco and Gael Boglione's Petersham Nurseries (see my story in this online journal) where the talented Skye Gyngell dazzles the kitchen. But, if you seek the classic English and French, it is still there and can definitely hold a very tall candle to these culinary geniuses. I shall return to write about my fabulous lunch at Dinner in the next month. (Sounds like an oxymoron)
One of my most memorable meals on my recent trip to London, was eaten at Gavin Rankin's Bellamy's on Bruton Place just down the road from Berkeley Square. You will be singing like the nightingale in the famous square after you eat here. It is the only restaurant in London where Queen Elizabethhas been to eat aside from Caviar Kaspia where she was also a customer. (Yes, she did eat at Dinner, but that is within a big hotel so it doesn't count, according to Gavin.)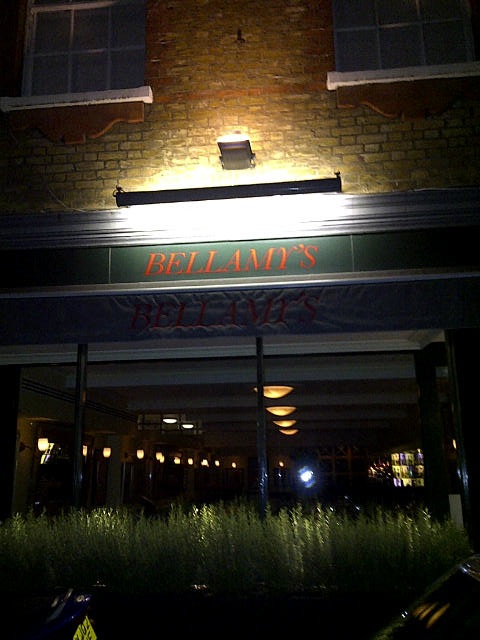 Bellamy's Restaurant on Bruton Place
Bellamy's, which is a cute way of spelling belle amie translated as pretty friend, is in the former Caviar Kaspia, the French gourmet emporium for caviar, smoked salmon and other delicacies. (I will be writing about the original when I return to Paris in the fall). Gavin brought Caviar Kaspia to London and was then lured away to run Mark Birley's empire which included Annabel's, Mark's Club, Harry's Bar, and George, which are now all owned by the unofficial Mayor of Mayfair Richard Caring.
Tiring of running other people's businesses, Gavin felt it was time to open his own place. He is a Francophile from the get-go, from nuts to bolts or I should say from fois gras to Chateau Haut Brion. Anything French was a belle amie to Gavin. His mother is French-Belgian and his taste buds are fine-tuned to the cuisine from across the Channel. He also has the fashion flair of a Continental gentleman.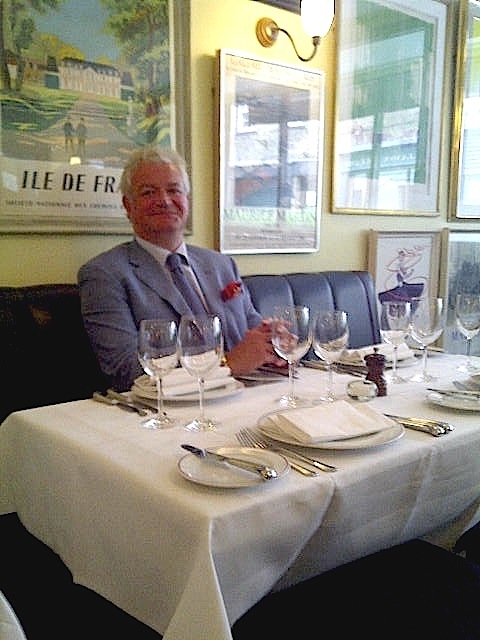 The Dapper Francophile, Gavin Rankin
The food is superb in his canteen. Well, it feels like a luxurious canteen especially when Gavin is sitting at his small round table nearby the entrance to the dining room holding court and where he meets and greets his regulars and not-so-regulars, (David Hockney, Bryan Ferry, Kristin Scott Thomas, Elizabeth Hurley, Princess Michael of Kent, and Henry Kissinger are only some of the famous faces that dine at Bellamy's along with every U.S. Ambassador since Bellamy's opened its doors in 2004).
I was privy to sit at this small round table when I recently had lunch with Gavin. We met a number of years ago through a mutual good friend from LA with whom Gavin spent his childhood. My friend said that I absolutely had to meet Gavin and dine at his wonderful restaurant. Taking my friend's advice, I phoned Gavin, and was cordially invited to join him for dinner when I was in London in 2006 doing research for my book about legendary restaurants. We had such a good time eating, drinking and talking shop that we closed down the joint.
I remembered forever the terrine of fois gras, and the smoked eel mousse (trust me it is scrumptous), the scrambled eggs with perigord truffles as stand outs on the luxury side of the menu. There are also three kinds of caviars and if all you desire is pure luxe, you can sit yourself down at the oyster bar next to the take-away section in front and indulge your fancy.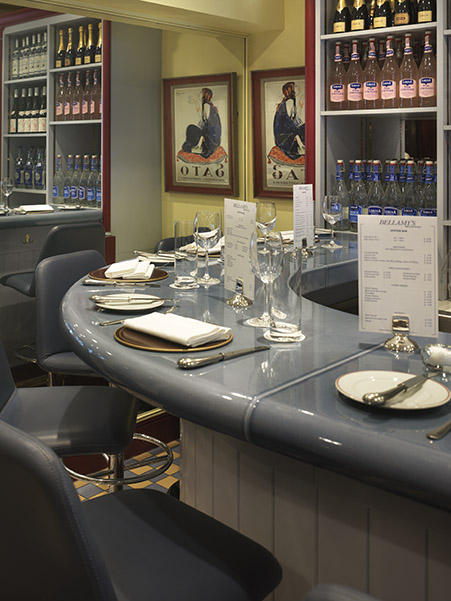 The Oyster Bar
The menu has a wonderful selection of the freshest of fish all prepared on the lighter side to balance out the menu. I had a delightful fillet of sole with oil and lemon and served with pommes vapeur, steamed potatoes when I lunched with Gavin in July. I didn't leave one speck of food on my plate. If you opt for the heavier items, I recommend the entrecote of beef accompanied by perfect French fried potatoes, or the Bellamy's grilled sausages because we are in England and the saucisson are among the best. Remember bangers and mash?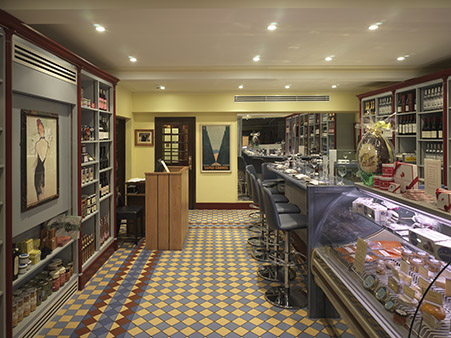 The luxury gourmet take-away counter
The desserts are hard to resist, especially the Tunisian Orange and Almond Cake which Gavin's mother makes every day. It is just about one of the best cakes I have ever had. There is always a dessert du jour; on the day I was there it was a heavenly summer berry trifle.
If you are a connossieur of wine, and even if you aren't, Gavin's selections are beyond great. There is something for everyone. A very democratic but purely French wine list.
Next time you are in London, take a walk down Bruton Place with your belle or beau ami and dine at Bellamy's.
Bellamy's Restaurant
18/18a Bruton Place
London W1
Tel:+ 44 207 491-2727
An addendum: I know it seems politically incorrect to write about a place that promotes luxury and a feeling of well-being while the news captures photos of riots in and around London, so I apologize. We are all feeling the pain of the recent collapse in the world markets, but sometimes an escape is called for. Restaurants are my escape.