As a California girl and a foodie who loves great wine, I am embarrassed to say that I only recently traveled to the gorgeous Napa Valley. (I did long ago visit my high school boyfriend when he attended college in Sonoma, but that doesn't count because this was way before wine making was in any way respected in California. Remember Gallo? Hmmmm... not what I would consider wine.) And food? Well, the great chefs were making their names in New York, San Francisco and Los Angeles (barely), not in the rural countryside of Napa.
Getting to Napa was easier than I thought it would be from Los Angeles. I flew into Santa Rosa airport, a cute little airport which is the landing strip for many private jets. I, alas, was flying commercial. The ride north that morning was inspiring, it was sunny and not a cloud was in the sky so I was able to have a real view of the terrain from the Sonoma coast where Pinot Noir is harvested to the Russian River Valley, chardonnay country. I was headed to Calistoga in the Napa Valley.
Lucky me, a very good friend of mine opened her doors to me for my sojourn in this most beautiful part of our fair state. But, if you are not as fortunate, there are so many wonderful places to sleep. Nestled in the middle of a forest, my choices would be Meadowood or the Auberge de Soleil high atop a hillside with spectacular views of the valley. A nice thing to do even if you aren't staying at the Auberge is to visit at sunset, sit outside on the terrace and order a pizza and glass of champagne or one of Napa's famous wines.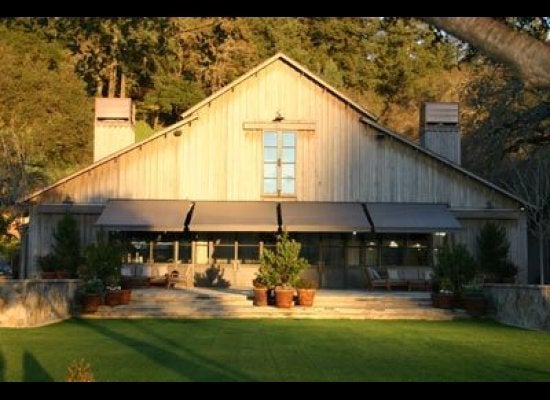 Napa Valley
Meadowood is as close to a camp for adults as one can get. The sleeping quarters are of course much more luxurious than I remember having at camp, and the Executive Chef, Christopher Kostow, was just awarded three stars. Like camp, there is tennis, swimming and golf, and I am sure that you could arrange to make a campfire to cook smores if you really had a craving.
William Harlan was searching for land on which to create a wine estate when he discovered Meadowood, which had been founded as a private country club. The property wasn't ideally suited for grapegrowing, but Mr. Harlan was intrigued and called his partners to share the news of this hidden gem. Within forty-eight hours the partners owned the estate and began planning its future. Ultimately, Mr. Harlan did find the perfect setting on an Oakville hillside and established Harlan Estate, one of the premier wines of the world.
In 2001, the Meadowood partners acquired the land at the entrance to Meadowood and founded The Napa Valley Reserve, a private wine club offering its members the opportunity to experience and enjoy the way of life that surrounds a great wine estate. I toured the club with the charming and vivacious Carol Norfleet who, with husband Philip, run the Napa Valley Reserve and have been there from the beginning with Bill Harland. The 400 members come from all over the world and include politicians, titans of industry and famous faces from the entertainment, fashion and sports world. They vary in age, the youngest being 26.
The price of a membership is quite steep, but then drinking some of Napa's gems doesn't come cheap either. You can pay $175 thousand dollars, which will enable you to own two rows of vines looked over by the team that produces The Harlan Estate wine where everything is done organically and biodynamically. Bob Levy is Bill Harland's winemaker and oversees everything. $150 thousand dollars gives you the membership sans les vines, yet still privy to be able to purchase the wine at $78 dollars per bottle. (These wines are only available to members.) The membership is refunded if you ever decide to leave the wine club. The dues are $7000 dollars a year. If you opt for the higher membership fee, which many people choose to do, then you can also have your own name put on the bottles of wine produced each year from your vines.
There are all kinds of events and classes offered each year as well as travel excursions organized to every part of the world that produces wine. Members can use the club for dinners and parties and I might add that it makes a truly lovely backdrop for any party because the Reserve was designed by famed Napa Valley architect Howard Backen of Backen, Gilliam and Kroeger.
While in Napa, I also visited three of the valley's most prestigious vineyards, Staglin, Araujo and for historical purposes, Chateau Montelena which in 1976 became famous for winning the white wine section of the "Judgement of Paris" wine competition. Chateau Montelena's 1973 Chardonnay was in competition with nine other wines from France and California under blind tasting. It was the subject of the 2008 film Bottle Shock.
Though for many people, wine is food, but what is wine really, without the real deal, food, and wonderful food? So, I explored and ate at some of the valleys' most noted restaurants, but a highlight for me was Bardessono in the Bardessono Hotel, which is Napa Valley's first all "green" hotel. I went with two of my best friends and all of us raved about every single dish that Executive chefs Sean O'Toole (who has since returned to San Francisco to helm the kitchen at Quince) and Roger Eggleston brought to our table.
Included in our tasting at Bardessono that evening was a plate of the last of the beautiful heirloom tomatoes grown at the the Hill Family farm and served with creamy, delicious burrata cheese and garden basil, all drizzled with a rich balsamic vinegar. It merited the "scarpetta", the sopping up of the sauce with their wonderful bread. We also savored the little bites of potato gnocchi in a red kuri squash, chantrelle mushroom, lardon sauce and sprinkled with parmigiano-reggiano. It was heavenly. We went on to taste the liberty farm roasted duck which was as duck should be, crispy on the outside and tender and juicy on the inside. It was served with apples, radish and Sonoma coast matsutake mushrooms alongside Sean's artisan fois gras delicately covered with a cider jus. We also tasted the Pozzi farm lamb which was a loin of lamb, and a shoulder brocette served with a vegetable tian nicoise and panisse olive sauce. It tasted of the South of France, only we were in Yountville, Napa valley... maybe America's answer to France!
The menu is separated into three sections, Field and Forest, Ocean, and Pasture and Range. I think it pretty well explains what is beneath!
As is pretty common at most Napa Valley restaurants, we brought our own wine. My dear hostess brought some of her fabulous Napa Valley Reserve wine, a 2005 and a 1998, which we shared with the chefs (no wonder they were extra generous with us)!
Another memorable meal was to be had at the roadside food stand known to most locals as Taylor's but now called Gott's roadside. Gott is the name of the family that has owned this wonderful place loved by one and all.
How many hamburger stands in the world serve fabulous wines by the bottle and only charge $1.00 for corkage if you bring your own bottle? Gott's is known for their burgers which are made from vegetarian fed beef raised on family owned-farms and ranches, and they contain no antibiotics or added growth hormones. There are nine different ways you can have your burger and all are mighty delicious! There are also hot dogs, various sandwiches all served on whole wheat toast and with good romaine lettuce, fresh seafood, soups, salads and chili. Their thick and creamy milkshakes are made with local Double Rainbow ice cream. You can also keep it light with some of the best homemade lemonade I have ever had.
Now you must be thinking, did she neglect to go to the most famous restaurant in the valley, Thomas Kellers' French Laundry? No, I dined there as so many others do, but being that my philosophy for these blogs is that I only write about places that I love, I choose to leave this particular restaurant out and save it for a separate blog. It does merit a story, being that so many people make special trips to Yountville to dine at what has been deemed to be America's finest restaurant. As it is with art, this picky eater begs to differ and walked away with a very different opinion than most. You will have to stayed tuned to read my view of the evening I spent at this extremely expensive and in my opinion, overrated restaurant.
I should add a very important piece of information for those of you who may frown at eating in expensive restaurants while visiting the Valley, opting to buy cheese and fruit to enjoy while picnicking in the lovely countryside. Cheese is double the price at most stores in Napa. Why? Well figure it out... supply and major demand! One of my friends who moved to Napa from New York has decided to have cheese shipped to her instead of paying the outrageous prices charged by stores like Dean and DeLuca who opened up there. So, I say, BYOC -- Bring Your Own Cheese -- when you come to visit the delightful Napa Valley!!!
Support HuffPost
A No-B.S. Guide To Life
Related
Popular in the Community