For those of you who missed my first in a series of blogs about the Hamptons, you can go to the bottom of this page and click on "Everybody Eats Where? Everybody Sleeps Where? In the Hamptons Part 1".
I am excited to share with you one of my latest discoveries. Although not new to others "in the know," it left me wondering, how on earth did I miss this one? Tutto Il Giorno, at 6 Bay Street in Sag Harbor is a revelation. If you can't afford a trip to Italy this summer, don't worry, there is a little piece of Italian heaven on earth waiting for you! This charming cottage just off the harbor is co-owned by Donna Karan's strikingly beautiful and creative daughter Gaby Karan De Felice. Gaby has redesigned the restaurant with a clean, contemporary ambiance. But it is the cooking of the talented and charismatic chef and co-owner, Maurizio Marfoglia, that has people begging for a table in this little gem.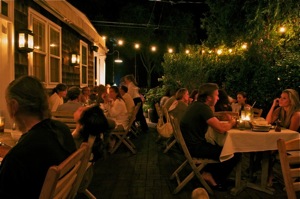 First, a bit of history. The restaurant opened in the spring of 2008 with Scarpetta's Scott Conant at the helm. When he left, and the original owner, Conde Nast publisher Steve Florio, died of a heart attack, the restaurant was in a kind of limbo. Enter Gaby and her spellbindingly handsome Neopolitano husband, Gianpaolo De Felice, along with the original partners, Maria and Larry Baum who happened to be the landlords of the charming cottage that is home to this restaurant. Introduced through a mutual friend, the Northern Italian chef, Maurizio Marfoglia, joined the picture.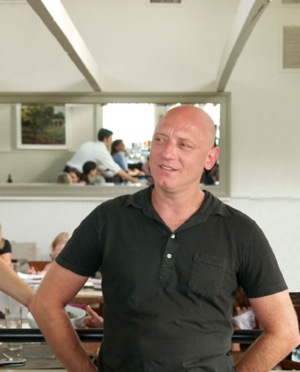 Chef-Owner Maurizio Margfoglia
Like many of today's modern chefs, Maurizio is what I would call a Renaissance man. He was born in Como, the son of a doctor who introduced him to all the great restaurants of Northern Italy. He started out following in his father's footsteps by studying medicine but instead chose to drop out of medical school to pursue his love of cooking, training with Italy's finest. He then came to America where he built his illustrious career overseeing the kitchens of many of New York's best Italian restaurants, including Coco Pazzo, Le Madri, and Barolo. Medicine still remains one of his passions along with wine, women, and motorcycles. He talks about wanting to return to medical school one day, but in the meantime, he serves as a volunteer for the Sag Harbor EMT (Emergency Medical Technicians) with whom he has helped to save many lives.
The restaurant doesn't take reservations and when asked why, Maurizio said that they aim to be as democratic as possible. Everybody waits. Although, if he really likes you, then maybe, just maybe he might give you his cell phone number so you can text in a request for a table. Nothing promised, of course. That little cell phone of his sounds an alarm everytime somebody sends him a text, so there is never any peace during these summer months. His many friends all seem to come out of the woodwork, texting like mad to obtain a table.
In other words, be prepared to wait and while you do, grab a seat at the cozy bar and ask for one of the sublime house cocktails like the refreshing basil mojito or a glass of one of the house white's like Fallegro. With one sip of this slightly effervescent Piedmontese wine, you will be instantly transported to the beaches of Cinque Terre via Sag Harbor. But be careful, you may find yourself downing a bottle or two-- it's that easy to drink.
There is not a bad bottle on the carefully selected Italian wine list, which includes a variety of reasonably priced wines that in today's economy is quite welcome... especially in the overpriced Hamptons. If you need help choosing a wine to go with your meal, don't hesitate to ask the knowledgeable and hospitable wait staff, another rarity.
The people watching could not be better. Alec Baldwin must be a regular, since I have run into him on no less than three occasions. Martha Stewart twittered that she was dining there on July 23rd with Huffington Post CEO, Eric Hippeau. And don't be surprised to see Gaby's mother, the celebrated fashion designer Donna Karan, enjoying the ambiance. There is naught but an enchanted garden separating her boutique, Urban Zen, from the restaurant.
Ahhh the food... artfully presented and tasting as if you were dining "a casa." Cheese like
stracciata, burrata and mozzarella are flown in daily from Italy, fish is delivered fresh off the boats, and vegetables are harvested that day. This is Italian food at it's best.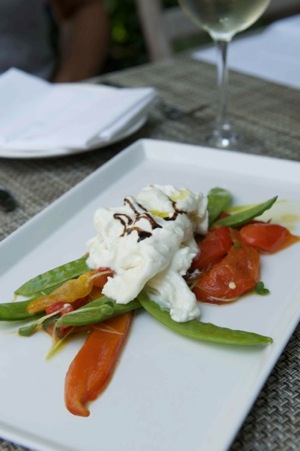 Stracciata
Ask your waiter to bring to the table an order of the Sardinian flat bread covered in extra-virgin olive oil (made for the restaurant), rosemary and sea salt. When dining with a group, I usually order several appetizers which are all easy to share, my favorites being the stracciata which is a much creamier version of mozzarella. It is served with roasted red and yellow peppers, crispy snow peas, and drizzled with a rich balsamic vinegar reduction. One order is never enough for me and my friends. We always seem to vacuum the plate!
The creamy burrata is surrounded by vine-ripened cherry tomatoes bursting with flavor, tossed in olive oil and pungent basil leaves. Another interesting choice is the trittata, a zesty combination of peppery arrugula, endive, asparagus, hearts of palm, lima beans and black olives in a balsamic dressing.
If you like beef carpaccio then you must have the version served here, which is made with high-grade Kobe beef, pantelleria caper berries and on the side, an exquisitely fresh salad of julienned local zucchini. The zucchini salad is so very good that I could literally make a meal of it, with a glass of the Fallegro.
Tuna tartar is on the menu in just about every restaurant these days, but here the tuna tastes as if it was fished fresh from the sea, per order. It is accompanied by tender marinated cucumbers and luscious avocado.
The pastas at Tutto are tutti buoni! But, again I do have my favorites. I find the penne covered in a combination of roasted eggplant, a fresh tomato and basil sauce and then tossed with cubes of mozzarella that magically melt into the sauce, totally addicting. Ask to have the chef spoon some of their imported Calabrese red hot chili pepper sauce over the pasta for a little extra heat. The other night we couldn't get enough of this truly incredible dish, and had to order more and more!
The homemade spaghetti is served with a combination of fresh cherry tomatoes, pureed tomato sauce and fragant basil. Being a Northern Italian restaurant, there is just a little dab of butter in that sauce, so if you are watching your cholesterol I can suggest an alternative, although I probably shouldn't. If you ask nicely and the restaurant is not too busy (which is rare), order a plate of spaghetti made simply with olive oil, garlic, fresh tomatoes and basil. I saw the chef eating this gloriously simple and satisfying dish one evening and had to have it. It was delicious. Frankly speaking, Italians are very happy to please their customers, especially at Tutto Il Giorno, so if you have any dietary restrictions, please don't hesitate to let them know.
Two of the house specialties are the hearty rigatoni made with sweet and hot homemade, sausage, peas and a vodka tomato sauce and the ravioli stuffed with a perfect pairing of sweet-tart granny smith apples and buffalo milk ricotta, enveloped in a braised lamb ragu. As the nights get shorter and the summer heat subsides, these two dishes beckon. They definitely deserve their moment in the spotlight.
One can't go wrong with any of the fish on the menu, whether it is the imported wild sea bass poached in simple but elegant white wine with fresh tomatoes or the pan seared halibut on a bed of asparagus, pea shoots and white wine reduction (Fallegro is used in this dish). The halibut was incredibly tender and juicy. I have always hesitated ordering halibut in a restaurant because so often it is overcooked and dry. It happens to be one of the hardest fish to get right, but finally someone does this fish justice.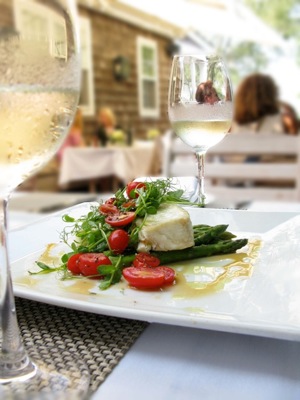 Halibut
I was surprised to see a chicken Milanese instead of veal. I understand that the veal version used to be on the menu and could make a comeback in the future. Not really being a meat eater, the chicken was a welcome alternative. It was skillfully cooked, crunchy and properly crisp on the outside, succulent on the inside and covered with a salad of arrugula, cucumbers, grape tomatoes and tropea red onions.
Save a little room for dessert because there is a scrumptious homemade peach and almond crostata served with a big scoop of vanilla ice cream. Or, try the bomboloni--tiny donuts, freshly made, dusted with sugar and served alongside a bowl of warm chocolate sauce for dipping. And do try something that I never liked until I tasted it here--a panna cotta drizzled with a fresh rasberry coulis. Yes, there is also a tiramisu which I highly recommend you divide and conquer, even if the idea of yet another tiramisu bores you. Here it is light and airy, one of the better versions this side of the Atlantic.
Now that the town of Sag Harbor has given the go ahead, an outdoor pizza oven is in the works. I look forward to sampling what I am sure will be some of the best pies on the East End if not the East Coast.
Tutto Il Giorno is open all day and serves lunch from 12 to 3, and dinner from 6 to 10, although the kitchen sometimes stays open a bit later on the weekends and in summer.
Check in with me next time when I return to a family favorite, Nick & Toni's, the legendary American Hotel and hip Sunset Beach, as well as a few other surprises.
Tutto Il Giorno
6 Bay Street
Sag Harbor, NY
Tel: 631 725-7009
Popular in the Community