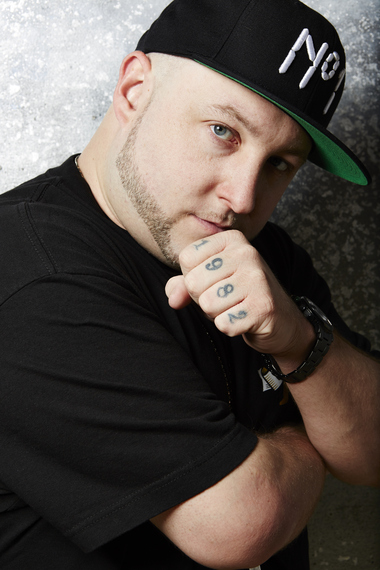 When you think about where quality Hip Hop comes from, Boston may not be one of the first cities that comes to mind. You might even say it does not come to mind at all, but you would be wrong. Many great acts that are legendary in the genre have come from Boston, and one of the names at the top of that list is Statik Selektah. A producer and DJ born and raised in Lawrence Massachusetts, Statik got into music at a young age, and has not looked back since. Today he runs a successful marketing firm, tours the world as one of the biggest DJs in Hip Hop, runs his own record label, and has a weekly show on Eminem's Shade 45 Sirius XM Radio Station.
Statik had been experimenting and playing around with music from the time he was in middle school, and was acting as a DJ for years at various places in New England. In 2000 he went home to Boston to pursue an audio production degree from the New England Institute Of Art. From 2003 onwards he was running a successful boutique-marketing firm called ShowOff Marketing with his good friend and business partner Brandon Bedlam. They had clients like Reebok, G-Unit Records, Def Jam, Virgin Records, Capital, Universal Records, and even P. Diddy's Vote or Die campaign. When asked how the record label actually came about from that he said:
"It's sort of funny. I was doing the marketing thing for a while before the record label. The record label, ShowOff Records actually came from bootlegging. I was actually doing all these remixes and DJs wanted them on vinyl so we started putting out all these bootleg remixes I was doing. So in 2006 I started taking the idea of a label more seriously. I've been very fortunate because I have a good team that's really passionate."
Times have changed though in terms of how record labels are using their marketing budgets. According to Statik, money isn't spent on street or retail promotion anymore, but he does believe that it's still profitable to do so if done in a targeted fashion. He thinks music labels have just become focused on how they can get as much money as they would like at this moment in time, specifically saying:
"Labels just want what's going to make money right now. They're like Predators. They go to different planets, and take all they can from it before they leave it so they can go to the next one. And they're using artists in that way. And because of that trend indie artists like Macklemore, Mac Miller, and Joey BadA$$ will keep dropping independently while making more money than they could at major labels."
Since he started his label, Statik has put out six studio albums, his newest being "What Goes Around" released just weeks ago. It has been at the top of the iTunes charts for Hip Hop since it was released. His style from the start has been to get different records done with a variety of artists, and to put all of them together on one album. I was curious how he went about that, and he had an interesting answer for me,
"I like for everyone to come and hang out with me at my studio, which is in the basement of my apartment. Before I work with someone I want to make sure I like them so I'll have them chill at the apartment. It's resulted in the wildest stories of my life, but it's the only way I'm willing to do it. I even want people to record the tracks at my studio, but sometimes that can be tough when you're dealing with a Snoop Dogg and Nas. So I'll send them the beat, and have them send their verses over. But I won't work with them till we get to chill first."
This new album has a Jazz sound to it, and that's the way Statik intended for it to be. And it was actually as a reaction to something Kanye West said to him while Kanye was recording My Beautiful Dark Twisted Fantasy in Hawaii.
"I was in Hawaii with Nas for an event. I got in a van after sound check, and Nas asked what beat I had played him during that sound check. He said he loved it. Later we went to the studio to visit Kanye who was in Hawaii recording, and Nas asked me to play the beat for Kanye that I had showed him before. Kanye listened to it for like 10 seconds, stopped it, and said that's cool, but Jazz is dead. It was such a Kanye moment, that this album is sort of dedicated to that. Jazz ain't dead. Jazz is Hip Hop. "
Every Thursday night, Statik has a show that airs on Sirius XM on Eminem's Shade 45 Radio Station. This isn't just any radio show, but one owned by one of the greatest to ever rap. It only has the best of the best on it. Statik's show was the first time that Chance Tha Rapper and Troy Ave were ever on the radio. He's constantly made and broken records, only dealing with the truest fans of the genre. And it's a show that has been getting more popular with each passing week.
Hip Hop has grown to the point that people are coming out of every city to help further the genre. Statik is the face is Boston, and will continue to be so. There are not many people doing it like he is, and it is exciting to watch it happen. This album is really just the beginning of his reign, so I'll keep a look out for him, just like you should. It's the time for ShowOff.
REAL LIFE. REAL NEWS. REAL VOICES.
Help us tell more of the stories that matter from voices that too often remain unheard.