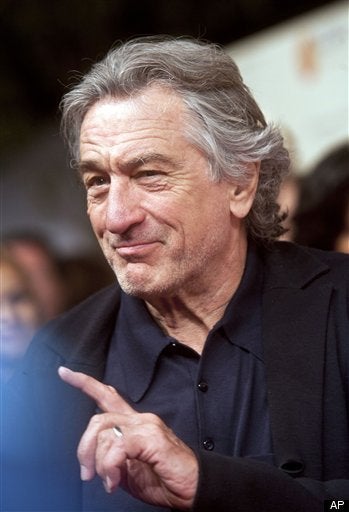 I ended the year of 2010 eating in two of my favorite Italian restaurants in New York City, Bottega del Vino and on New Year's Eve, Harry Cipriani. Since I have previously written about them, I will leave them out of this story. I started this new year of 2011 eating in two of my other favorite Italian restaurants, Lupa and Locanda Verde at Robert De Niro's stunning Greenwich Hotel. I will focus on the Greenwich Hotel and Locanda Verde and revisit Roman trattoria Lupa next time.
I stayed at the lovely Greenwich Hotel situated in Tribeca last August. If I could have moved in, I would have in a New York minute! The rooms are gorgeous! Every piece of furniture, painting (many were painted by Mr. De Niro's father), the wood for the floors and the marble for the bathrooms were all lovingly chosen. My mouth literally dropped open when I walked into what they call the Fireplace Corner suite overlooking the Hudson River. There was a fire burning in the fire place (yes, it was August, but an usually cool and rainy evening). The heavy velvet curtains were drawn and the comfy large antique bed turned down. The lights were dimmed... ay yi yi... it was sooooo romantic! How I would savor a night back in that same suite in chilly January and also be able to share it with someone special.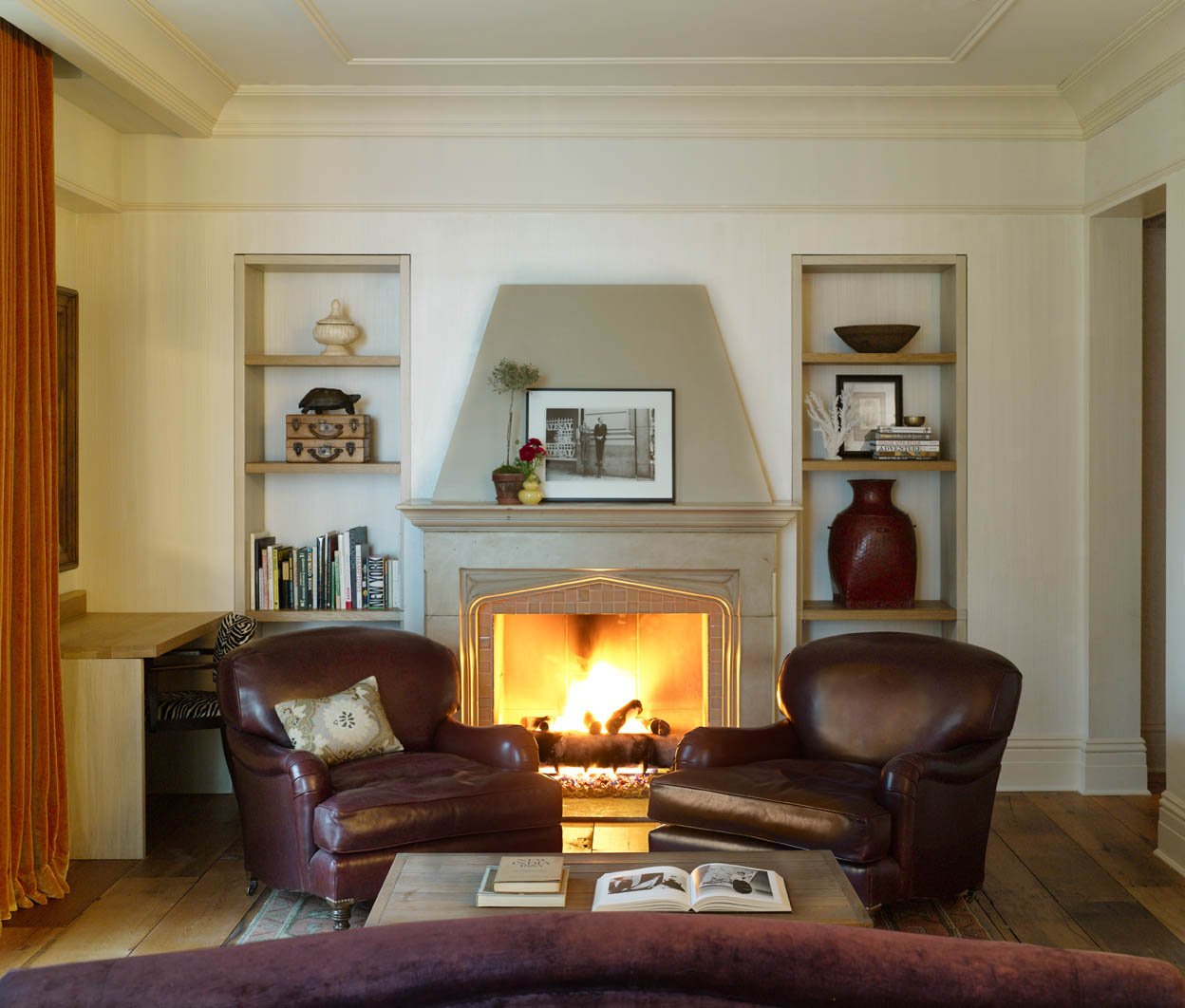 Corner Fireplace Suite at the Greenwich Hotel.
The first thing I did was take a bath in the extra large European-style bath, filling it up with their sweet smelling bath oil. The aroma was intoxicating. The beauty of this luxurious bathroom is unparalleled in any American hotel that I have ever seen. The large bathroom floor is covered in a rainbow of mosaics and the bath, shower and double sinks are made of the thickest slabs of honed carrera marble and all the fixtures are of solid brass. The wonderful soaps and bath oils come from Red Flower in Soho. I even asked for a doggy bag of soaps when I left!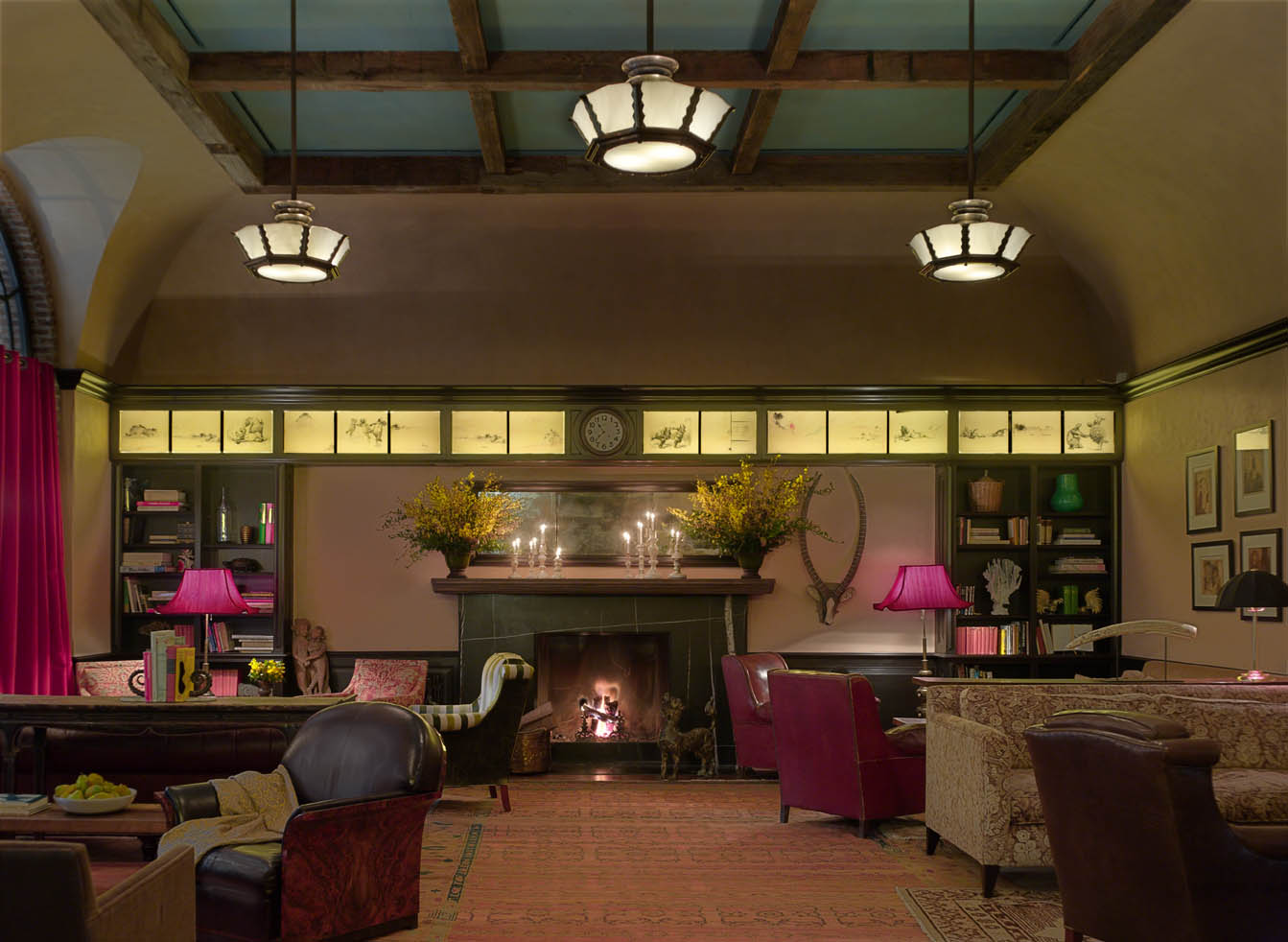 The cozy Greenwich Hotel drawing room.
Service is as a first rate hotel should be -- perfect. When I ordered breakfast, which came promptly, and one thing didn't arrive as I thought it would, the waiter was more than happy to return with something that would make me happy. They aim to please, but they are an unassuming and very down to earth staff. There is none of the starched formality that one finds in many hotels around the world. In fact, nobody wears those "starched" uniforms, but that doesn't mean that these young people who are employed in this hotel aren't of the highest pedigree when it comes to their training and backgrounds. I was very impressed.
You will want to enjoy a workout in the well equipped gym downstairs and even take a swim in the indoor pool. This has to be, bar none, the cleanest gym in the whole city. There is someone standing by to constantly keep the wood floors dust and dirt free. The indoor pool was designed to feel as if you were in an exotic locale like Bali, not Tribeca. There is an overall feeling of peace and serenity even while sweating it out on the treadmill.
It took eleven years to complete the building and decorating of the Greenwich Hotel and it shows. If I had the opportunity to stay anywhere in the city, I would absolutely choose the Greenwich Hotel, it is more than a home away from home, and I guess this is why they continually attract a very high profile clientele from the entertainment and financial world. Rates are available on request from the hotel.
One of the perks of staying at the Greenwich Hotel is that room service, or food that is served in the cozy guests' living room and bar, are from Locanda Verde, Andrew Carmellini's delicious Italian influenced restaurant. From the lemon ricotta pancakes in the morning to the orrechiette with broccoli de rabe and duck sausage in the evening and those scrumptuous lamb meatball sliders for lunch in between, you can't go wrong. The food is what Italian food should be -- super fresh, simple and full of flavor.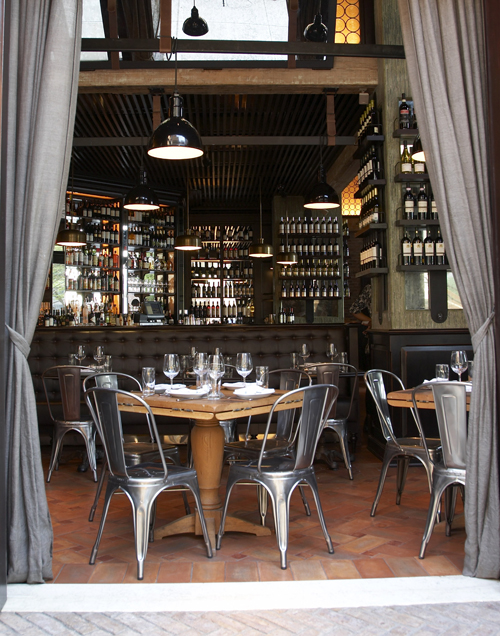 Locanda Verde
During the summer months I paid many visits to Locanda because I couldn't get enough of the amazing crostini's in particular, the sheep's milk ricotta mixed with sea salt, olive oil and herbs and served with the grilled slices of country bread and the best pasta with pesto sauce outside of Liguria. On my most recent visit we shared the winter salad of organic bitter greens, bartlett pear, toasted hazelnuts and smoked speck (which tastes a bit like mild bacon), the mezzo rigatoni in a gutsy lamb bolognese sauce topped with ricotta and mint giving the sauce extra zest, and the occichiette with house made duck sausage and broccoli de rabe. You see, Andrew takes classic Italian dishes like this one and makes it his own. We used the homemade rosemary focaccia to do "scarpetta" (sopping up the sauce) to clean our plates!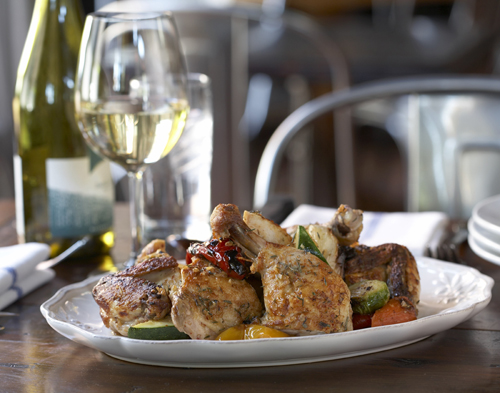 Fire roasted chicken.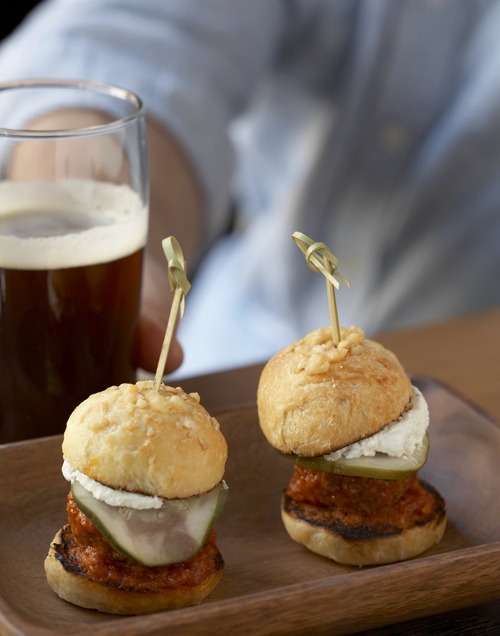 Lamb meatball sliders.
The fire roasted garlic chicken for two people (actually can serve more than that!) is a house specialty, the menu includes seasonal items so it changes regularly and there are always some difficult choices to make... should we go light with the Atlantic cod served with fennel, roasted artichokes and olives or have the spice-glazed duck with cavolo nero, faro and pomegrante? If you are really ravenous, there is a shaved porchetta sandwich with grilled onions and provolone, now that is a real salute to Italo-American cuisine. But save room for dessert!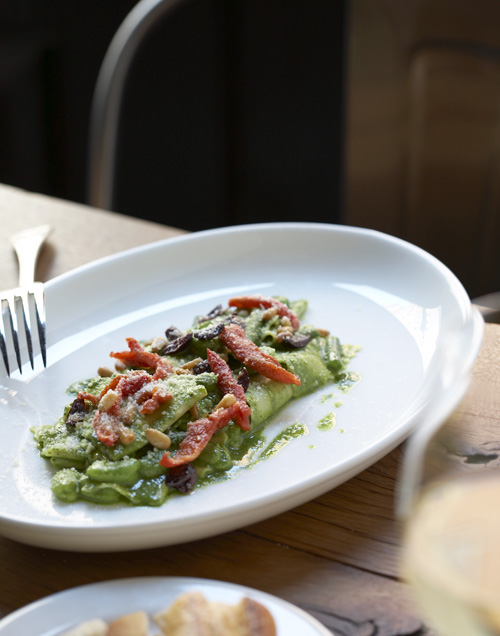 Pasta with pesto sauce.
Ahhh... the dessert... fabulous homemade gelatis and sorbets and desserts which also change regularly. Pastry chef Karen DeMasco created some wintry treats that were irresistible. I had a toasted almond semi-freddo which is something like gelati only softer because it is not completely frozen. It was surrounded by citrus marinated cranberries and a cranberry sorbet. It was one of the best desserts I have had in a restaurant in quite some time. It was luscious and creamy and the tart of the cranberry was a nice contrast to the sweetness of the semi-freddo. The flavors exploded in my mouth. It was too good for words. There are two staples on the dessert menu, the chocolate-pistachio tart and the Chocolate fantasy for two. I will let you fantasize because it is indescribably delicious, so run, don't walk, to Locanda Verde if you are a chocoholic!
The wine list is organized by regions and there are some great wines to choose from. Of course they have a selection of old and rare wines which is available on request. If you are just stopping by the busy and fun bar for a glass, then you are in luck because this is one restaurant where they want you to enjoy your wine even if you only have it by the glass. We started with a White Greco de Tufu from Feudi di San Gregorio, and to go with the pasta, a very good Dolcetto from 'Siri d'Jermu'. I spent a lot of time in Piedmonte where Dolcetto is a common table wine, this one was better than I have had for some time... and it was by the glass!
I wish that Locanda was situated farther north in Manhattan and the reservations easier to come by, because this is one place where I could easily become a regular.
The Greenwich Hotel
377 Greenwich Street at North Moore
New York City
Tel: 212 941-8100
www.thegreenwichhotel.com
Locanda Verde
Tel: 212 925-2156
Support HuffPost
The Stakes Have Never Been Higher
Related
Popular in the Community