Once upon a time, there was a little blond-haired and blue-eyed girl who always dreamt of being Eloise At The Plaza -- not just any Plaza, but THE Plaza, Hôtel Plaza Athénée in Paris. Let me tell you, this was way before Miss Carrie Bradshaw made her sexy in the city of lights entrance into this grande dame of hotels or Jack Nicholson garnered courage to go after Diane Keaton in Something's Gotta Give. Well, I have done some naughty things in my life, but this one took the cake, or croissant. I had planned to meet up with some friends in Europe and was going to do it the economical way, small pensione, and petit bistros... or so I told mommy and daddy.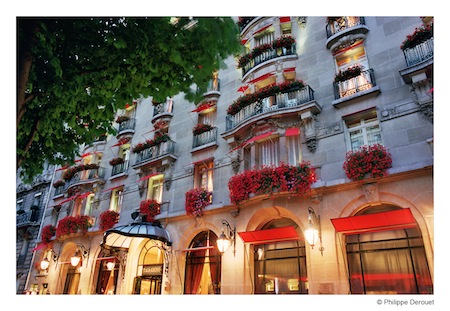 The gorgeous entrance to Le Plaza Athénée
I had other intentions. I booked myself a room at the Hôtel Plaza Athénée where I had always wanted to stay. I had walked by this gorgeous hotel with the red awnings countless times when visiting Paris. I had taken tea and wonderful pastries in the lovely Galerie des Gobelins off the lobby, but had never actually had the privilege of staying there until that trip.
I made friends with everyone I met in the hotel, from the friendly doormen to the concierge. The charming chamber maids all talked about "La Petite Americaine" dans la chambre six quelque chose. They loved me and complimented me frequently about my French. So it was, on that fateful day when I received a very angry call from my pappa while I was downstairs in the lobby, that they all felt terrible for me. Dumb, and dumber me, I had the confirmation letter for my reservation sent to my parents home in Los Angeles where at the time, I was still living, and I had already departed for France when it arrived. These were not yet the days of email, malheureusement.
My father let me have it via long distance; he was, to put it mildly, furious. He said to me something I still remember quite well: "Who do you think you are, a princess?" I said yes, a Jewish American Princess who was just trying to experience what it felt like to live a life of luxury in a grand hotel, if only for a moment. My father has a real soft spot for me, so his anger subsided and after lecturing me for 15 minutes over long distance, he said, "Okay you can stay for a couple more days." Phewwwwww! I heard the applause around me. La Petite Princesse Americane was going to stay in her palace a wee bit longer.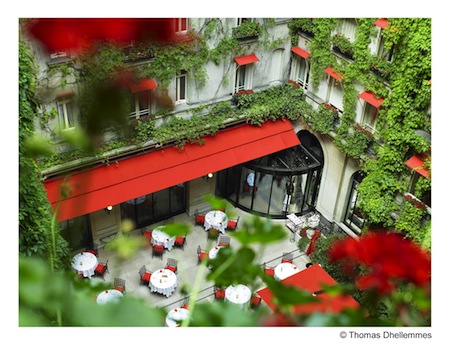 The view down into the inner Courtyard
I remember that charming room over looking the inner courtyard, the walls covered in ivy and the bright red awnings covering the windows. The view was breathtaking. My room though small, was cozy and beautifully furnished. The bathroom on the other hand was huge! Who said that Europeans have small bathrooms? I guess when you have bathtubs that can fit a basketball player and not just a toilet but a bidet too, you need to build large bathrooms.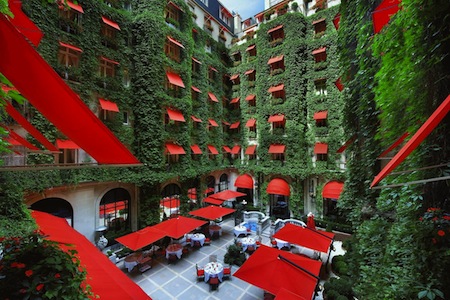 The inner Courtyard
Okay, now flash forward to summer, 2011 as I research luxury in Paris, where I believe the word was invented. One need look no further than the history books back to the days of Marie Antoinette, and Louis XIV... Quatorze. The French, or I should say, the Parisians are the most elegant in the world. I believe that Paris has the most luxurious hotels, restaurants, shops and homes anywhere. I am going to take you on a journey to some of the most lavish and fabulous hotels, restaurants, shops and homes in a series I am writing, starting now with this story. (I know, it is a rough job, but someone has to do it!). I hope that you will follow me as I return to the City of Lights again and again in the next couple of months.
But first, let's go back to the scene of my first crime, L'Hôtel Plaza Athénée, home to Le Relais Plaza where Werner Kuchler will mark 40 years with the legendary restaurant at the beginning of November. Alain Ducasse has also come to Le Plaza to hang his toque and has been receiving rave reviews.
Arriving from London where customs inspectors took away my toothpaste which I can only find in Los Angeles, saying there was an eighth of an inch too much in it to be allowed on board, and then enduring a plane ride where the stewards treated the passengers as if we were prisoners in a detention camp. They were horribly nasty. (And I thought only women had PMS!) Was I ever glad to arrive in this fancy hotel where every wish was their command. Toothpaste? "No problem... do you need another toothbrush too?" Why not. "We will get this for you toute suite!"
My room, or I should say my suite, which, mind you, was not the largest in the hotel -- there are plenty that are so much bigger and way more luxurious, but for La Petite Americaine, it was absolutely perfect. My view this time was not of the inner courtyard, but the Eiffel Tower and the green trees of Avenue Montaigne.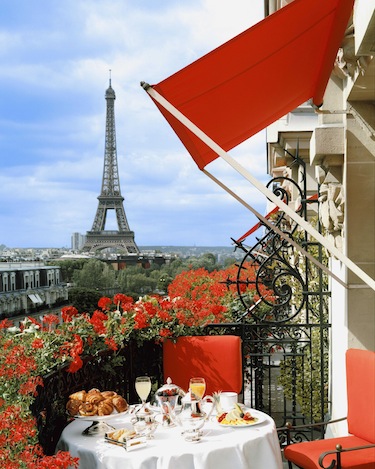 The Eiffel Tower Suite and view
The living room was très Français, ample satin, silk, and brocades, a chandelier and matching wall sconces. The television was built into the wall mirror. You couldn't see it until the TV was turned on. How clever. Televisions are so obtrusive, I have been criticized by a certain someone because my cute white Samsung is "so small." Televisions are frankly ugly and this hotel obviously agrees. Bravo!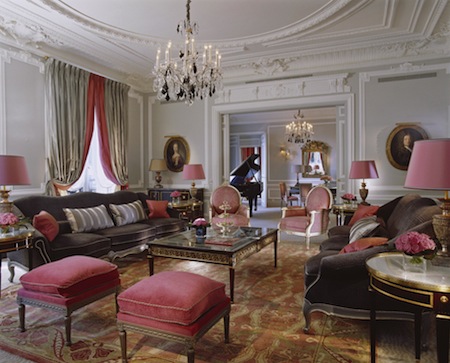 One of the more luxurious suites
The bedroom was huge and also equipped with another gorgeous chandelier, the reverse side of the TV that also blent into the mirror, as well as some mighty fine furniture.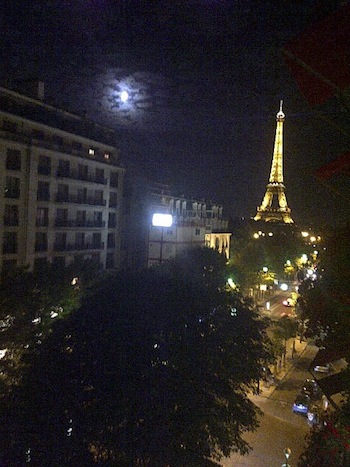 The view of le Tour Eiffel from my suite
The marble and inlaid mosaic bathroom had the perfect lighting which when not right is something I bitch about constantly in hotels. Obviously when a man designs a bathroom, they usually forget about the fact that a woman might be staying in the hotel. They don't realize the difficulty of making oneself beautiful for them with bad lighting, but not in this bathroom. There were also plenty of white plushy towels hanging on the heated towel rack and two soft terry cloth robes which were in two sizes, large and small. They even had a complimentary cosmetic bag filled with all the essentials. There was a large shower and a gigantic bathtub which was also decorated with mosaics. And yes there was also a separate enclave for the toilet and bidet. (I have an Italian friend who complains about the American's lack of personal hygiene. He said that he would like to go on a tour promoting the use of bidets in America.) For those that don't know, a bidet is a mini bath for your rear end!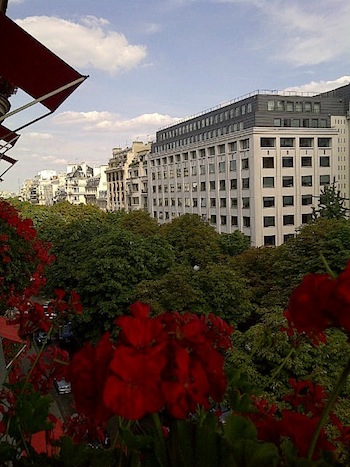 The view looking down on Avenue Montaigne
The closets in this suite were abundant and ginormous... Not what one finds in a New York apartment or hotel for that matter, well at least not the majority of hotels.
A bottle of Ducasse Champagne was on ice and a wonderful pistachio pound cake was waiting to be devoured. My niece Isabella who had been living in Paris and spending her last days there before returning to the states, came to see me, along with the son of a friend from New York who decided that his degree in computer science from Harvard University was not enough for him. He came to Paris to learn to become a chef or at least try to become one. He starts his internship at Lassere in September which is one of the great classic French restaurants. I Will have to go and visit him and see how his peeling skills are coming along!
When Isabella saw the pistachio pound cake, she said that she practically ate the whole thing when visiting my brother who came to stay at the Plaza Athénée in April.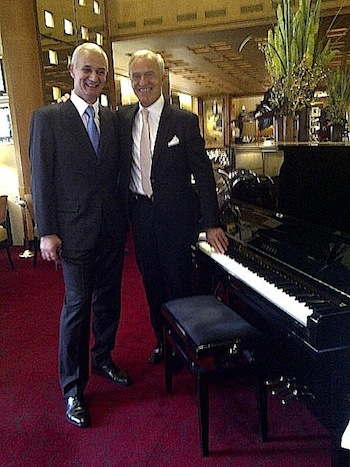 The host with the most, Werner Kuchler (on the right)
We ate dinner that evening in Le Relais Plaza, which is still a scene after all the years it has been there. I think that when you have as charming and able a host as they have had, it is inevitable that the place will remain successful. The food is pretty darn good as well. Tomatoes were in season and I had a green tomato gazpacho, one of my favorite summer dishes, and my friend's son, Teddy, had a terrific salad of heirloom tomatoes drizzled with a pesto sauce. We all had fish, which I usually don't order in a restaurant on a Sunday night, but I threw caution to the wind, feeling that if anyone knows something about fish, it is the French. But dessert was the highlight. I ordered the dessert that earned Christophe Michalak, the Plaza's formidable head pastry chef, his award for outstanding pastry in 2005. It has chocolate and ice cream and fruit. There wasn't a drop left on the plate when they took it away.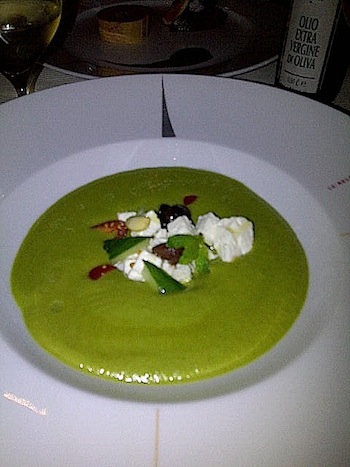 Le gazpacho in Le Relais Plaza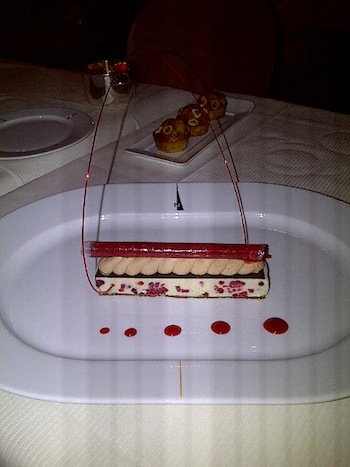 The award winning Christophe Michalak dessert
I felt satiated but not full and was looking forward to climbing into that big bed of mine for a good night of sleep.
When I returned to my room, the bed had been turned down and the lights dimmed, all of my belongings had been neatly organized both in my bedroom and in the bathroom where my cosmetics were left in perfect order. I love being in hotels like this! How I would love to steal away whoever it was that took the time to do this for me. This service is the ultimate luxury.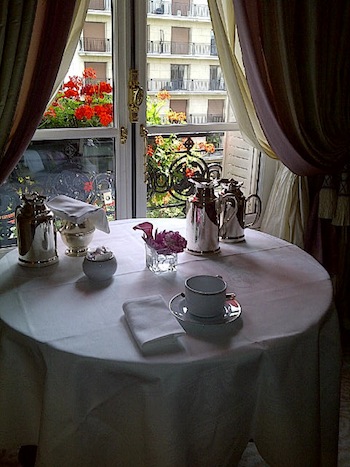 Morning coffee
I slept like a baby and awoke feeling ravenous. I immediately called room service to order some good strong French coffee. I can be a bit of a pain in the A_ _ _ when staying in a hotel; I order my coffee first and then later the breakfast. This was not a problem here. I had a very sweet young lady deliver my coffee. Next came my breakfast. I told the gentleman in room service that one of the things that I most adore when staying in wonderful European hotels is to see what the room service tables look like when they bring in the petit dejeuner. Well, I guess this was an amusing challenge for him. He went all out. There were five varieties of honey to go with my French yogurt, and six varieties of jams to go with the fabulous basket of croissants, brioches and pain aux raisins from the Christophe Michalak kitchen. Don't worry Dad, I didn't eat them all, just a taste or two. The most interesting item on the table was the carafe that held my fresh squeezed orange juice. I have never seen anything like this, it was glass within glass and kept the juice chilled until I was ready to drink it.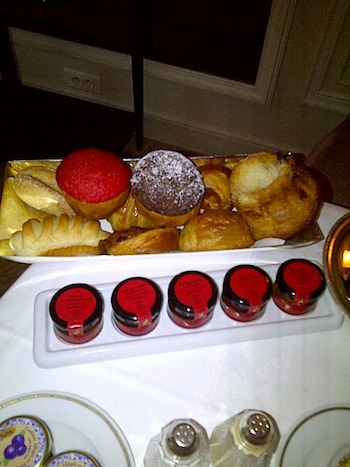 Basket of goodies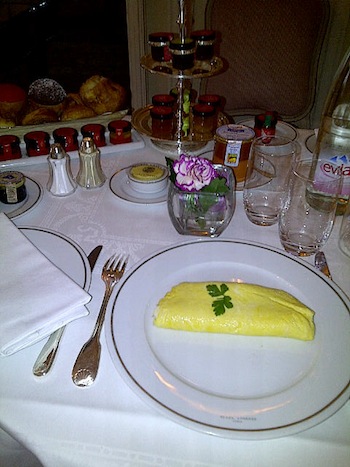 Omelette aux fines herbes
Unfortunately, the next day, room service was not as genteel to me. It happens, but I am sure after my complaint it will not occur again. This is a first rate hotel and their aim is to make sure that for their prices, which are not inexpensive, you get all that money can buy. If you can't afford a room at this beautiful hotel, at least indulge yourself by stopping by to have a drink in the Galerie des Gobelins or their very hot bar. The hotel's signature cocktail is the divine raspberry champagne cocktail which I have not been able to replicate. Darn! (I tried when I came back to New York). There is something secret in this delectable cocktail besides the fresh sweet pureed raspberries and champagne. I plan on returning to drink this one again and again to see if I am able to decipher their secret ingredient.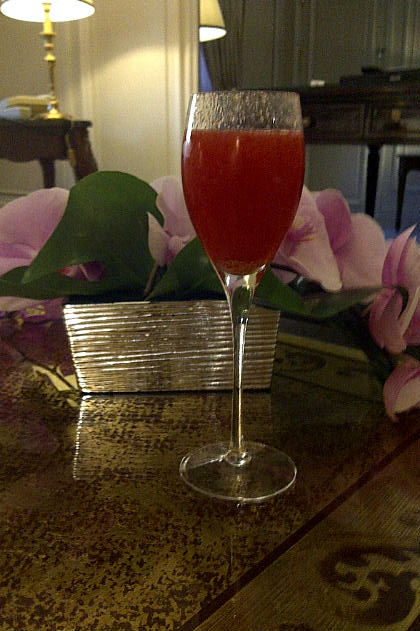 The Signature Raspberry Champagne Cocktail with a secret ingredient!
An added note, upon checking out, I received a red box tied with a silky red ribbon. When I was departing Paris, one of the immigration officers asked me to undo the ribbon and open the box. I was so annoyed because I had already peeked and saw that it was a big square of homemade chocolate designed with my star sign, Libra, and dusted with real gold. I told him it was just chocolate, but he didn't care. He made me lift up the chocolate with my dirty hands to make sure that I wasn't hiding any weapons of mass destruction underneath. Gimme a break! I was really upset. I wanted to bring it home to my dad, who loves chocolate. When I sat down on the plane the steward told me that the immigration officers in Paris are getting really petty now. There comes a point when enough is enough. I actually told him he should take a bite just to make sure it was not going to explode. He fortunately didn't understand what I said, otherwise I doubt whether I would be sitting here writing this story!
Popular in the Community