Career and family. Independence and interdependence. We still, like Jo March, struggle with this balancing act. Louisa May Alcott's Little Women portrays the attractions of both poles in ways that still speak to women and men, to budding writers and political figures, to homeschoolers and queer advocates, in the twenty-first century.
Many readers connect or identify with the autobiographical Jo, the tomboy and writer who turns down the young and attractive Laurie (well, okay, they don't all connect with that part). She ends up marrying an older man, though Alcott herself never married, preferring to "paddle [her] own canoe." The three other March sisters also have their champions and provide other models of femininity: Meg's domesticity, Beth's selflessness, Amy's materialism.
"Alcott's novel is a staple on home-schooling reading lists, generally as a repository of traditional values."
Alcott's novel is a staple on home-schooling reading lists, generally as a repository of traditional values, even if some home schoolers find it insufficiently religious. Christmas may be a time for giving, in the novel, but it's largely a secular holiday. As in the nineteenth century, a few readers find the book unsuitable for the Sunday school--or home-school--library. Others, however, value its family warmth and feminine domesticity, as the sisters refurbish handmedowns for one another and struggle with cookery.
Little Women also appears on the Publishing Triangle's list of the 100 Best Lesbian and Gay Novels. Some readers appreciate Jo's queerness when she declares herself "the man of the family" while Mr. March is off where the fighting is, during the Civil War. And when a young man courts her sister, Jo wishes she could "marry Meg myself, and keep her safe in the family."
Among public figures, a few decry the novel. Joan Didion thought the March family too perfect. But Little Women has been a childhood favorite of many women of achievement--and some men--ranging from Gloria Steinem to Miss Manners, from Connie Chung to John Green, from Hillary Clinton to Patti Smith.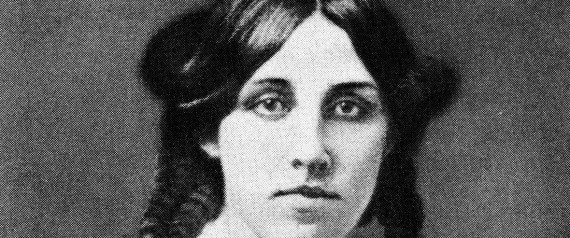 As I note in The Afterlife of Little Women, some writers have been so passionate about Little Women that they rewrite it--whether for adults or for the young (and with vampires or without). Sometimes, as in Geraldine Brooks's Pulitzer Prize-winning March, the author provides an alternative perspective on the family, in this case, the father's. Other authors reframe Alcott's plot: in Lauren Baratz-Cohen's Little Women and Me, a young girl travels back in time and becomes the fifth sister--and enables Jo to marry Laurie.
Often in published spinoffs the March family is modernized, sometimes amalgamated with Alcott's own family. Maybe the father is a crazed visionary/missionary who drags his wife and four daughters to the 1950s Congo. Maybe he is a film producer who has four daughters by three wives. Or maybe two sisters become estranged from their "perfect" parents and leave the Upper West Side to live with their older sister at Yale (only three sisters here--Beth was a turtle who died). I'm thinking of Barbara Kingsolver's The Poisonwood Bible, Judith Rossner's His Little Women, and Katherine Weber's The Little Women, a sampling of the scores of fictional reworkings.
Just this week I've learned of newer spinoffs. Jane Nardin, whose 2012 Little Women in India is a mashup of Little Women and Pride and Prejudice, has published a sequel: Little Women on Their Own. ABC has announced a miniseries to be based on Little Women, featuring Natascha McElhone of Californication, raising the number of film and television adaptations, in various languages, to 24: the family in this new version will be thrown into turmoil by a military scandal.
"As for younger readers, there are signs of abating interest, but some young people still pay homage."
As for younger readers, there are signs of abating interest, but some young people still pay homage. Remember Jo's opening plaint, "Christmas won't be Christmas without any presents," followed by the laments of her three sisters? Here's how chemistry major Ann Marie Brasacchio opens her rewriting of the first chapter, for a term paper, basing it on her own family:
"Christmas won't be the same if we don't get to go anywhere," Cara complained, lounging on the couch with her netbook in her lap.
"I know, I was really looking forward to going to Uncle Tom's house this year. It feels like a long time since we've seen him," said Ann Marie.
"Keith--not the creepy Keith, but you know, the one I call my brother--gets to go skiing, and Kaylie's Grandma is taking her to England," complained Gracie, who was sprawled on the floor snuggling with her nine-month-old puppy.
"I wanted to see Lily," said Colleen, who had a special bond with their three-year-old cousin.
Many of us still, like Ann Marie, have a special bond with the family in Little Women, as we balance interconnection and individual achievement. Maybe especially with Jo, and with her progenitor, Louisa May Alcott, born 182 years ago on November 29th.
___________________
Also on The Huffington Post:
PHOTO GALLERY
8 Books By Women You Should Definitely Read
REAL LIFE. REAL NEWS. REAL VOICES.
Help us tell more of the stories that matter from voices that too often remain unheard.