This is a week to celebrate. Diwali, India's Festival of Lights. begins Thursday. It's also the birthday of Richa Hingle aka Vegan Richa whose new cookbook Vegan Richa's Everyday Kitchen delivers doable plant-based favorites with something extra. There's a reason the book's subtitled Epic Anytime Recipes with a World of Flavor. As fans of her first book, Vegan Richa's Indian Kitchen know, "My taste buds are somewhat hardwired to prefer deep, complex flavor, so I tend to amp up even the simplest recipe for additional flavor.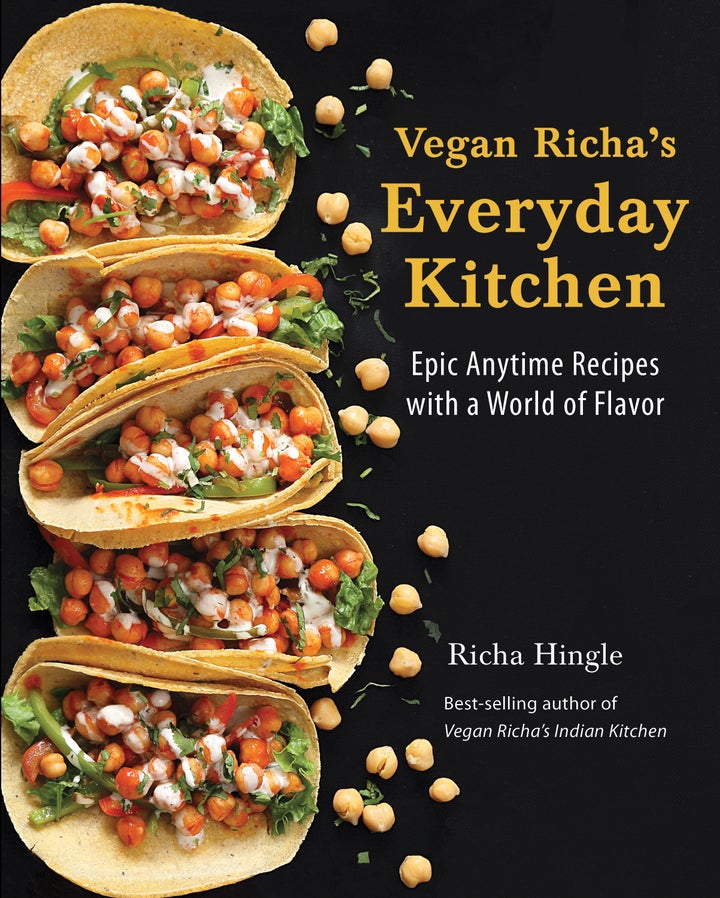 "For me, it is easier to experiment with ethnic cuisines than American meal options," says Hingle. On the other hand, "the burgers, Alfredo and desserts tend to be the ones that get the most searches on the web." Everyday Kitchen gives you both. There's American favorites like burgers, wraps and pizzas. They're quick and easy. They just don't taste that way. Hingle brings a world of flavor by way of Awesome Sauces — master recipes from around the globe, like haunting nine-spiced makhani sauce (dubbed liquid gold by a fan) and rich, creamy Alfredo. They add flavor and depth — but no animal products — to recipes throughout the book.
"Food should taste really good, not just really good for vegan or really good for gluten-free, it's food and it should work as that." She credits her own followers with helping her strike a balance between the epic flavors that elevate a basic dish and ease of preparation. "I love their feedback," she says. "It helps me it learn what flavors, textures, techniques work, how to simplify."
Reader influence pays off in Everyday Kitchen and in her own kitchen, as well. A usual Monday night dinner at home might be "simple Indian meals like dals" (lentil or chickpea curries), "American meal options like lentil burgers" or a mashup of east-meets-west like makhani pizza, a favorite of her father (recipe's in the book).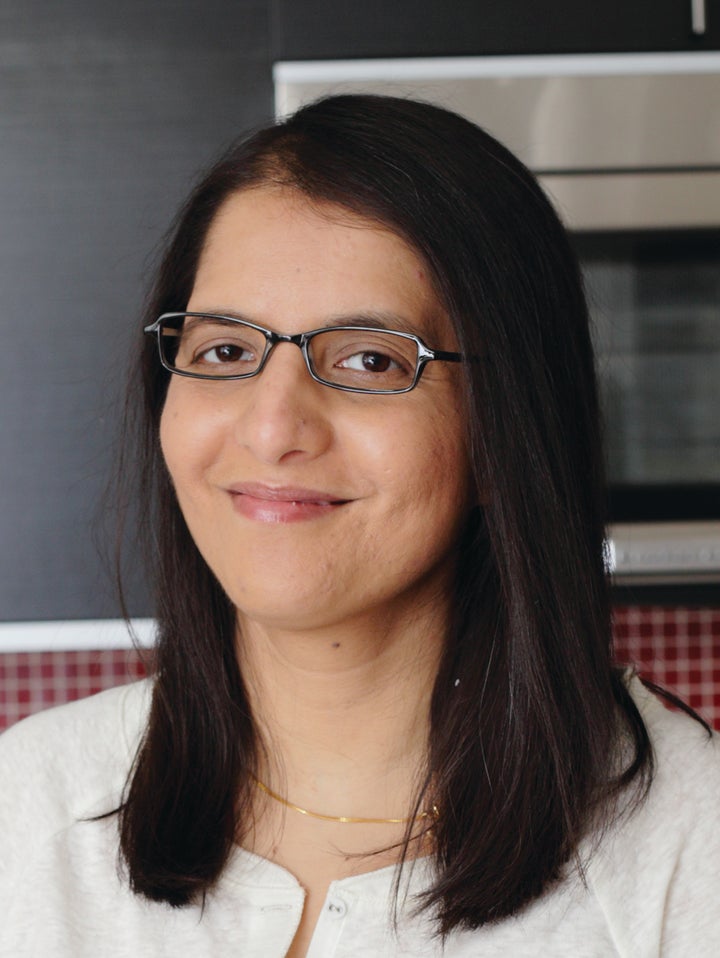 In India, where Hingle grew up,"Everyday cooking is a patient process." She's lived in the States long enough to know that's not the case here. Her advice? "Planning and make ahead helps. Make the sauces ahead," says Hingle, who swears by her food processor. The prevalence of plant-based products at your local supermarket saves time, too. "There are tons of vegan substitutes these days." Hungry? Chop up vegetables, add some beans, tofu or tempeh and cook with an awesome sauce. "Then meals come together quickly."
But for all that, Hingle has a way of coaxing you out of your comfort zone and into that world of flavor. "Get a good set of spices." she says. "Don't be afraid to use more flavors. Be adventurous."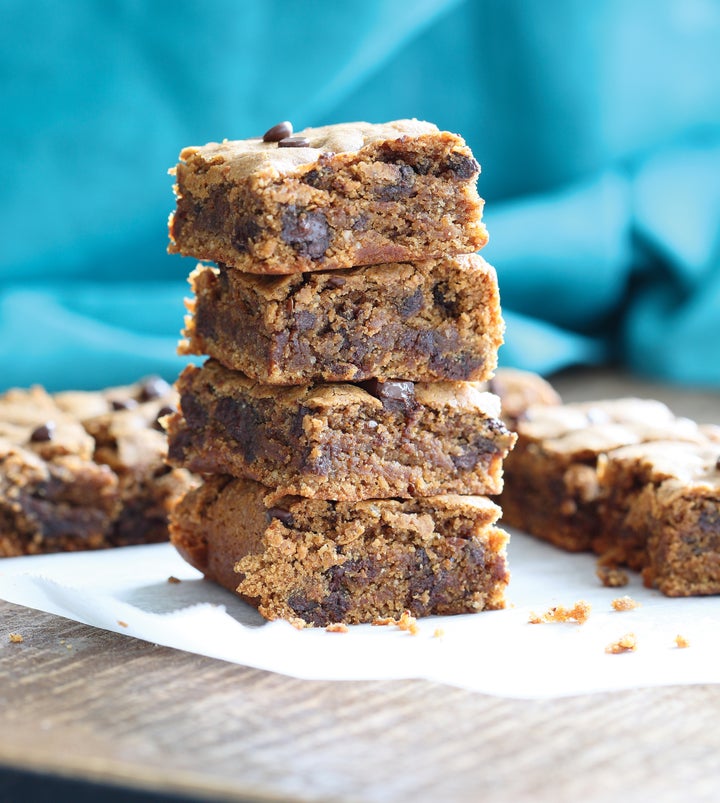 Nut Butter Blondies
Recipe from Vegan Richa's Everyday Kitchen, copyright © 2017 by Richa Hingle. Used by permission Vegan Heritage Press, LLC.
In India, "sweets are reserved for special occasions." Like birthdays and holidays. Hingle's parents are visiting from India and the plan is "to make some Indian sweets for both Diwali and my birthday." Her blondies "are a fudge, nutty treat with just the right amount of chocolate," and as American as anything, but Hingle also gives you the chance to up your flavor game — lose the chocolate chips and stir in 1/2 teaspoon of cardamon, a fragrant spice with echoes of citrus, into the batter before baking. "It works wonderfully for Diwali."
1/4 cup plus 2 tablespoons nondairy milk
2 tablespoons maple syrup
1/2 cup coconut sugar or other sugar
1 tablespoon ground flaxseed
1 1/2 to 2 teaspoons vanilla extract
3/4 cup smooth almond butter or peanut butter
1 cup unbleached all-purpose flour or gluten-free flour blend, divided
1/4 teaspoon ground cinnamon, or more to taste
1/2 cup plus 2 tablespoons nondairy semisweet chocolate chips, divided
Preheat the oven to 350°F. Line an 8 x 8-inch baking pan with parchment paper, making sure to leave some paper hanging over the edges of the pan. Warm the milk in a small saucepan over medium heat until it is hot (alternatively, heat the milk in a small microwave-safe bowl in the microwave). Transfer the milk to a large bowl. Add the maple syrup, sugar, flaxseed, vanilla, and almond butter and stir until smooth. (It will take a minute or so for the nut butter to mix in. If desired, warm the nut butter before adding so it mixes in quickly.)
In a small bowl, combine 3/4 cup (90g) of the flour with the salt, baking soda, cinnamon, and 1/2 cup of the chocolate chips. Add this mixture to the wet mixture and stir to combine. Add the remaining 1/4 cup flour 1 to 2 tablespoons at a time to make a stiff batter. (Depending on the nut butter and flour used, you may not need all of the flour.)
Drop the batter into the baking pan. Spread it out into an even layer using oiled hands or a spatula. Sprinkle the remaining 2 tablespoons chocolate chips on top and press them into the batter gently. Bake for 22 to 24 minutes, or until a toothpick inserted 1 inch from the edge of the pan comes out almost clean. Bake less time for gooey blondies and more time for drier.
Cool the blondies for 15 minutes, then remove them from the pan by pulling up on the parchment paper. Cool for another few minutes before slicing. Store on the counter for a few days.
More at www.soulfulvegan.com.
Popular in the Community