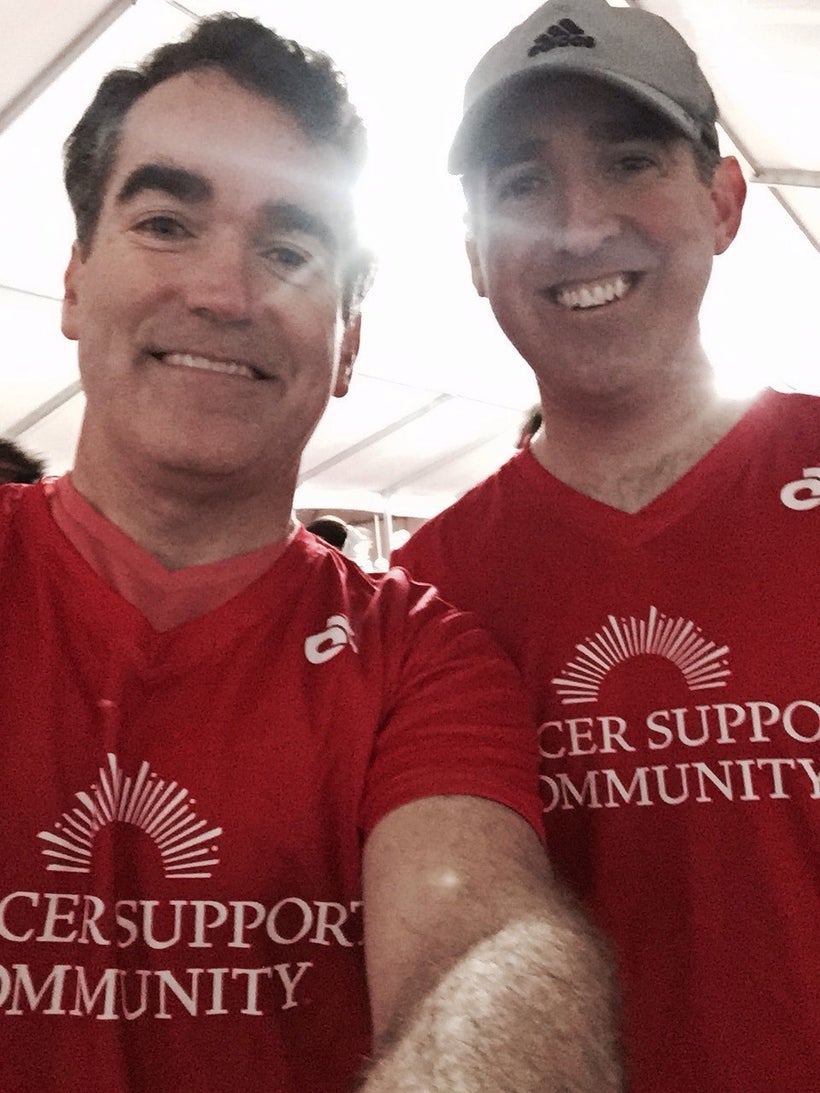 A dear friend has always encouraged me to observe an action that seems ordinary and see how it's not ordinary at all.
On Sunday, October 8, Broadway star and acclaimed actor Brian d'Arcy James and his brother Andrew ran the Chicago Marathon under the banner "Team Tom" in memory of their father Tom and in honor of their cousin Tom who is battling cancer today. Brian and Andrew raised over $10,000 for the Cancer Support Community through the generosity of over 100 family members, friends, and fans.
As I peered more deeply into Brian and Andrew's decision to run the Chicago Marathon, I was struck on multiple levels. First, I marveled at the tremendous effort and commitment this Herculean undertaking required-- the hours upon hours of training despite busy schedules and the overcoming of injuries and other setbacks. Second, I was deeply touched by the kindness and generosity of everyone involved. Messages of support, humorous and heartfelt, as well as of gratitude, were posted to social media and sent via email to bolster Brian and Andrew in their quest to honor their loved ones and help all people impacted by cancer. Even though I've been involved in this work for many years, I continue to be amazed and inspired by the army of individuals who open their wallets and checkbooks and hearts to support our work.
In some ways, we have become accustomed to this type of fundraising. Many of us have been hit up by a family member, friend, or co-worker to donate to a charity marathon or bike race or triathlon. Yet, these individual efforts are far from ordinary. The scope and impact is in fact extraordinary! According to National Philanthropic Trust:
In 2016, individuals in America donated $281.86 billion, representing 72% of total giving.
Approximately 63 million Americans contribute their time, energy, abilities, and skills, the value of which is estimated at $193 billion.
As I watch the current administration chip away, bit by bit, at the health care safety net in this country, and witness the level of anxiety among patients continue to rise, it seems to me that we are going to have to rely, now more than ever, on individuals to step up at a greater pace and help fill in the gaps so that the most vulnerable among us don't get left behind. The support of individuals, along with that of corporations and foundations, is vital to support the work of a multitude of non-profit organizations helping so many get through these hard times. Americans have a great tradition of philanthropy during times of need and times of crisis and, unfortunately, one could argue that the current state of affairs in health care in America qualifies as a crisis.
So when somebody asks you for 25 or 50 bucks to support their marathon or asks you to buy a ticket to a fundraiser, know that your generosity means the world to someone in need, especially in today's uncertain environment. Know that your contribution is far from ordinary. Like Brian and Andrew running a marathon - it is indeed extraordinary.
Calling all HuffPost superfans!
Sign up for membership to become a founding member and help shape HuffPost's next chapter
This post was published on the now-closed HuffPost Contributor platform. Contributors control their own work and posted freely to our site. If you need to flag this entry as abusive,
send us an email
.