Jeremy Sutton-Hibbert is a long time friend and comrade in photography. He lived too many years to remember here in Tokyo, before returning recently with his wife and daughter to his native Scotland. We have had long, coffee-fueled talks about photography and the EverydayClimateChange Instagram feed (@everydayclimatechange) has deepened our sense of common interest.
Since the feed was launched in January, Jeremy has been instrumental in suggesting ways to streamline the process and reach out beyond the photo world. His work has been featured in magazines and newspapers around the world. His long-term project on the Roma people of Romania is enlightened, timeless and now an important historical document. He has also shown work as part of the annual Open Walls exhibition for the Open Society at the Soros Foundation.
Recently, Jeremy and I talked about how he came to document the environmental changes around us.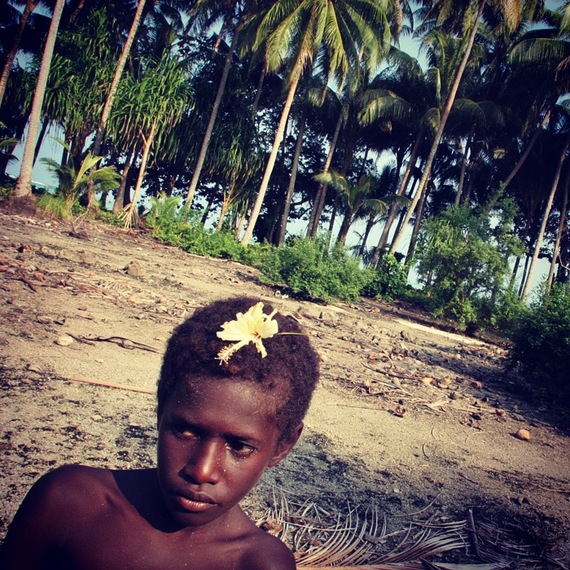 (Photograph by Jeremy Sutton-Hibbert @JshPhotog for @Greenpeace & @everydayclimatechange -- A child with a flower in his hair, in the "garden", an area formerly used for growing crops, but now barren and destroyed by salt sea water waves, on Puil Island, Carteret Atoll, Papua New Guinea.)
"I first became aware of the environment in 1999", Sutton-Hibbert recalled, "unusual perhaps to remember so distinctly the year one becomes aware of the world around them and how fragile it is, but I remember distinctly as that was the year I began photographing on assignment for Greenpeace."

"Until then I had of course taken an interest in life, in countries and cultures, but I don't remember really thinking about the fragility of the planet we live on. And then, on my first assignment for the environmental organization I went by boat out to the archipelago of St. Kilda on the west coast of Scotland, to help highlight and provide photography for a Greenpeace campaign illustrating how vulnerable the islands, and their incredible nature and bird life, would be should oil exploration begin off the west coast of Scotland."
Over the next decade and more he would travel worldwide on assignments for Greenpeace; to Papua New Guinea to document illegal logging in the rainforests, and the clearing of large swathes of rainforest to make way for palm oil plantations. "I travelled to the Southern Ocean twice to document the activities of the whaling fleet of Japan in their annual winter whaling season." Greenpeace assignments would also bring him to more remote Oceania islands like Kiribati and to Papua New Guinea's Carteret's Atoll where he documented rising sea levels and climate change, and their effect on these low lying island nations. "It was through these assignments and more, that my interest in the environment grew, as I learned and as I heard people from the forests tell me of the destruction on their land by Malaysian logging companies, or as islanders told me of the seas which came ever closer and ever further onto their low-lying islands destroying the already-scarce crop gardens, of salt water seeping into their fresh water sources underground and contaminating them."
It was hearing these stories first hand which, he said, "made me open my eyes, and made me pay attention to how I lived my own life back in the UK, and later in Japan. Seeing first hand the cause and effects of climate change made me examine my own actions, and bit-by-bit I tried to make changes."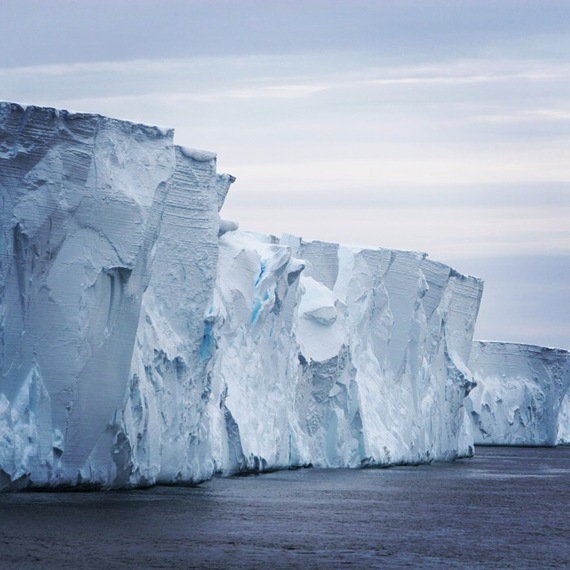 (Photograph by Jeremy Sutton-Hibbert @JshPhotog for @Greenpeace & @everydayclimatechange -- A massive iceberg floats in the Southern Ocean, off of #Antarctica. )
Sutton-Hibbert's photography has played central part of that effort to affect change for the better, through building awareness. Jeremy, among all the photographers on the EverydayClimateChange feed, probably offers more visual evidence of solutions to the climate change issue than anyone else (me, included), in addition to documenting what is going wrong.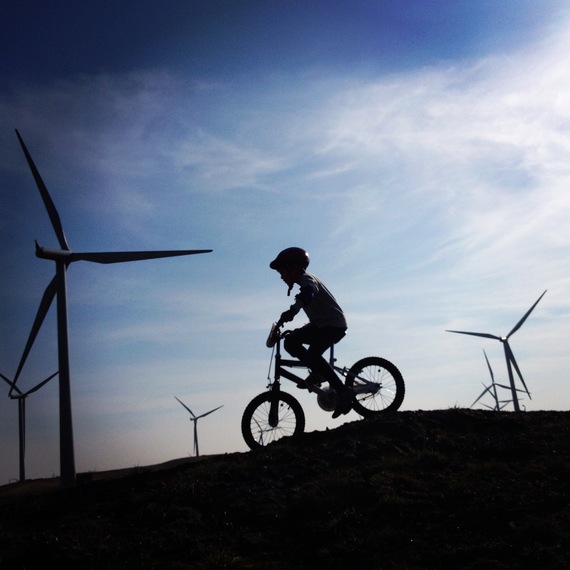 (Photograph by Jeremy Sutton-Hibbert @JshPhotog for @everydayclimatechange-- A child cycles on the mountain biking tracks at the Whitelee Wind Farm, situated outside of Glasgow, Scotland. The wind farm is the second largest onshore farm in Europe, helping Scotland to reduce their climate-wrecking greenhouse gas emissions.)
"Now with many assignments and travels under my belt I have a new opportunity via EverydayClimateChange to band together with like-minded photographer colleagues, and to use this young Instagram channel to disseminate my photography work, both new and archival, to a new and wider audience. I've been inspired since January when our Instagram feed began, by the level of comments that the images we post obtain."
Sutton-Hibbert believes that there is a need, even a desire by viewers to, "see real images of climate change, to see the causes, the destruction and the results of it all, to see the reality, not an abstract headline or soundbite. People wish to be informed and to educate themselves."

He sees EverydayClimateChange as a two-way conversation, because viewers of the feed can comment on the images we post. "Of course we see comments saying, and I paraphrase, 'It is all so big and complex, I don't know how I can make a difference.'" Climate change is big, Jeremy says, and it can be confusing if you're not a scientist, "it is scary, and we photographers do not have all the answers, it is just as scary and confusing for us. But we do all need to do our bit, to make all the little efforts we can, and try to make bigger efforts also to change our lifestyles, to minimize our impact on the planet and thus our contribution to climate change."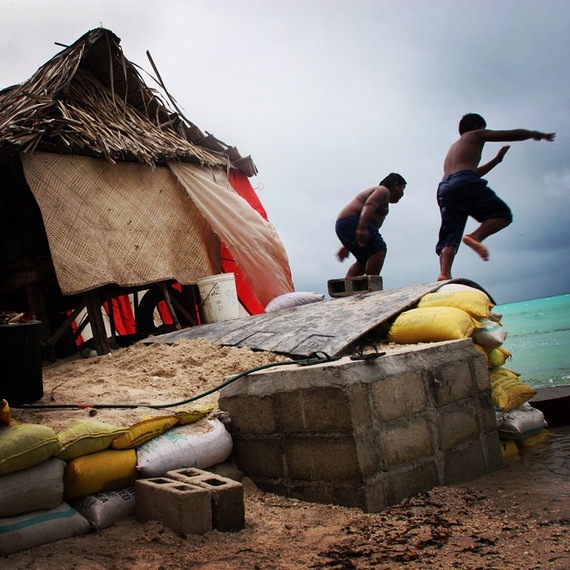 (Photograph by Jeremy Sutton-Hibbert @JshPhotog for @Greenpeace & @everydayclimatechange -- A family living next to the sea, on the South Pacific island of Kiribati, re-enforce their property with a sea wall made of sand bags to stop the encroaching sea from eroding their land.)

One of Jeremy Sutton-Hibbert's goals is to bring the issue home, to make it local and not just global.
"I've tried through the images I post on EverydayClimateChange", he says, "to show that climate change and rising sea levels are not just things which happen out there somewhere, or caused solely by factories in China, or in exotic countries, on small islands far from here, far from the viewer. It encourages me to post images of electric vehicles being recharged in the streets of Glasgow, Scotland, or of the bike-share facilities my city provides to try to minimize car transportation into the city centre."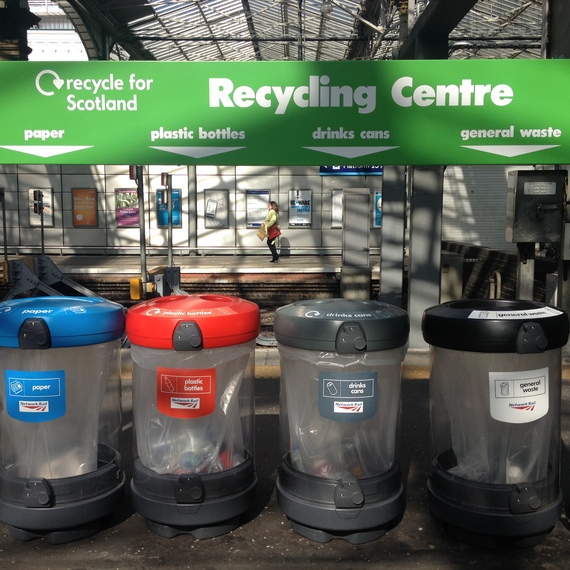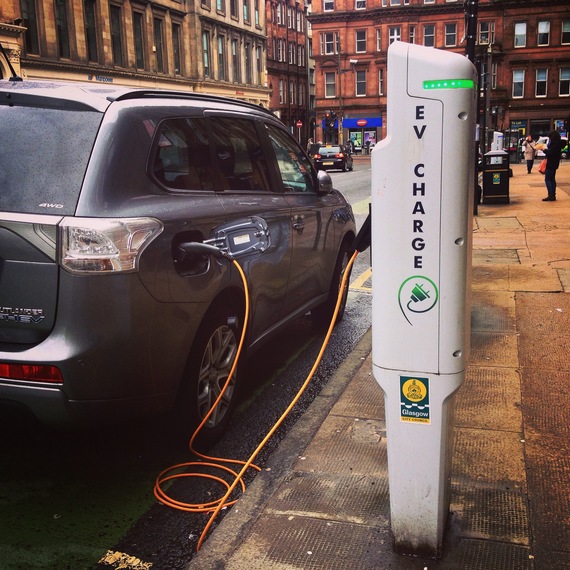 (Photographs by Jeremy Sutton-Hibbert @JshPhotog for @everydayclimatechange -- [Top]-Bins for the recycling of garbage sit in Edinburgh's Waverley Train Station, in Scotland. Each year the average Scottish household generates more than a tonne of waste much of which could be reduced, reused or recycled. The waste that isn't reused or recycled ends up in land fill sites, where it releases gases that play a harmful part in climate change.
[Bottom]-An electric-powered car gets charged at the roadside, in #Glasgow, #Scotland. Glasgow City council has received grants from Transport Scotland with a value of over £450,000 to install these Electric Vehicle charging points (of which there are approximately 70 in the city) as part of the Plugged in Places programme, a programme which aims to expand the UK's electric vehicle infrastructure.)
He believes that it is important to inject normal life into photographs that often show dramatic change. Small, positive actions, he believes really do add up. "I've posted unattractive images of supermarket displays showing that shoppers will be charged for every plastic shopping bag they use. And I post all these images in the hope that I can inspire viewers on little ways that they can also make changes in their own lifestyles. Sure there is criticism that these campaigns, such as the plastic bag charge, is too little too late for any real effect on climate change, but for the average person in the street it is a step, maybe a small step, but surely it has to be applauded for getting people thinking about these things. If we can all take these small steps, all stop using our vehicles as often for needless journeys, if we can re-use and recycle, aim for less consumption and zero waste in our own lives, then surely it must all add up to something?"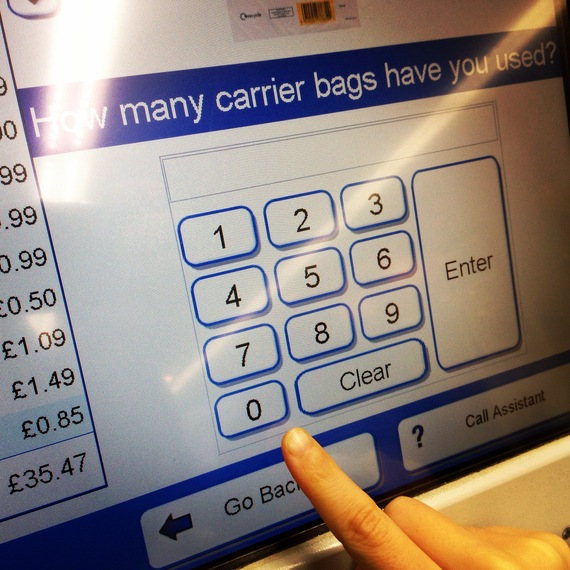 (Photograph by Jeremy Sutton-Hibbert @JshPhotog for @everydayclimatechange - At a supermarket checkout in Scotland, a customer types in how many polythene bags have been used to fill with groceries. In Scotland in 2014, legislation was introduced which made shops carry a mandatory charge of GBP0.05 per bag for these bags, which are thin & flimsy, in a bid to reduce the numbers used & to encourage use of reusable bags.)
Changes in the post-industrial north, he points out, can ripple out to the distant places he has worked. "I visited the five, low-lying, approximately 1 metre tall at their highest point, small islands of the Carteret's Atoll, off of Bougainville island in Papua New Guinea. The islanders who live there were shy and quiet, they had simple lives, living a barely hand-to-mouth existence. Their crop gardens were dying due to ever more frequent seawater flooding, and around the edges of their islands they had built walls made from giant clam shells to try and hold back the encroaching seas. There on those islands, I didn't see rampant consumerism, no cars, no electricity. They're not contributing much to the problem of climate change. It was a basic, simple lifestyle, but it is islands such as these, and their inhabitants, which feel the utter brunt of our first world actions. Everything we do has an impact, on our own lives and of those in the exotic countries over there, far away. We are all responsible for climate change, and we all have to take responsibility to combat it. Let's try together to make that change. For everyone's sake."
You can see more of Jeremy Sutton-Hibbert's important, ongoing environmental photography work on the EverydayClimateChange Instagram feed (@everydayclimatechange).
Calling all HuffPost superfans!
Sign up for membership to become a founding member and help shape HuffPost's next chapter