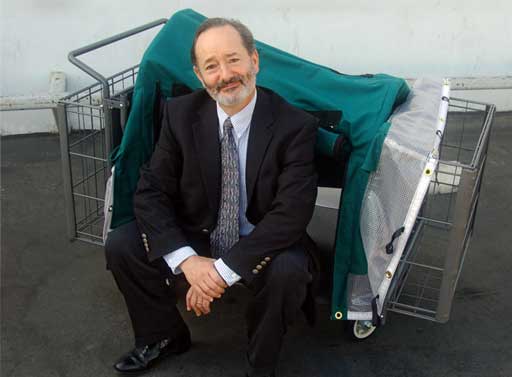 I had to do something about the lady living in a refrigerator box near where I sleep in a house with a refrigerator: I got the Sub-Zero. She got the box. The situation seemed to deny the value of my civilization. It bothered me a lot. So I invented EDAR, because Everyone Deserves A Roof. Even in a recession.
Each EDAR provides shelter to the homeless in an innovative cost and usage effective way. The EDAR unit is a purpose-specific, special four-wheeled enclosed device, very roughly reminding one of a covered shopping cart.
During the day, the EDAR unit is used to pursue the necessities of life. Personal belongings are secured by the use of locks. The front and back of the cart have storage baskets with removable canvas pouches. The unit is waterproof and provides protection for what it contains. EDAR's wheels are better than a supermarket cart's, being slightly larger and easier to steer in a consistent fashion. There are two brake and locking mechanisms which ensure the unit will not move on its own.
At night, the EDAR unit easily hinges out and down to Night Mode in less than 30 seconds, becoming a sleeping unit. Unfolding the unit allows it to lock in place as the flat metal base extends. The metal and wood base has a mattress and military-grade canvas cover, providing a robust tent-like shelter. The unit is flame-retardant, waterproof, windproof and helps protect from the elements. There are translucent windows that provides light and a view of the surrounding area. By re-folding the unit, the EDAR quickly returns to Day Mode.
I had begun counting the homeless people on my bicycle route from Westwood, Los Angeles to the beach in Santa Monica and return. There were 62 homeless people on those streets, including many women and several children. I interviewed all 62 of them and then conceptualized EDAR as a mobile single-person device that would facilitate recycling (a principal source of income for many who are homeless) by day and at night convert into a dry, safe tent-like enclosure for sleeping, raised off the concrete, with privacy and storage space.
Then I sponsored an EDAR design competition at the Pasadena Art Center College of Design. As a result, I met designers Eric Lindeman and Jason Zasa, who won the prize, and we have been working on this together ever since. Wire design and fabrication have been provided by John Ondrasic and Mike Orozco of Precision Wire Inc.
EDAR's are given free of charge to homeless individuals who are best able to benefit from their recycling and shelter capabilities. EDAR units also provide a sense of ownership and pride to those largely deprived of both. Well into the twenty-first century, if the best our advanced society can do for the hundreds of thousands of homeless human beings... men, women and children... who live among us is the cast-off box our refrigerator came in, what exactly does that say about us?
Related