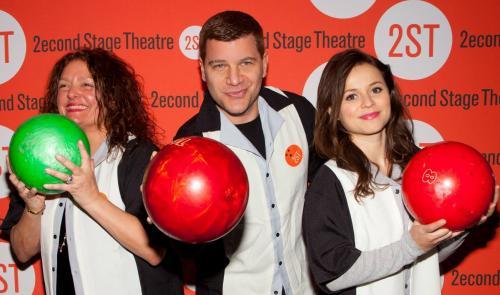 When I think of bowling, I think, Roy Munson, cigarette smoke, beer, mullets, and "why the hell am I thinking about bowling?"
What I don't think about when I think of bowling are Olympic Silver Medalist Ice Skaters, Real Housewives, and a TV mob bosses sister, yet they were all recently together at Lucky Strike Lanes in New York City for Second Stage Theatre's 27th Annual All Star Bowling Classic; a celebrity packed fundraising event raising hundreds of thousands of dollars for the theatre's award-winning artistic and educational programming.
This well organized event was emceed by Zach Braff and one of the best I have ever attended, and I have very strict criteria( free buckets of beer and never-ending food.)
It was a premiere list of New York residents: Stars from the screen and stage, high net worth individuals, and senior executives and employees from notable corporations. Corporations purchase bowling lanes ($12,500 or $15,000 per lane) and each teams lane is spear headed by a Celebrity Team Captain for a riotous evening of bowling, bowling shirts, booze and snazzy Second Stage swag,
I had the pleasure of captaining a lane with a fun bunch from Select Equity which included a dude named Ramiro Ocasio who made national news last year for saving someones life in the subway.
Thankfully everyone had an amazing time, kept their minds out of the gutter, and were pretty much equally awful at bowling, with some earned and a few silly gratuitous trophies (just like kindergarten t-ball).
1st Place - Bloomberg with celebrity captains, Julie White & Tim Blake Nelson
2nd Place -Kirkland and Ellis with yours truly.
3rd Place - Select Equity with Celebrity Team Captain/Rocker Constantine Maroulis.
Phillip Sanchez scored the Looking Good While Doing Nothing award from Time Warner Inc.
Dylan Baker took home a trophy for Lifetime Achievement (not really sure what that is).
Aida Turturro (Tony Sopranos Sister Janice) deservingly won the Best Coach trophy for her inspiration and never ending entertainment in Deloitte's Lane
Zack Braff won for Most Stylish Male (I smell a bribe) as team captain for Lexington Partners
Andrea Taylor Most Stylish Female in Lindsay Goldberg's Lane
Sasha Cohen definitely won't be trading in her skates and sequins for Velcro shoes and a Pabst Blue Ribbon bowling shirt any time soon, as she won a teeny tiny trophy for lowest score.
Richard Kind and Perez Hilton's trophy status is still a mystery.
Sonja Morgan went away empty handed, and unfortunately didn't rock a monogrammed bowling bikini, but did hop in her car service with her 2 interns after the tournament and headed home to her $7,000,000 Upper East Side townhouse, so I'd say that pretty much makes her a winner too!
The alleys: "Ah, the alleys -- It's really a sensory experience, you know. The scent of Aqua Net on a beehive hairdo. The roar of polyester rubbing against old Naugahyde. The site of a cigarette stubbed out on a patty melt. All this plus the anticipation of placing your feet in shoes only seven thousand others have worn before you." - Diane Chambers (Cheers)
PHOTO GALLERY
Second Stage Theatre's 27th All-Star Bowling Classic
REAL LIFE. REAL NEWS. REAL VOICES.
Help us tell more of the stories that matter from voices that too often remain unheard.